During the last World Tour in Sydney, in April, Salesforce announced that it would change the name of several of its solutions belonging to Marketing Cloud. This became effective as of Summer '22 release. This change is part of the MC Easy (Marketing Cloud Easy) initiative, whose objective is to make the wide range of Marketing Cloud solutions consistent and easy to understand by everyone. The truth is that this brand change highlights Salesforce's growing interest in positioning itself as the number 1 CRM not only for Sales, but also for Marketing.
Among the new names, there is Marketing Cloud Intelligence, formerly Datorama, an excellent intelligence platform for marketing that we will be discovering throughout this article.
What is Datorama?
Datorama, now Marketing Cloud Intelligence, is a platform powered by AI, which brings together multiple solutions that allow the marketing team to integrate all their data, KPIs, channels and platforms, in a single source of information. In addition, it facilitates visualization, data analysis and report creation, thus optimizing work in this area.
In general, it is oriented to the tasks of the marketing team, since its support is flexible and customizable, allowing integration with other data platforms. Datorama is a simple platform to use; but at the same time powerful and friendly for the most knowledgeable data scientists and business analysts.
What to expect from Datorama?
Datorama facilitates the work of the marketing team, since it reduces the manual handling of data and saves time. This way, the team can focus on making more data-driven decisions; as well as in the strategies to generate more potential clients and loyalty of the already converted client. For this, the platform has many functions. Briefly we can mention:
Visualize the growth and results of each investment, activity and objective of the marketing campaigns.
Centralize data, creating a single source for marketing.
Provide more complete, fast and precise information from the data.
Interrelate income through automated reports.
Promote a data-centric approach and align the company's teams and strategies to optimize campaign ROI.
It also has two additional advantages. The first allows the collection, unification and processing of data in real time, offering a precise picture of what is happening at the moment. The second, as was previously explained, the platform is simple and friendly, doesn't require the use of codes for its management.
Main features of Datorama
As there are more than one hundred functions of the platform, to mention them all would be tedious, here we detail some of the most important.
Data Capture
Datorama has four ways of capturing data:
API: The easiest way is to integrate from your own native API library. These group the most important data sources for marketing: social networks, email, Google Analytics, etc. There are more than 300 API connectors available!
Total Connect: allows you to integrate any type of data in any format, in real time. The data can be captured as a flat file.
Custom Connectors: Datorama provides a variety of developer-specific tools. This makes it possible to create custom API connections.
Datorama Data Lake: allows the ingestion and incorporation of thousands of rows of structured or unstructured data, at a highly specific level. It can include keyword levels, geographic location, click stream, events, registrations, activities, and number of visitors, etc.
Data model
The data model stores all the information. It is pre-designed with relationships and data fields useful for marketing. As the data capture process is taking place, this model places the information in the correct place. This makes it a very powerful tool for data understanding and reporting. In addition, it allows the integration of multiple sources, giving rise to deeper analysis: creation of custom metrics and dimensions; filtered metrics; data fusion; etc.
Datorama Reports
First introduced in the January 2021 Release, this functionality offers a more engaging way to display marketing data. It is established as the new Marketing Cloud reporting tool. Its benefits are several, including:
Provides more intuitive analysis of email and customer data and includes it in dashboards.
Provides comparisons, trends, and data patterns that you organize into a custom report.
Returns data in pivot tables and results with scheduled reports.
Promote personalized email campaigns at different levels.
In turn, this functionality can be complemented with two others, both from the Marketing Cloud PRO edition, Dashboards and Pivot Tables.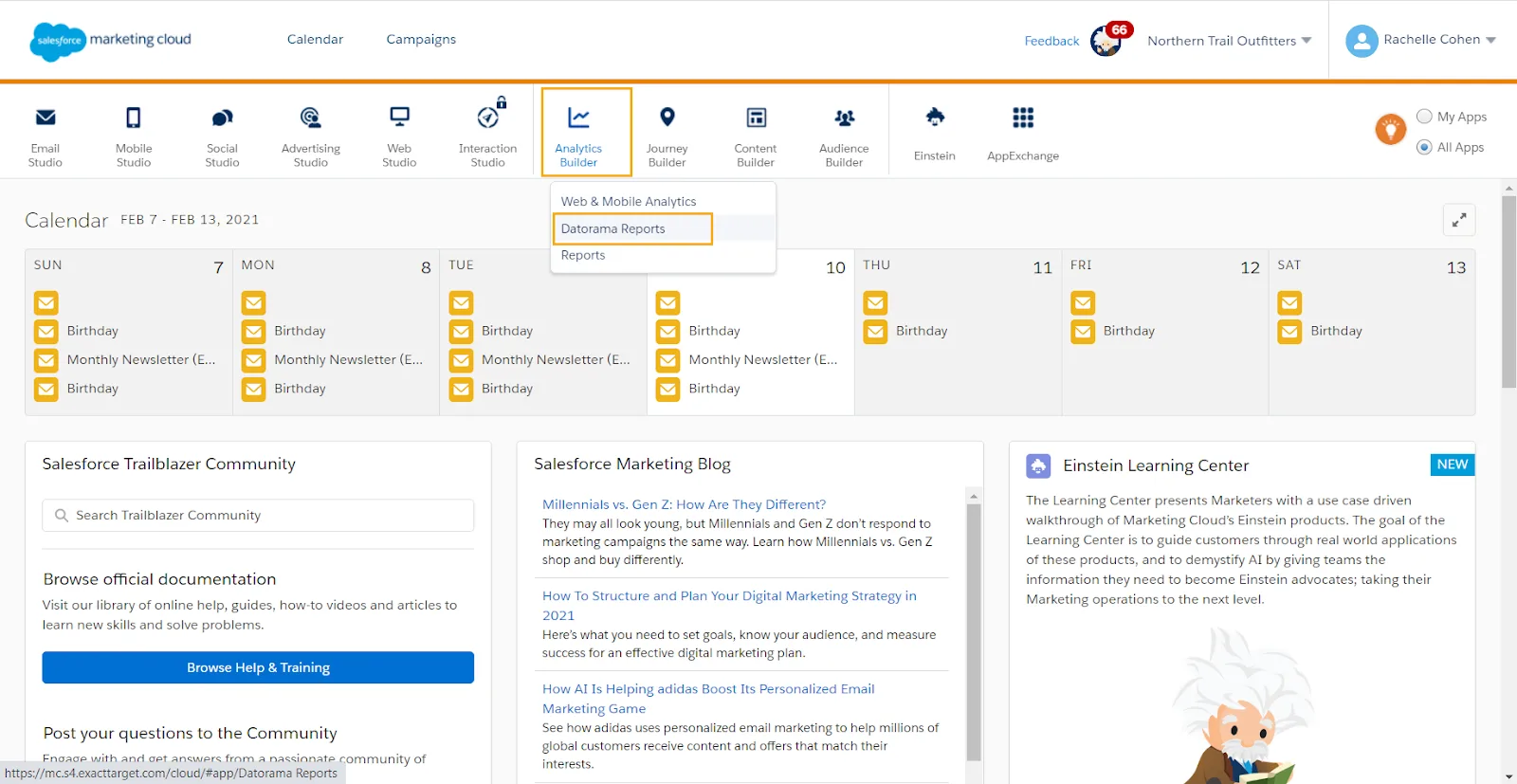 Dashboards
A wonderful visualization section that allows you to create, with just one click, powerful dashboards with graphs that group different essential KPIs for marketing. Or, you can use the preconfigured dashboards of the standard version and only indicate the campaigns and the period whose data you want to see. In the case of email there are 5 types of preconfigured dashboards and 4 types for the push channel.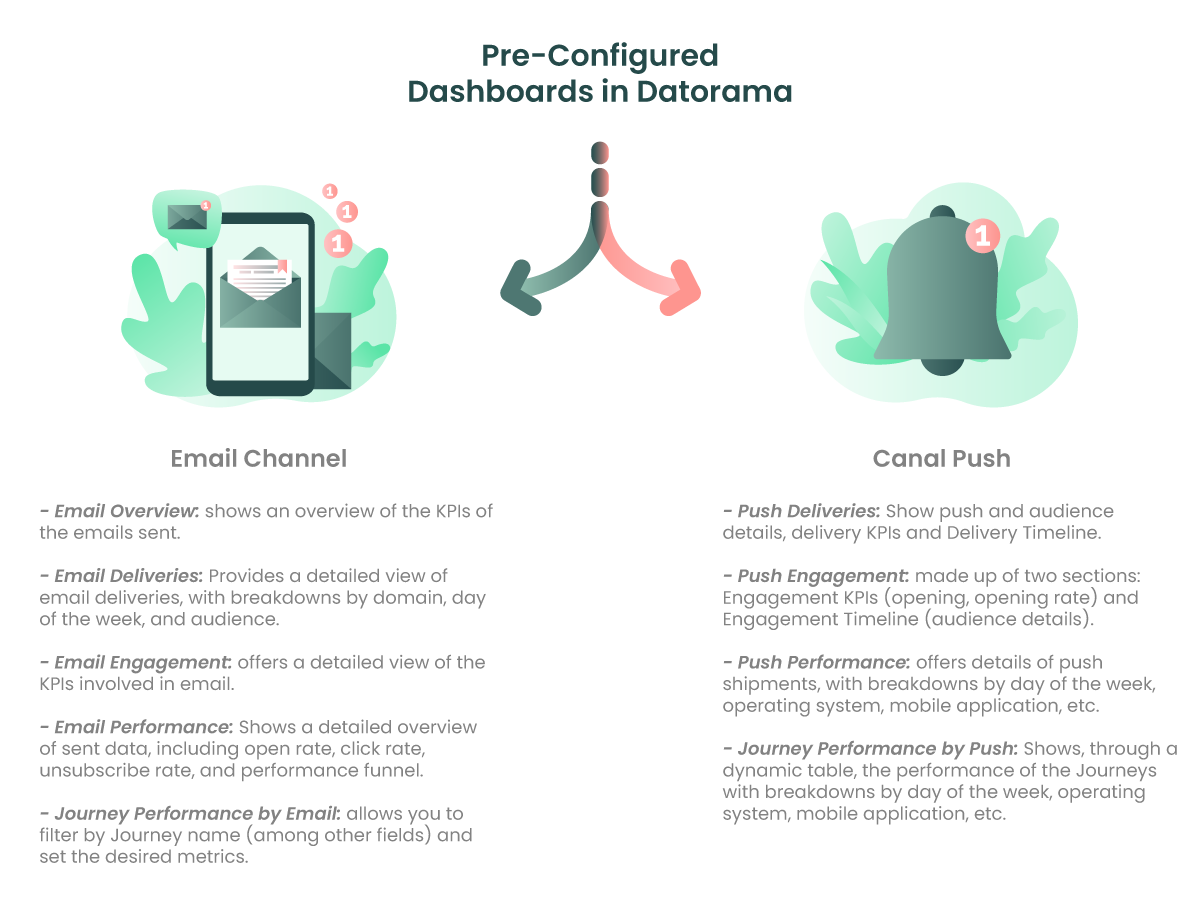 Pivot Tables
Pivot tables are used to visualize data in different perspectives. They are used to filter, sort and group large volumes of data according to the desired metrics or dimensions. In addition, they participate in the creation of personalized reports that summarize the data without making queries.
It is worth noting that Datorama Reports has an advanced version, Datorama Reports Advanced, presented in the Summer 2021 Release. This paid version infinitely expands the analytical possibilities of its predecessor.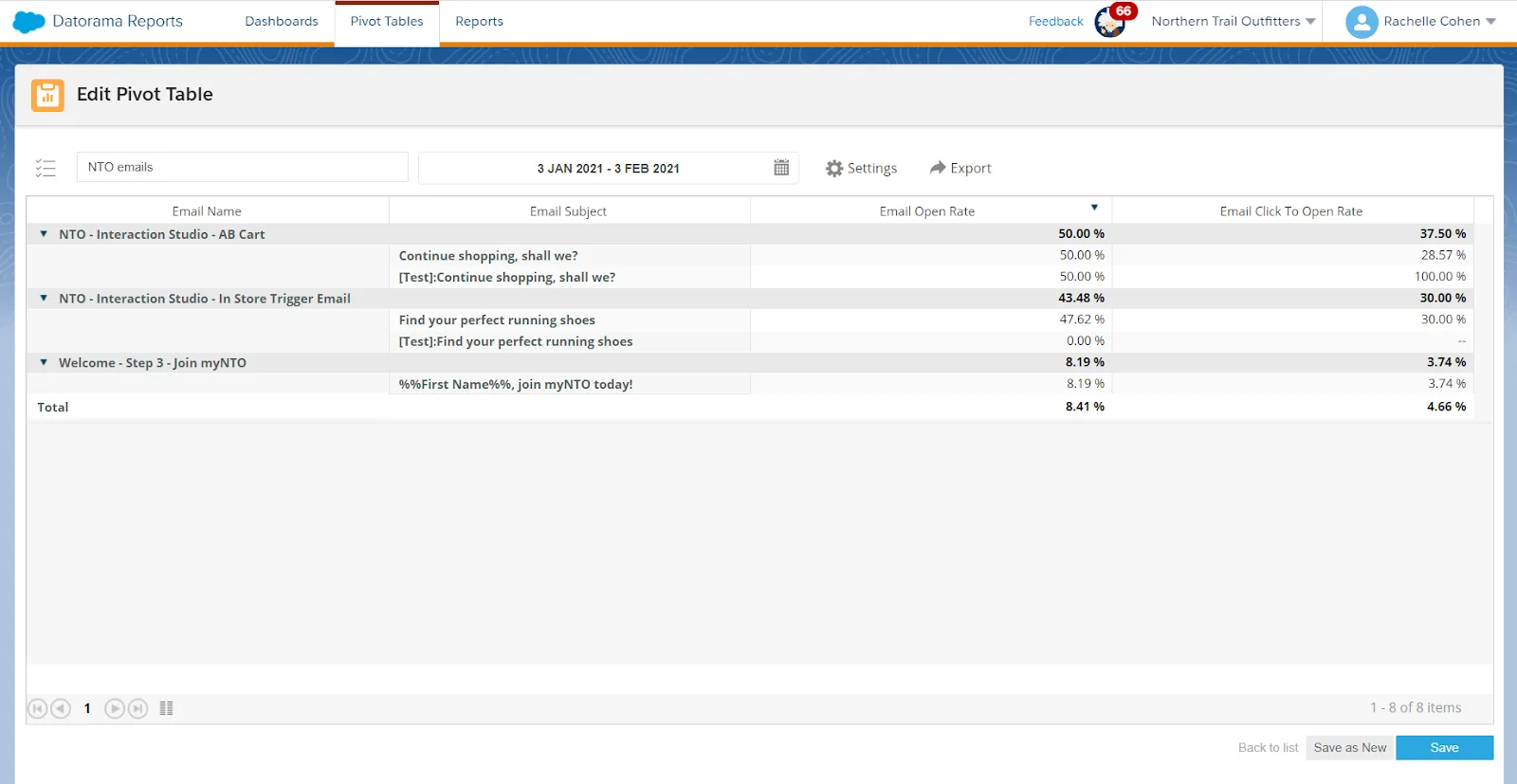 Other features
InstaBrand: Allows you to customize reports and dashboards according to a specific company and brand identity. It makes it possible to add logos, corporate colors, custom widgets to adjust and give a consistent image of the brand.
SmartLenses: a functionality that facilitates the configuration of KPIs and the modeling of key channel data. It allows you to track fundamental trends and patterns that influence business decision making.
Einstein Marketing Insights: This tool analyzes data to discover which KPIs are positively or negatively impacting marketing performance. Thus, it automatically indicates the necessary strategic adjustments and allows you to react proactively on the improvement or optimization of a campaign and other marketing processes. Plus, it makes it possible to customize your analyzes with deep developer tools, including support for R and Python.
Main benefits of Datorama
Of course, this platform has a number of benefits, including:
Connect and unify all marketing data in a single source, in real time, offering a complete and accurate picture of every moment of the company.
It has a large library of APIs, always updated and with connections powered by AI.
Converts unstructured data into knowledge and displays the information in a friendly way.
Allows marketers to focus on strategic decision making and strategy conceptualization by reducing manual data handling.
Offers the ability to create custom reports and dashboards consistent with your brand identity.
Promotes the proactive approach of marketers when redirecting strategies and campaigns.
It has multiple options on the AppExchange.
Undoubtedly, Datorama, now Marketing Cloud Intelligence, is a wonderful platform for centralizing, managing and visualizing marketing data. It supports the Salesforce essence of fostering a data-driven, customer-centric culture. Do you want to know how to implement Datorama in your company? At SkyPlanner we can help you. Feel free to write to us at hello@theskyplanner.com.