Salesforce is the world's number one customer relationship management (CRM) platform. Nowadays, more than 150,000 companies use Salesforce to grow their businesses, which has made Salesforce administrator job profiles in high demand .
In this article, we will talk about the Salesforce admin. We will answer the questions: What is a Salesforce administrator? How can they help you improve your business? What are the roles of a Salesforce administrator? You will be surprised to learn the problem-solving ability that this specialist can offer you.
What is a Salesforce admin?
Salesforce administrators exercise their important role through their in-depth knowledge of the management and administration of a Salesforce organization. They are individuals who, without using a line of code, make it possible for you to use the arsenal of functionalities that Salesforce has developed for you. Salesforce administrators interact directly with stakeholders to define requirements, customize the platform, and allow users to take full advantage of it.
What does a Salesforce admin do?
They are responsible for tasks ranging from helping users develop reports and resetting passwords, maintaining data quality, adding fields, and running backups, among many other things. They have a wide range of responsibilities including platform maintenance, bug fixes, user training, process automation, etc. They also create amazing tools on any device, such as easy-to-use dashboards and smart workflows.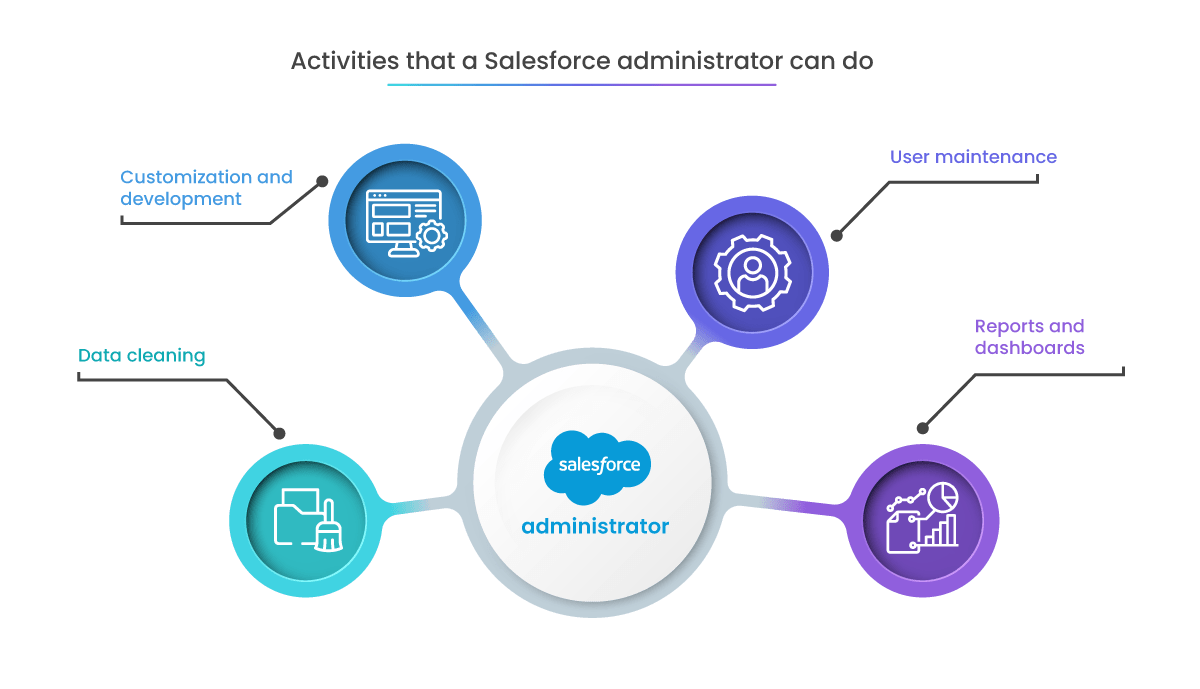 Among the activities that a Salesforce administrator can develop, we can find:
Data cleaning: eliminate duplicate accounts and contacts by mass updating and importing data using import wizards, data loaders, etc.
Customization and development: they can spend a lot of time in the settings menu adding picklist values, modifying page layouts, creating mapping rules, and more.
User maintenance: add new users, modify existing accounts, check system permissions on user profiles, restrict and open access to data, etc.
Reports and dashboards: create reports to obtain a large amount of information from the data stored in Salesforce that is used for decision making.
Many functions available in Salesforce that normally require a software developer can now be performed by an administrator without the need to write a single line of code, saving time and money.
Salesforce administrators work hard to achieve efficiency and promote productivity. They offer creative solutions, making Salesforce users happier and business more efficient. A good Salesforce administrator will not only execute what is requested, but will also make suggestions on how things can be done better. In fact, their work can be considered both management and consulting.
The role of the Salesforce administrator may differ from company to company depending on the size of the company and some other factors. However, they continue maintain the basic responsibilities they have, as mentioned prior.
What are the certifications that a Salesforce admin can obtain?
To be certified, a Salesforce administrator does not need deep technical knowledge. They must, however, have the appropriate experience with using the platform. They must go through a long and intense journey to achieve that much-desired certification that demonstrates the result of their knowledge, practice, and preparation in the Salesforce implementation.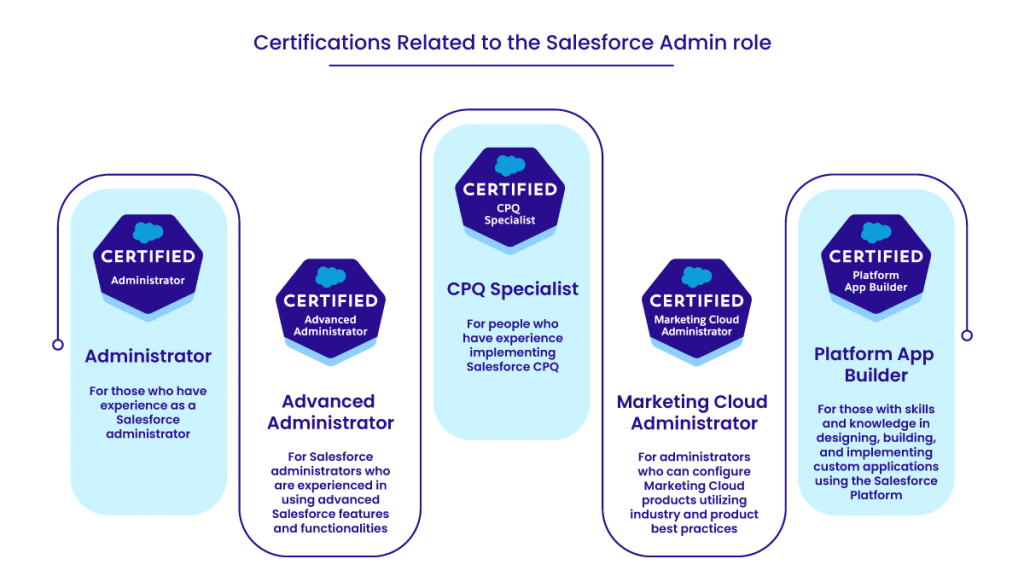 It takes a lot of perseverance and dedication on the part of these specialists to keep their knowledge and skills up to date. There are 5 certifications related to the Salesforce admin role.
Administrator: designed for those who have experience with Salesforce and are continuously look for ways to assist their companies get the most out of the platform's features and capabilities.
Advanced Administrator: conceived for professionals who are experienced in designing advanced platform setup, configuration solutions, and can devise a solution to solve a wide variety of business problems.
CPQ Specialist: designed for people who have experience implementing Salesforce CPQ. This certification is a great way to demonstrate skills and knowledge in the designing, building, and implementing quoting flows with Salesforce CPQ.
Marketing Cloud Administrator: designed for administrators who can configure Marketing Cloud products utilizing industry and product best practices. Candidates should be familiar with data management, account setup, and user requests.
Platform App Builder: designed for those who can demonstrate skills and knowledge in designing, building, and implementing custom applications using the customization capabilities of the Salesforce Platform.
Is it essential to have a Salesforce administrator?
If you use Salesforce, you will find that it is an excellent tool for the business. At first, however, it can be a bit intimidating with the sheer array of features it presents. This is where the importance of the Salesforce administrator lies: in their ability to help your company with errors, changes, problems, training, and improvements to this tool.
Let's take an example: with the help of a Salesforce admin, your sales staff can set up custom dashboards, fields, alerts, and reports to shorten the sales cycle and closely track each lead.
If a company does not have a Salesforce administrator, the capabilities of the tool may not be fully exploited and/or there may be adoption issues as users can become frustrated with the system. An effective Salesforce implementation cannot be conceived without the role of an administrator who is at the service of the company's users to guide them through this process successfully.
At SkyPlanner, we can help you implement or optimize the use of the Salesforce platform and its products and technology. We have top-level consultants and administrators with the experience and skills necessary to meet your demands. Write to us at hello@theskyplanner.com and, with us, you will find all the solutions you need.