Currently, most companies are flooded with data, which is worthless if it is not analyzed, converted into information and then into knowledge. Having knowledge gives you great power when it comes to predicting trends, identifying opportunities and establishing patterns, which will guide you during decision-making and in defining business strategies.
Tableau, as part of the Salesforce ecosystem, would act as an oracle. A platform through which you can ask questions about your data and receive revealing answers, easy to understand and presented with attractive visualizations.
This powerful analytics platform is made up of a wide range of products, including Tableau Desktop, Tableau Prep, and Tableau CRM; which was renamed by Salesforce as CRM Analytics in April 2022.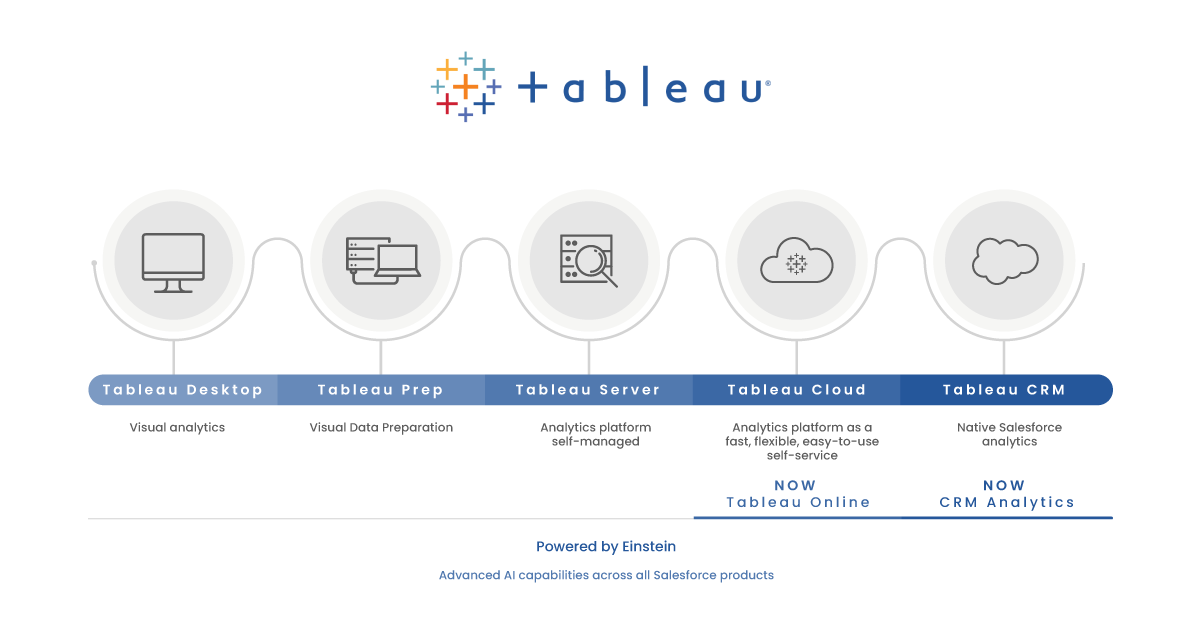 There is great confusion among users regarding these tools. In practice, the question might arise: implement Tableau without Tableau CRM, use Tableau CRM, or both? With this article we want to help you find the answer.
What is Tableau?
Tableau is a visual analytics platform geared toward satisfying use cases from all areas of the business. It helps people and organizations to explore and improve the interpretation of their data. This solution revolutionized the world of business intelligence (BI), making it possible to take full advantage of the unlimited potential offered by data regardless of its origin.
Powerful, secure and flexible, Tableau is a platform that can be implemented independently of the Salesforce ecosystem. Efficient and intuitive, this is a tool that can be very useful when it comes to solving problems and defining the future of a company. Tableau, a leader in the business intelligence market, is characterized by:
Improve analysis flows and make data, through visualization, more accessible to any professional in the organization.
Allow data combine, a method used to relate data from secondary sources to the primary data source, directly in a view.
Facilitate collaboration around data. Within seconds you can share your workbooks or dashboards with members of your organization, via Tableau Server or Tableau Cloud, and work on them as a team.
Enable interaction with graphs, reports and dashboards in real time. With one click, Tableau makes sense of your data and displays it in a graph, whether it's bar, pie, or any other.
What is Tableau CRM?
Tableau CRM, initially known as Einstein Analytics and now renamed as CRM Analytics, is an enterprise and customer analytics solution that integrates AI, machine learning, and BI. It has been optimized for use within Salesforce CRM applications and to reveal the secrets that your data hides, this being the base to generate amazing predictive models.
CRM Analytics is very flexible and among its main features are:
It provides Salesforce CRM users with actionable insights, extracted from the automatic analysis of millions of records, for creating more efficient and reliable workflows.
It provides companies with important elements to evaluate and make decisions at critical moments.
It's a native Salesforce product so the two integrate seamlessly. You can securely connect your data directly in the CRM and share relevant information about your company in Chatter.
It is designed to provide business intelligence to CRM users in all industries and through different devices, having been optimized for mobile, whether Android or iOS.
Tableau CRM not only helps you to understand what happened, based on historical data, but also to have a vision of the future using predictions.
Tableau or Tableau CRM?
In combination, these tools are a powerhouse in data analysis, highlighting the following advantages:
You will be able to connect to any data source that interests you, regardless of its origin, be it Salesforce, Tableau or external.
It will enable everyone in your company to enjoy the powerful analytics that can be gained from combining the visual analytics capabilities of Tableau with the AI capabilities of CRM Analytics.
Everyone in your company will have access to the results obtained, as they can be published in Tableau, Salesforce or integrated into portals and external applications.
They work better together, however, to use them separately you must be very clear about the following:
| Tableau is what you need | CRM Analytics is what you need |
| --- | --- |
| If you are looking for a BI solution that involves all areas of the company, that explores a wide range of data and satisfies a large number of use cases. | If you are looking for a solution oriented to the Sales or Services team, that integrates with the Salesforce CRM and provides information based on AI. |
You can rely on this decision tree if you still have doubts:

Being able to use data to predict or control the future of a company requires the skills of well-trained people. Do not hesitate, place your data in our hands, write to us at hello@theskyplanner.com, our team, based on its certified expertise, will turn your business into a success.