The recent addition of generative artificial intelligence has boosted business efficiency, enabling the creation of high-quality content and improving data-driven decision making. Against this backdrop comes Tableau GPT, a native AI-powered data visualization and analytics platform that delivers new personalized experiences in data analysis. Users, administrators and developers alike will benefit from innovative ways to display and understand data, improving efficiency and personalization in various areas of the business. So let's explore what's new around Tableau GPT.
What is Tableau GPT?
Tableau GPT is a solution that brings generative AI capabilities to the Tableau business intelligence platform from Salesforce. Built on the basis of Einstein GPT, it will extend all the potential of generative AI to the analytical platform under data governance frameworks already developed by Salesforce.
Tableau GPT offers conversational experiences to obtain information through natural language, automating data analysis. This allows users to interact and better understand their data. They can ask questions, receive analysis summaries and even anticipate possible inquiries. The platform takes data analysis to another level by transforming complex analysis into reports or dashboards that allow for better visualization. Imagine having conversations with a chatbot to analyze data or the ability to anticipate relevant questions!
While Tableau had introduced AI tools in recent years, it wasn't until the release of large language models (LLMs), such as ChatGPT, that natural language processing (NLP) reached new levels. However, given security concerns related to the use of ChatGPT, Salesforce has prioritized the protection of enterprise data. A layer of security has been applied to Tableau GPT to prevent unauthorized access and data leaks, maintaining user trust and ensuring the security of business information.
Tableau GPT and Tableau Pulse
Tableau Pulse is a new user interface that contains Tableau GPT. Tableau Pulse will perform automated analytics and use Tableau GPT to present information about custom metrics in natural language and in a visual format. This customization of metrics will be the result of a data transformation so that it may be possible to discover new opportunities, identify potential problems in a timely manner, and make better decisions.
Some of Tableau Pulse's features are:
Offer easy access and automatic notifications of relevant information for each business area.
Identify trends and causes of notable events, such as high levels of active tickets or excessive response times.
Clarify doubts quickly and share information with colleagues to make informed decisions.
Guarantee that users are aware of the performance of their company and provide personalized experiences, providing timely information to optimize processes and improve decision making.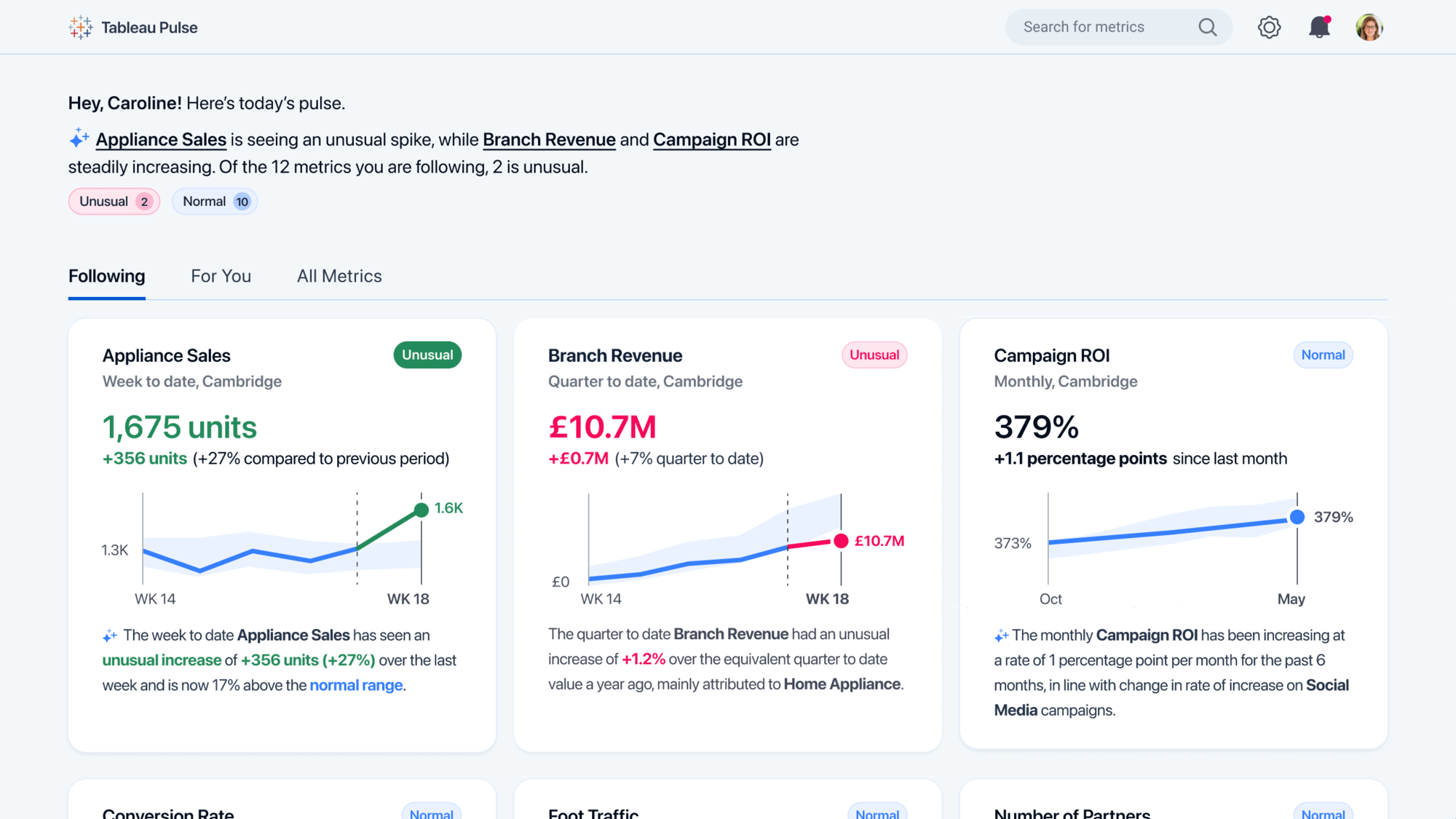 Data Cloud for Tableau
Data Cloud for Tableau comes as a solution to give users more ways to view information more easily. Its final objective is to guarantee reliability in the data used by business intelligence users. It will allow the unification of the organization's data through all channels in unique customer profiles in real time.
Data Cloud allows users to virtually access cloud data from another database. This happens thanks to Data Cloud's copyless data sharing functionality, which provides instant accessibility. Just as Salesforce Data Cloud functions as a database to store information usable in CRM and Customer 360, Data Cloud provides a database for Tableau. It stores and provides access to third-party data that may be needed in analytics and business intelligence use cases.
Other capabilities envisioned in the near future of Data Cloud for Tableau are Instant Analytics and Data Spaces. The first will allow users to analyze and visualize all kinds of data in Data Cloud in real time in Tableau, as well as review a multitude of records with just one click. The other functionality will allow segmenting data based on specific characteristics.
VizQL Data Service
This tool manages to combine Tableau with Salesforce's Customer Data Cloud. It is based on VizQL, which is Tableau's visual query language for databases. This allows users to integrate Tableau into an automated business workflow without, in some cases, using any line of code. With a user-friendly programming interface, developers will now be able to build composable data products with relative ease, taking the complexities out of query construction and data modeling.
Tableau GPT Benefits
We know that we are in the presence of a high cognitive load, but the advances of Tableau GPT have only just begun. Therefore, we have made a summary of what will be the main benefits known so far:
Focus analysis on personalized data and contextual insights from each user.
Facilitates understanding by presenting automated statistics and custom analytics in reports and dashboards.
Allows integration with Salesforce solutions and the Tableau suite, optimizing workflows.
Collects all company data in a single view, facilitating access to information for all areas of the organization.
Offers a variety of flexible pricing options to accommodate businesses of all sizes.
Although the announcement of these new features regarding the addition of generative AI to Tableau has aroused great interest, they are currently in the development stage. It is assumed that, by the end of the year, these functionalities will be available in a pilot program.
If you are interested in delving into the fascinating world of Salesforce, the SkyPlanner team has the necessary experience and expertise to advise you. You can write to us at hello@theskyplanner.com.