Although many think that, in today's digitized and connected society, most people prefer digital communication channels; the truth is that customers continue to rely on phone assistance. According to the Salesforce State of Service report, 93% of customers use the phone for support, while 76% expect to resolve their issue by speaking to a single agent. Additionally, 95% of companies continue to offer phone support as a service channel.
Thus, the phone retains an omnipresence in communication with customers. This channel, however, is being forgotten with the advances in technology and innovation. This is where Salesforce, always at the forefront of cloud business technology solutions, has a comprehensive solution to upgrade phone support: Service Cloud Voice.
What is Service Cloud Voice?
Service Cloud Voice is a feature of the Service Console that provides support agents with a high quality phone support tool to do their job. It offers a 360-degree view of customers and their requests, combining data from all channels and powered by Artificial Intelligence. This creates a single source of information and allows agents to resolve queries more quickly and proactively, while presenting customers with a strong and positive image of the company.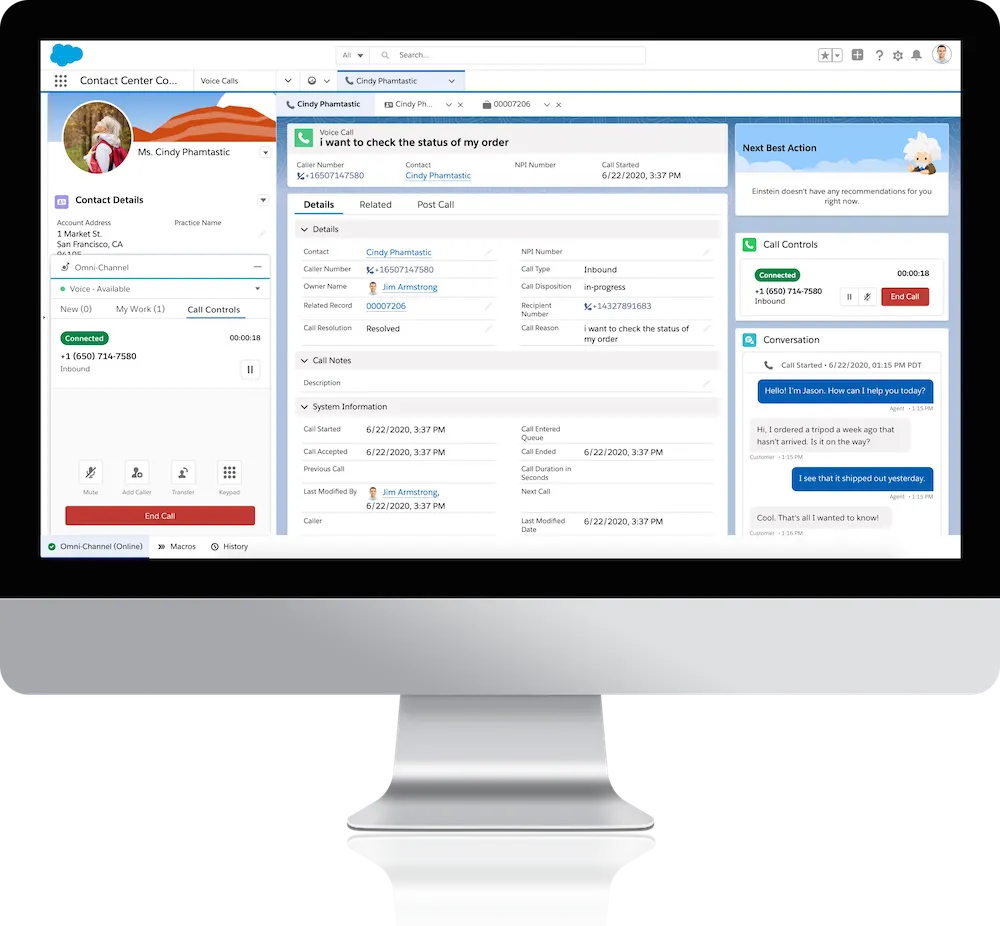 Main functionalities
Although you can already get an idea of the potential of Service Cloud Voice, it is worth mentioning its main features.
Integrates telephony data, information from connected digital channels (social networks, website, email, SMS, etc.) as well as CRM data in a single console, providing a comprehensive customer profile. This achieves a fully omnichannel experience where agents access a single widget for calls and interactions, without so many clicks, screens and distractions.
Allows the service to be strengthened through the use of AI. The wonderful Einstein tool provides real-time recommendations to make your agents more effective.
Facilitates, also through Einstein, the generation of powerful reports, eye-catching panels, as well as the transcription of calls in real time.
Allows integration with your favorite telephony solution, be it Amazon Connect or your own telephony partner.
Offers supervisors and managers the ability to monitor calls in real time.
Key Benefits of Service Cloud Voice
The benefits of Service Cloud Voice are many and varied. Here we list some of the main ones.
Reduces customer service time, while providing more efficient and personalized solutions. It also increases the productivity of support agents.
Allows the agent to fully focus on a customer, having all the available information on hand, in a single screen and without having to take notes.
Facilitates the acceptance of phone calls through integrated call control tools (softphones).
Facilitates the supervision of agents. Supervisors and managers can listen in real time to calls, read conversations, monitor routings and access transcripts. With this they can evaluate the performance of the agents and identify those who need more orientation and training. This also optimizes the training of the support team.
Promotes customer satisfaction and loyalty by resolving their queries in less time, more effectively, and with better-supported agents.
Differences between Service Cloud Voice and Salesforce Call Center
Many of the CRM customers already work with Salesforce Call Center. So, one of the most frequently asked questions is: how are the two solutions different?
| Service Cloud Voice | Salesforce Call Center |
| --- | --- |
| Native solution for Service Cloud, pre-integrated and ready to use with Amazon Connect. Alternatively, you can integrate with your phone partner through a pre-built package. | Requires integration of a third-party phone system on each computer. A call center can be created by installing Computing Integration (CTI) packages created by AppExchange developers or partners. |
| Seamless integration of data and voice transcription to complete records automatically. Suggest actions or content with AI and unlock powerful reporting options with Einstein. | It includes screen pops, click-to-call, and some data logging and analysis features based on call information. |
| The call control tool integrates with an Omni-Channel widget for easy access to all phone and digital conversations without so many clicks and screens. Supervisors can see all digital interactions and help agents. | The call control tool integrates with the console footer and is separate from other digital conversations, limiting the omnichannel experience. |
Source: Trailhead.com
How to purchase Service Cloud Voice
Service Cloud Voice is available in Lightning Experience, in Enterprise and Unlimited editions. Also in Sales Cloud, Service Cloud and Government Cloud as an additional license. As said throughout the article, you can choose to integrate this solution with Amazon Connect or with your favorite phone partner. The prices of this service depend on your choice.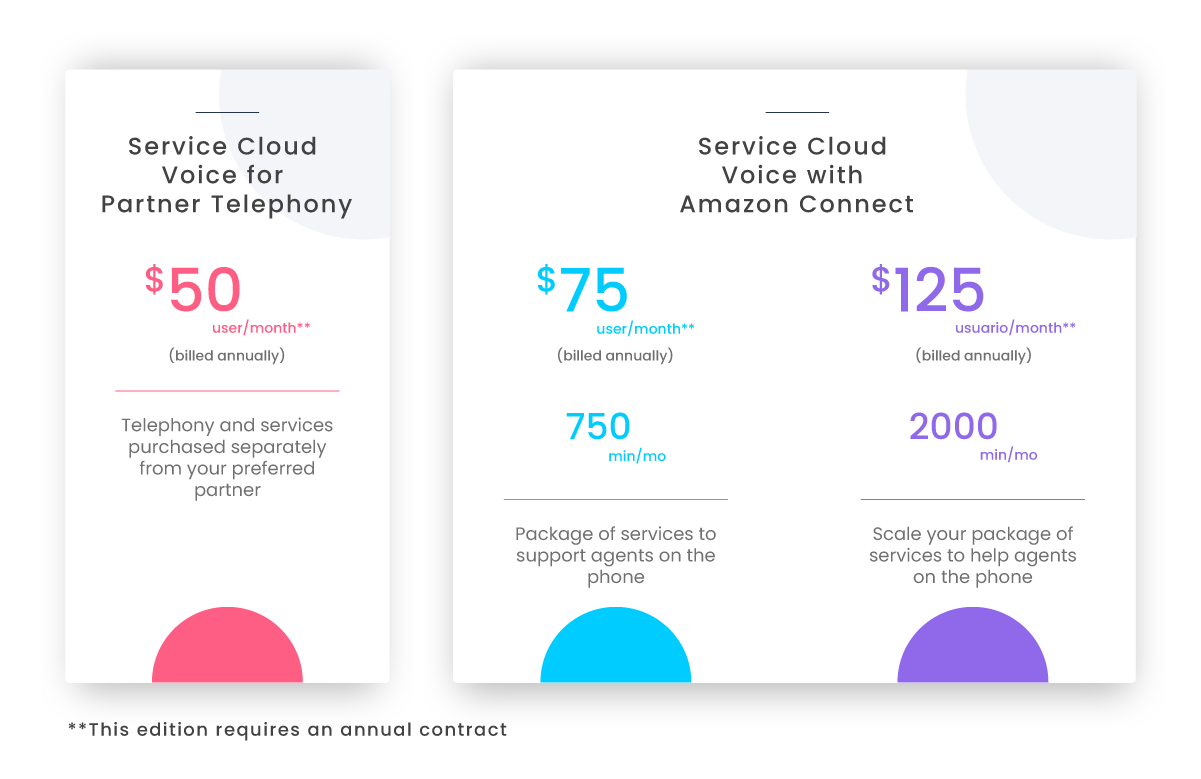 Undoubtedly, phone support continues to be among the favorites for customers and should not be neglected. Service Cloud Voice enables a higher level of phone support for your company and it can help you keep your customers satisfied and your agents better supported. Interested in learning more about this service and how it can empower your support team? At SkyPlanner we can help you. Write to us at hello@theskyplanner.com.