Non-profit organizations, which already number in the tens of thousands, need a platform that allows them to manage their processes and activities. For this reason, Salesforce, the world's leading CRM platform, offers specialized solutions for this type of organization. It constantly surprises us with updates and innovations, and this one is no exception. In this article, we'll explore the latest innovations in Salesforce Nonprofit Cloud.
Salesforce Nonprofit Cloud
Salesforce Nonprofit Cloud is a comprehensive solution designed specifically for nonprofits. It enables managers to manage all of the organization's activities on a centralized platform, including fundraising, program management, grant making, and community relationship maintenance. With specialized packages and modules, this cloud offers a complete vision of donors and collaborators, focusing on optimizing the donor experience.
Salesforce Nonprofit Cloud, recent innovations
Salesforce Nonprofit Cloud has received updates to improve its functionality and adapt to the needs of nonprofit organizations. These updates are focused on improving connection with supporters, increasing transparency in fundraising and financial issues, and maximizing staff productivity. More and more organizations are taking advantage of digital technologies to enhance the management of their activities and find efficient solutions in the non-profit sphere.
Nonprofit Cloud has undergone a significant evolution with the addition of the next generation of the platform. Powered by Customer 360 CRM and the latest updates to Einstein AI, Salesforce Data Cloud, and CRM Analytics, this cloud is strengthened as a unified solution for nonprofits in challenging environments. It offers advanced data unification functionalities, artificial intelligence and optimized work modules, allowing it to operate on a larger scale and maximize the impact of the organization's activities. These innovations further improve the efficiency and effectiveness of the Salesforce Nonprofit Cloud.
A single view to manage programs
An integrated view allows nonprofit organizations to assess the progress of any program participant. Thus, it is possible to identify which is the next most appropriate action to be carried out by each individual. Likewise, this functionality allows knowing the progress of the programs and identifying which one needs to be prioritized or reinforced. As if that were not enough, it makes it easier to share information with third parties who usually collaborate with this type of organization.

Promotion of hyper-personalized experiences
The functionalities related to fundraising benefit from this optimization, since the experiences of individuals with the organization acquire a new form of relationship on a larger scale based on a well-structured process.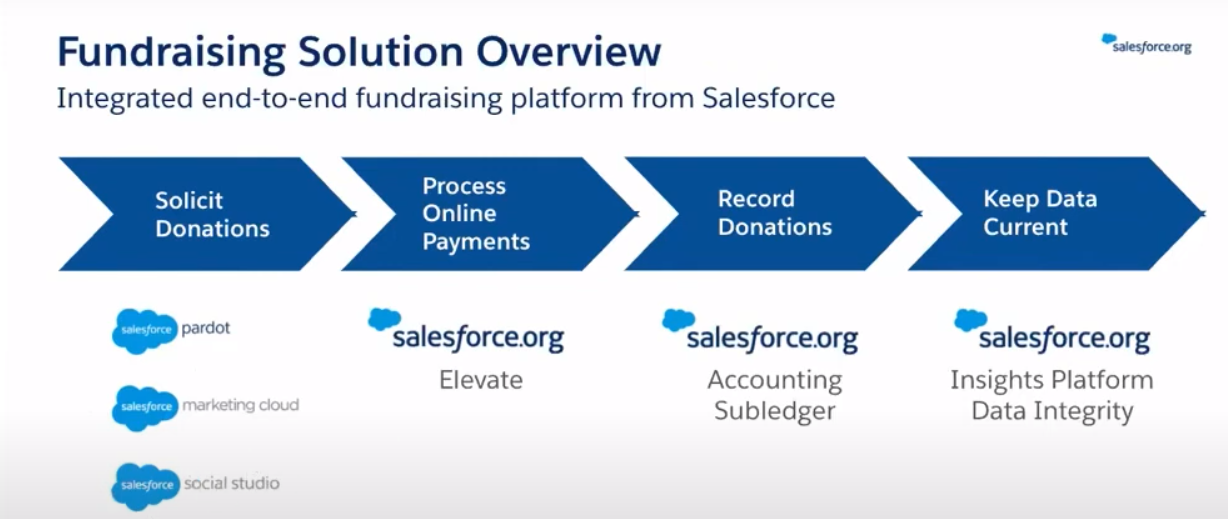 Commitment programs may also have the tool to follow the details of each of the programs. In them the contribution of personal time occupies the leading role.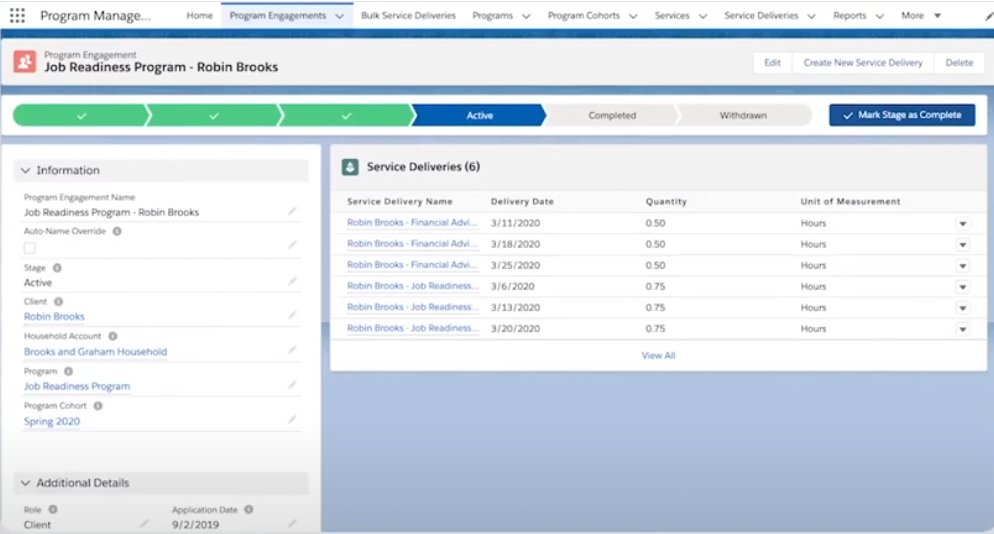 The specialists in charge of marketing processes and other areas will be able to have a broader image of the campaigns and programs, being able to identify which of them are achieving the greatest impact. Based on that, they will be able to make decisions based on precise data and using the advantages of analysis driven by artificial intelligence.
Data and analysis in real time
Real-time information allows processes such as Grantmaking to be analyzed and executed to generate more effective impacts. Thus, both funders and beneficiaries are favored. On the one hand, the former can make decisions about whether or not to continue financing a program. On the other, the creation of better experiences for the beneficiaries is achieved by facilitating the participatory processes.
Reports of results integrated in each solution
In real time and in correspondence with the objectives pursued, it is possible to measure whether a campaign, program or service is on the right path to achieve its purposes.
Having detailed and timely reports allows organizations to take actions that are more tailored to the needs of the moment. With this, they will be able to decide if it is necessary to readjust the course to generate a greater impact, or identify in which process more investment of resources or time is needed. This means that it is no longer necessary to wait for annual or semi-annual reports, but rather you can work continuously with the reports.
In short, Salesforce for nonprofits innovations provide greater process integration, allowing everyone involved to access and work with the same information from a unified platform. This facilitates decision making based on integrated and real-time data, supported by constant results reports. If your organization is dedicated to nonprofit actions and already uses Salesforce, these innovations can be highly beneficial. If you haven't explored Salesforce Nonprofit Cloud yet and would like more information, you can contact the SkyPlanner team at hello@theskyplanner.com for guidance and questions. We will be happy to help you.