Past experience shows that it costs more to attract a new customer than to retain an existing one. An OrderGroove study tells us that 41% of revenue comes from repeat customers who are only 8% of the total. Customer retention has become so important that businesses have evolved to offer new models based on recurring relationships. In fact, as early as 2020 Gartner predicted that more than 80% of software vendors will shift their business model from traditional license and maintenance to subscriptions.
This subscription model consists of selling products, services or content to the same customer base in a systematic way and with periodic payments, generally monthly.
In other words, the subscription business model turns traditional customers into regular subscribers.
However, retaining a customer is not an easy task. To do this, you must focus on creating comprehensive, seamless and, of course, memorable experiences that increase consumer loyalty. Needless to say, in subscription models, customer retention becomes even more important, as revenue depends on it. Subscribers expect consistency, personalization, speed, and accuracy. Your business must be able to provide it.
For this scenario, Salesforce CRM also has a competitive solution that will make running your business easier. So let's see what Subscription Management is all about.
What is Salesforce Subscription Management?
Salesforce Subscription Management is a solution that, through technology-driven automation and shared data, optimizes subscription delivery. It also allows you to automate the sales, billing and collection processes of unified products through subscription. Likewise, it enables the creation of catalogues, the management of prices and quotes, as well as the monitoring of purchases, invoices and overdue payments in an omnichannel manner. It's part of Revenue Cloud, along with Salesforce CPQ and Salesforce Billing.

Salesforce Revenue Cloud, The All-In-One Solution For Your Business Growth
Revenue Cloud is a solution that integrates tools aimed at facilitating the management and optimization of the lifecycle of your revenue.
How does Salesforce Subscription Management work?
A subscription management solution has to be, above all, very intuitive, simple and fast. We are no longer in the era when a customer had to communicate with the business to buy a subscription and also when they needed to modify it. In fact, many people are now looking to manage their subscriptions and place their orders automatically, with very few clicks.
Salesforce Subscription Management is ideal because it does a lot of things behind the scenes, going unnoticed by the customer. It brings subscriber data to a single source of information, connects separate channels and tools on a single platform, and performs both automation and AI-powered analytics throughout the process. All of this in order to provide the best experience to the customer, starting from the purchase to the renewal or modifications of the subscription.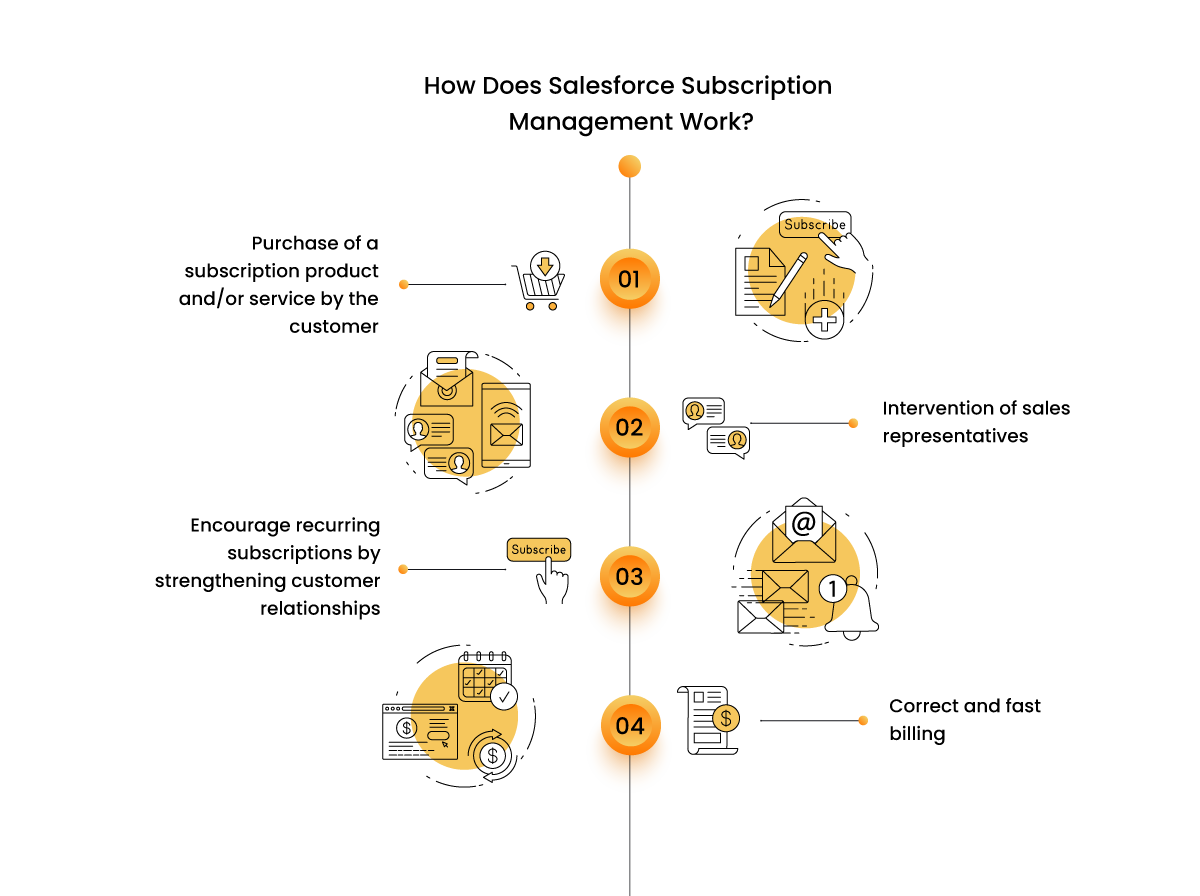 In detail the process can be seen as follows:
Purchase of a subscription product and/or service by the customer. Sales representatives previously designed the product catalogs with payment rates based on their pricing models. For the estimation of prices and quotes, as well as the creation of product packages, they can be advantageously supported with Salesforce CPQ. Customers can buy both through interaction with a seller, and with the self-service mode directly from your company's website.
Intervention of sales representatives. Would only be needed when customers change their subscription orders, have questions, or need help closing, those are the times for sellers to shine. They can access the Administration tool to update subscriptions, modify quantities, apply discounts and submit new quotes with its price and terms.
Encourage recurring subscriptions by strengthening customer relationships. While the customer can continue to upgrade their subscriptions on their own, sales reps can influence this decision. Using Salesforce Revenue Intelligence, you can easily spot the best opportunities based on purchasing trends, behavioral history, and AI analytics.
Correct and fast billing. Through the Salesforce CPQ and Salesforce Billing integration, every stage of the revenue lifecycle is automated. This means that there would be no more manual transfers between sales and finance, reducing both errors and negative customer experiences.
Subscription pricing models
At this point, a valid question may arise: what are subscription models? Subscription models are closely linked to the price that must be paid for them. These are the most common:
Static prices: an invariable price is used for each product.
Prices of use or consumption: pricing model based on the use or consumption of a certain product or service. The invoice will be proportional to the number or volume demanded. For example, a business printer ink amount needed will be greater than that the one needed for a home printer. This model is also widely used by telecommunications service providers.
Contracted prices: the price is previously negotiated through licenses. It is essential for purchases through self-service since it does not require negotiations with the sellers.
Tiered or tiered pricing: This refers to product and service packages at multiple levels and at different prices that are adaptable to different customer groups. Generally, each level offers certain functionalities at a fixed price. For example, when certain business software companies sell different versions of their products divided into Personal, Business and Premium. The client has the option of choosing the subscription according to their needs and possibilities.
Percentage of total: when one product is quoted as a percentage of another. For example, when additional technical assistance is included in the purchase price of software or hardware.
Choosing a subscription pricing model is important as it impacts customer retention and business growth. No model is better than the others. So when choosing, you must take into account which one best supports the commercial order of your company and the needs of your clients.
Benefits of Salesforce Subscription Management
Its main benefits are:
Allows customers to purchase, upgrade, renew and pay for products seamlessly through self-service channels such as e-commerce, mobile apps and other sites.
Automates and simplifies catalog creation, price management, invoice generation, payment processing, credit note issuance, and tracking of customer purchases over time.
Creates a single source of information shared by all customer contact areas.
Enables AI to score invoices based on the probability of late payment. The finance team can use these scores to prioritize higher risk invoices.
Makes it easy to view critical customer data, as well as key performance indicators, through simple, intuitive dashboards that are updated in real time.
Without a doubt, Salesforce Subscription Management focuses on giving each customer a complete experience throughout the entire purchase and payment process. Drive both subscription adoption, renewal and upgrade, as well as the retention and engagement of your subscribers. Together with CPQ and Billing, it forms the perfect triad to optimize the management of your income. Are you interested in exploring these solutions? At SkyPlanner we can help you. Feel free to write to us at hello@theskyplanner.com.