Competition in the retail sector is increasingly fierce. There are several causes for this, such as the recovery of the world market after the Covid19 pandemic, together with the popularity of electronic commerce and the proliferation of online stores, make this sector a very complex environment. Consumers also have more shopping options than ever before. In addition, they are more connected and informed. This scenario forces retailers to work harder to attract and retain their customers. It is essential as a competitive advantage.
A good way to achieve this is by using Salesforce retail solutions. The following will discuss these solutions and their advantages.
What are Salesforce Retail Solutions?
Salesforce for Retail is a suite of tools and solutions available to organizations in the industry. It helps these companies to optimize the customer experience, improve efficiency, and increase sales. Retailers can use the Salesforce platform to create a unified experience across the web, mobile, brick-and-mortar, and any other channel; therefore optimizing customer engagement and marketing initiatives. These solutions also provide insight into customer behavior, purchase history, preferences, and loyalty programs; thus making it possible to identify new ways to build deeper customer relationships.
Solutions within Salesforce Retail
According to the CRM itself, retail solutions are aimed at three specific objectives:
Reach buyers wherever they are.
Attract, acquire, and retain customers.
Reinvent the role of the store and the employee.
To do this, they use many of Salesforce's most powerful solutions and tools, putting them at the service of the retail industry. Among these solutions are:
Commerce Cloud: Helps create personalized online shopping experiences.
Marketing Cloud: Allows you to segment and hyper-personalized marketing campaigns.
Sales Cloud: Optimizes sales management by automating and improving sales processes.
Service Cloud: Makes it easy to provide exceptional customer service through different channels.
Community Cloud: Allows you to create online communities for your customers and employees.
Einstein: Places artificial intelligence at the service of the company, allowing it to obtain quality information, predictive analysis, and automate tasks.
Salesforce POS: A point-of-sale tool that helps process orders, manage returns, and access customer data to identify opportunities and create offers.
Salesforce CPQ (Configure, Price, Quote): A Quotation tool that helps automate, optimize, and speed up the quoting process.
Order Management: A Tool that helps to manage orders and inventory in a centralized and automated way.
Loyalty Management: Makes it easy to create intelligent B2B and B2C loyalty programs that are flexible, configurable, and quick to implement.
Customer 360: Connects you with your customers in a smarter way by uniting sales, service, marketing, commerce, IT, and analytics on a single platform.
MuleSoft Anypoint Platform: Allows visualizing the entire supply chain by integrating customer, order, and product information between suppliers and partners.
myTrailhead: A learning platform that helps you find the best practices in CRM.
Tableau: A platform that offers analysis and visualization of data in real time.
Salesforce Retail Media: Improves the media and advertising strategy of your business, allowing you to connect with customers at the right time and place.
Benefits of Salesforce Retail Solutions
With this majestic set of solutions, the benefits that it can bring to your retail business are more than evident. According to the Total Economic Impact Report over the past three years, customers using Salesforce for Retail have seen a 257% ROI. Other stats to keep in mind are: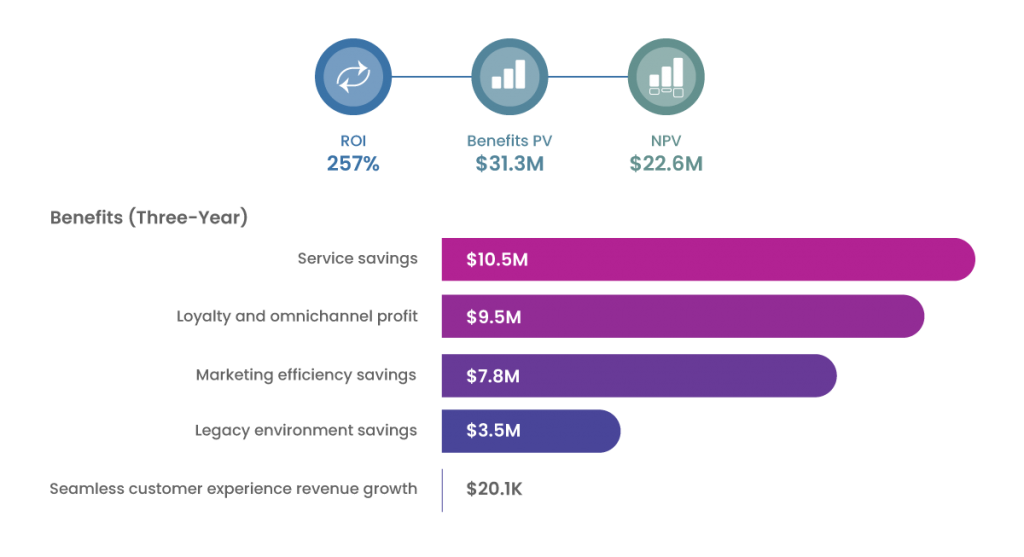 Some of the main benefits of Salesforce retail solutions include the following:
Boost sales productivity by making it easier to monitor KPIs to make more informed decisions about product placement, pricing, promotions, etc., resulting in higher profits for the organization.
Automate workflows and improve efficiency by streamlining critical processes like quoting and selling, reducing wait times, and increasing productivity.
Maximize the performance of marketing campaigns by providing a comprehensive and immediate view of customers and their purchasing behavior, identifying trends and patterns which would allow campaigns to be timely adjusted.
Streamline end-to-end inventory management by ensuring accuracy across all sales channels and giving customers instant access to available products.
Hyper-personalize and enhance the customer experience using AI-powered recommendations and displaying personalized content based on individual customer behavior.
Facilitate the monitoring of business processes as it provides a real-time view of your operations and business trends, allowing you to make solid decisions and improve your results.
Improve customer service efficiency by streamlining your inquiries through automated responses and case resolution, scheduling and assigning field work, scheduling appointments, and tracking service status in real time.
Optimize omnichannel POS by providing seamless collaboration between online and physical stores while processing orders quickly and accurately.
Are you looking for a way to improve your customer experience and increase your productivity in the retail sector? Do you want to be at the forefront of industry trends and make the most of your data? Salesforce Retail Solutions is what you need to transform your business and stay competitive in the marketplace. Our SkyPlanner team can help you with this goal. You can contact us at hello@theskyplanner.com.