Around the world there are many non-profit organizations that have to their credit the promotion and defense of a cause, the achievement of a mission; in essence, the achievement of certain objectives. To do this, these organizations design and execute activities, programs, campaigns, etc., that respond to their mission. Likewise, they also tend to measure the impact of their actions to know how effective they have been. All of this and more undoubtedly produces a significant amount of data that needs to be collected and analyzed to optimize performance.
Specially designed to meet the needs of this type of entity, Salesforce Nonprofit Cloud emerges. With an established presence in the market, this cloud continues to be in great demand and has notable acceptance among its users. For this reason, its developers keep it optimized as time goes by.
What is Salesforce Nonprofit Cloud?
Salesforce Nonprofit Cloud is a CRM platform designed specifically for nonprofit organizations. It allows them to maintain solid relationships with collaborators, donors, volunteers and beneficiaries, streamlining organizational processes and optimizing actions to fulfill their mission. With this unified platform, organizations can carry out various actions in a comprehensive manner. For example, fundraising, program management, grantmaking, marketing, and care for donors, volunteers, and recipients. In addition, it allows to measure and track the impact that these actions have, regardless of the size of the organization. It is an ideal solution for NGOs, foundations, educational centers and other entities with a similar profile.
Salesforce Nonprofit Cloud Features
Salesforce Nonprofit Cloud showcases a variety of functionality, some of which is native to Salesforce, and others of which are managed packages that are installed on top of each Salesforce instance. Currently, some of these features will be generally available later this year as they are being updated. Here are some of the main ones: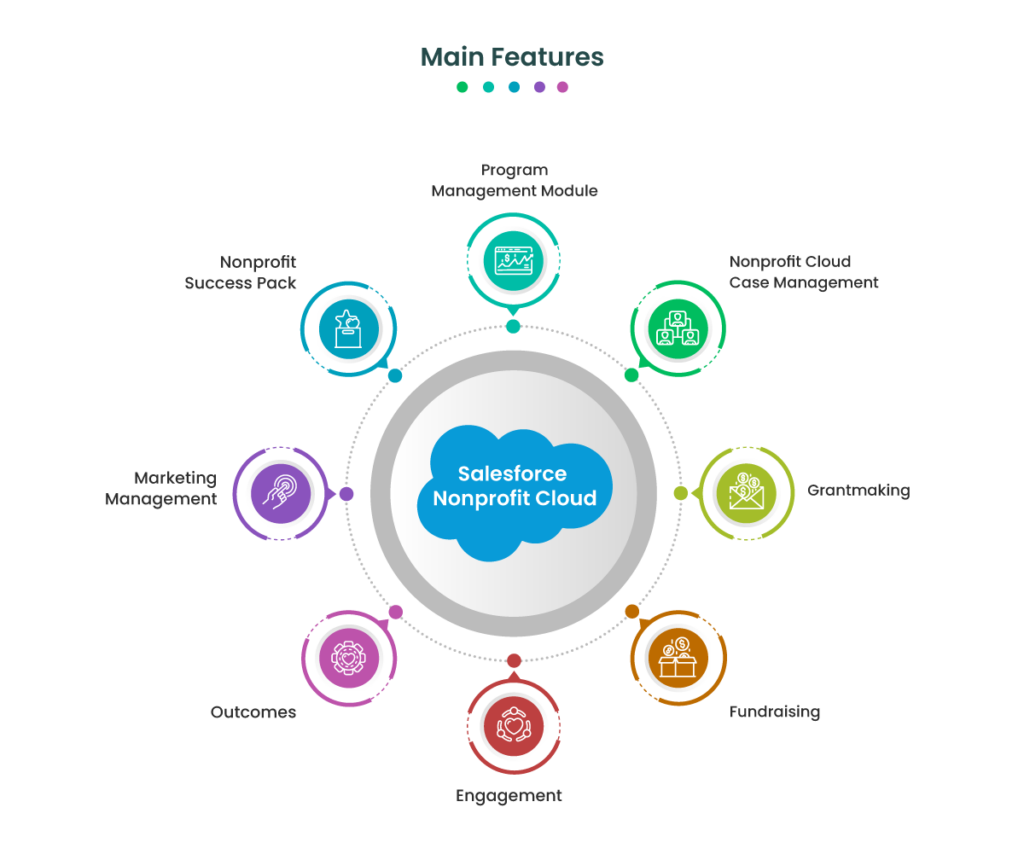 Program Management Module (PMM): enables you to effectively manage and track your programs, ensuring efficient delivery as well as measuring practical impact.
Nonprofit Cloud Case Management (NCCM): streamlines and centralizes case management processes, providing end-to-end support to beneficiaries and tracking their progress.
Grantmaking: Delivers robust grantmaking capabilities, enabling organizations to efficiently manage the entire grantmaking lifecycle.
Fundraising: Optimize fundraising efforts by managing donor relationships, tracking donations, and running targeted campaigns.
Engagement: facilitates engagement with donors, volunteers, and beneficiaries through personalized communications, event management, and volunteer tracking.
Outcomes: allows measuring and tracking the results of both actions and operations.
Marketing Management: offers marketing management tools that allow organizations to promote their causes and effectively reach a broader audience.
Nonprofit Success Pack (NPSP): Provides predefined configuration and functionality specifically for nonprofit organizations. This allows you to meet your needs through a faster and easier implementation of Salesforce.
There are other functionalities that can also be implemented, although they are not the only ones available:
Event management app: manage events, from planning to subsequent monitoring.
Dashboard and reports: Generate customizable dashboards and reports to get a complete view of key metrics and organizational performance.
Salesforce AppExchange: Offers a wide range of additional apps and solutions that integrate with Salesforce Nonprofit Cloud to extend its capabilities and functionality.
Accounting subledger: Allows accurate and detailed monitoring of the organization's financial and accounting transactions.
Einstein for Nonprofits: Provides data-driven insights and recommendations, thus improving decision-making and performance.
Insights Platform Data Integrity: maintains the integrity and quality of the data, ensuring that the information is up-to-date and accurate.
Outbound Funds Module (OFM): manages and tracks outgoing funds, facilitating the management of donations and fund transfers to other entities.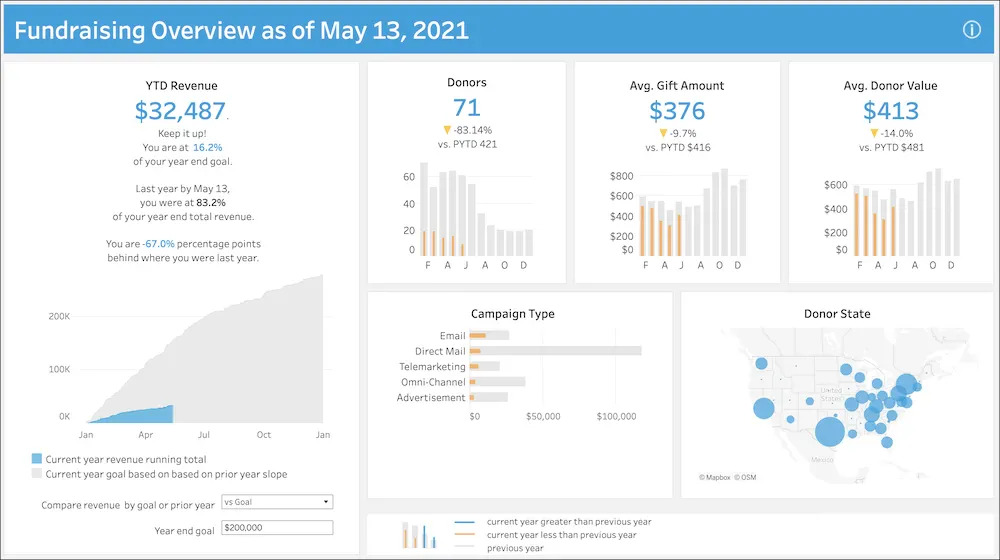 Benefits of Salesforce Nonprofit Cloud
This Salesforce cloud for nonprofits is not without attractive benefits that make it eligible for many entities. Among its most notorious benefits are:
Establishes close connections with collaborators, donors, volunteers and beneficiaries, fostering lasting relationships.
Optimizes organizational processes and aligns actions to achieve the organization's mission and goals.
Facilitates the management of programs, grants, fundraising, donations and volunteers.
Generates reports to maintain transparency and show the impact of actions and the use of donations.
Increase donor confidence by showing transparency in the use of funds.
Allows the monitoring and strengthening of relationships with followers and sympathizers of the organization.
Automates processes to dedicate more time to the cause and reduce operating costs.
Provides a supportive online community with ideas and updates.
It has a discount system that is attractive to its users.
Salesforce Nonprofit Cloud Editions
Salesforce Nonprofit Cloud has several editions available for nonprofits, which can be purchased by entities based on their needs.
Enterprise Edition: It is projected as a single platform in which it is possible to finance, deliver and evaluate the impact. It has a contract price of $60 per user per month.
Unlimited Edition: As its name suggests, it provides unlimited functionalities. It is priced at $100 per user per month.
It is also worth mentioning that Salesforce grants 10 free technology licenses to eligible educational and non-profit organizations through the Power of Us program.
If you are considering implementing Salesforce Nonprofit Cloud you can write to the SkyPlanner team at hello@theskyplanner.com. We will be happy to advise you.