In the world of sales, the territory where sales are made is of vital importance. It is the sacred stage where new customers are captured and recurring sales are generated. It is the place where you demonstrate who is in control against competitors. Territorial sales planning is key to divide and conquer, commercially speaking, every inch of land. This maximizes individual performance, overall sales and the company's long-term growth.
But great results are not a matter of chance! To improve the efficiency and effectiveness of sales operations in a specific region, for maximum performance and positive results, both territory sales managers and representatives must follow a plan that is well aligned with an overall strategy.
This plan guarantees that the right salespeople are assigned to the right prospects. Each sales rep's unique personality must be carefully considered in territory planning, ensuring that they are assigned to an area with a customer base akin to their individual sales skills.
Wondering how to improve territory sales planning in your company? Here are more details on the Salesforce solution for this purpose.
What is Salesforce Maps Territory Planning and how does it work?
Territory Planning is an add-on to the Salesforce Maps product available in the Sales Cloud. This functionality helps companies optimize seller-territory interaction, increase efficiency and improve customer satisfaction. It allows your sales managers to create customized plans for your sales teams through territory design. In addition, it is easy to use and customizable to meet your company's unique needs.
The territory management process refers to the division of a specific geographic area into territories. This allows for optimal assignment of sales representatives, monitoring of their performance and necessary staffing adjustments. A sales territory is defined as a specific geographic area to which one or more sales representatives are assigned.
Key features of Salesforce Maps Territory Planning
Balanced Assignment: Allows territories to be assigned fairly and equitably, taking into account various factors such as sales potential, workload, and salespeople's skills.
Visualization and analysis: Provides visual tools to create maps that show the disaggregation of territories and enable detailed analysis of sales and customer data in each area.
Change management: Allows adjustments and changes in territory allocation in an agile way, to adapt to changing business and market needs.
Reporting and analysis: Provides detailed reporting and analysis of sales performance in each territory, helping to identify areas for improvement and growth opportunities.
The application is capable of importing data, both from other Salesforce products and from external sources. This data is recorded, and from it, territorial models, called "alignments", are created. The mappings are compared and then optimized by the tool. Once the alignments have been processed, the client can choose to publish them in Salesforce systems or in third-party systems.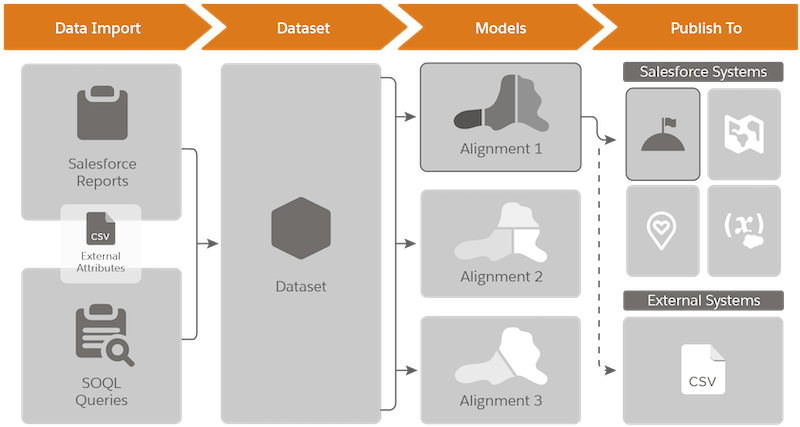 What are the benefits of Salesforce Maps Territory Planning?
Territory planning in Salesforce is considered a strategic function within a company's management, as it is critical to improve efficiency in sales operations and achieve sustainable company growth.
Through these tools and approaches, Salesforce ensures that each sales representative is assigned a territory that suits their personality and sales skills, ensuring success both individually and for the organization as a whole. This brings important benefits such as:
Opportunity retention: An immediate result of a new framework consisting of structuring complex sales systems that are sensitive to frequent change, which helps to streamline the transfer of users within a territory.
Reduced sales costs: The ability for salespeople to focus on the right customers minimizes both the time and costs associated with unnecessary travel. This allows sales and service strategies to be implemented much faster through facilities such as the visualization of mass plans as adjustments are made to territories, accounts, income and quotas.
Measurement: Optimizing sales territories is critical to achieving the company's revenue objectives, and it is in this context that this unique feature of sales territory mapping software stands out. By evaluating various sales sectors and regions, it is possible to analyze the performance of sales teams. In the Salesforce environment, an analysis of sales territory alignment can be carried out by simply creating a report in the dashboard.
Informed decision: A possibility provided by the reporting capabilities in the context of Salesforce Territory Planning. In an agile way, it is easily possible to produce information related to the performance of sales territories, making it easier to make adjustments based on available data. An illustrative example is a situation where the company has focused its efforts on selected geographic areas through online advertising campaigns, and plans to implement a telephone sales strategy. Conversion data can provide valuable insights into how to efficiently distribute allocations in each territory.
Compatibility: A problem faced by clients of other business management services is their poor compatibility with products from other vendors. The files generated by Salesforce Territory Planning are not only fully integrable with other Salesforce management products, but can be exported in popular formats such as PDF for distribution to sales reps and use on their own devices.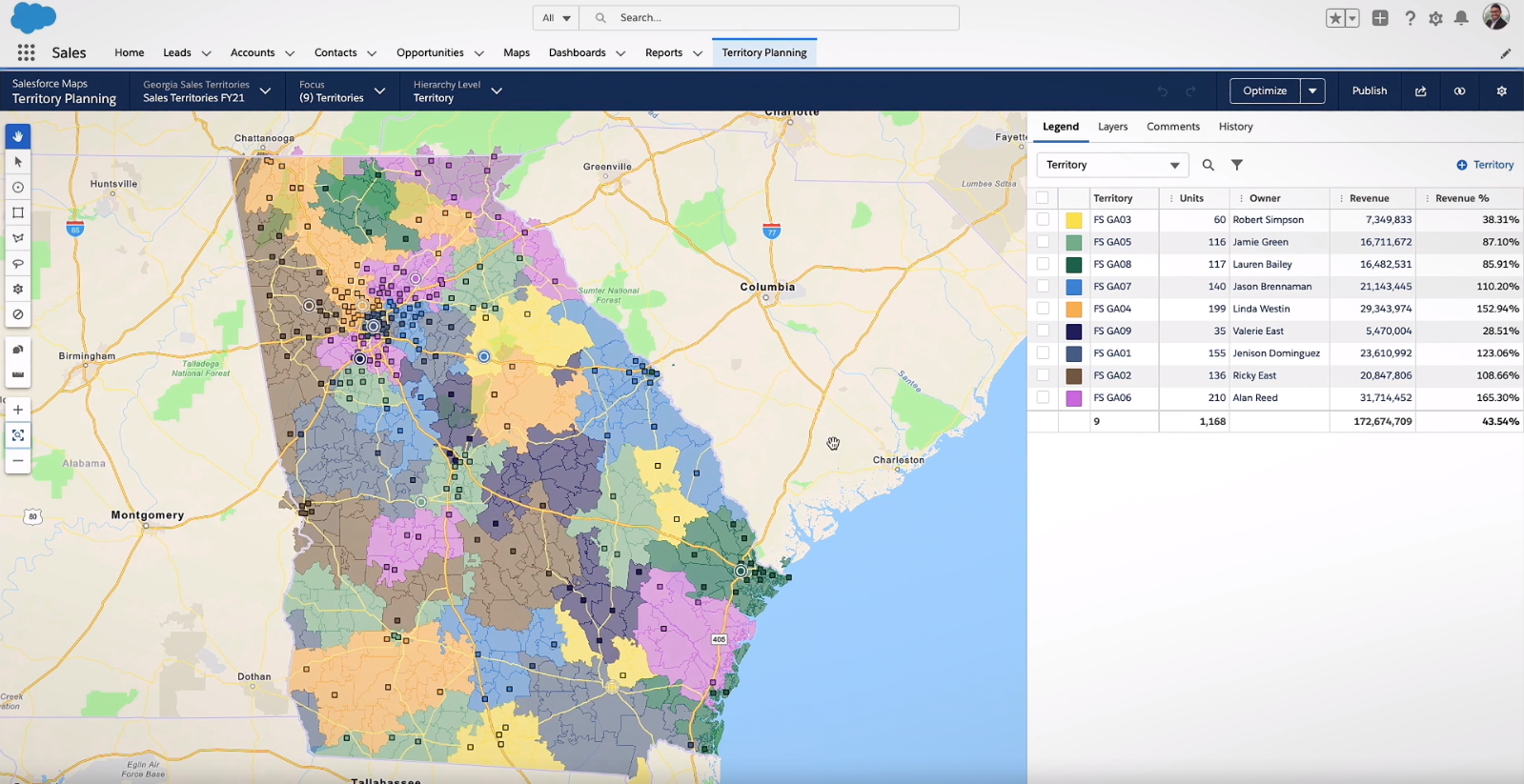 You can also ensure that all potential customers in the market are covered effectively, responding to your business conversion targets, allowing you to make predictions and modeling. This allows you to determine the best coverage for your company's territories using scenarios, which helps your operations managers consider factors such as staffing changes, driving times or complex geographies.
When you ensure that your sales team is focused on the most valuable customers and sales opportunities, sales grow dramatically.
Optimizing territories according to business priorities allows you to make adjustments, so that service records are accessible and logical, minimizing displacement between locations. Balance, continuity and compactness are considered.
It is paradoxical that the traditional management of sales in the 21st century limits many businesses from exploiting their possibilities to the maximum and accessing extraordinary profits. Opting for Salesforce Territory Planning, and its entire suite of products, can make all the difference.
If you found this article interesting and would like to learn more about the products and services we offer, please contact us at hello@theskyplanner.com.