Customer loyalty is critical to any business, as having loyal customers can be a determining factor for success and sustainability in any industry, especially retail. Loyal customers are those who not only buy regularly, but also promote the brand, refer others, and stay engaged with the organization even in difficult situations. Maintaining customer loyalty also helps reduce new customer acquisition costs and improve profitability. Therefore, organizations must prioritize the creation of effective loyalty programs and customer relationship management to maintain customer loyalty, thus strengthening their position in the market.
Of course, Salesforce, a leader in modern business technology, has a solution for managing loyalty programs. This will increase the happiness of your customers and their commitment to your brand. So, let's see everything about Salesforce Loyalty Management.
What is Salesforce Loyalty Management?
Salesforce Loyalty Management is a solution that helps organizations create personalized loyalty programs for their customers. It provides a platform for businesses to create rewards programs, monitor customer engagement, offer promotions, and incentives to their most valuable buyers.
In addition, it includes tools to analyze customer information and data in order to help better understand their behavior and preferences. This way, loyalty programs can be adapted and hyper-personalized, achieving their optimization. Likewise, Loyalty Management belongs to the Salesforce ecosystem which facilitates a holistic management of customer relationships.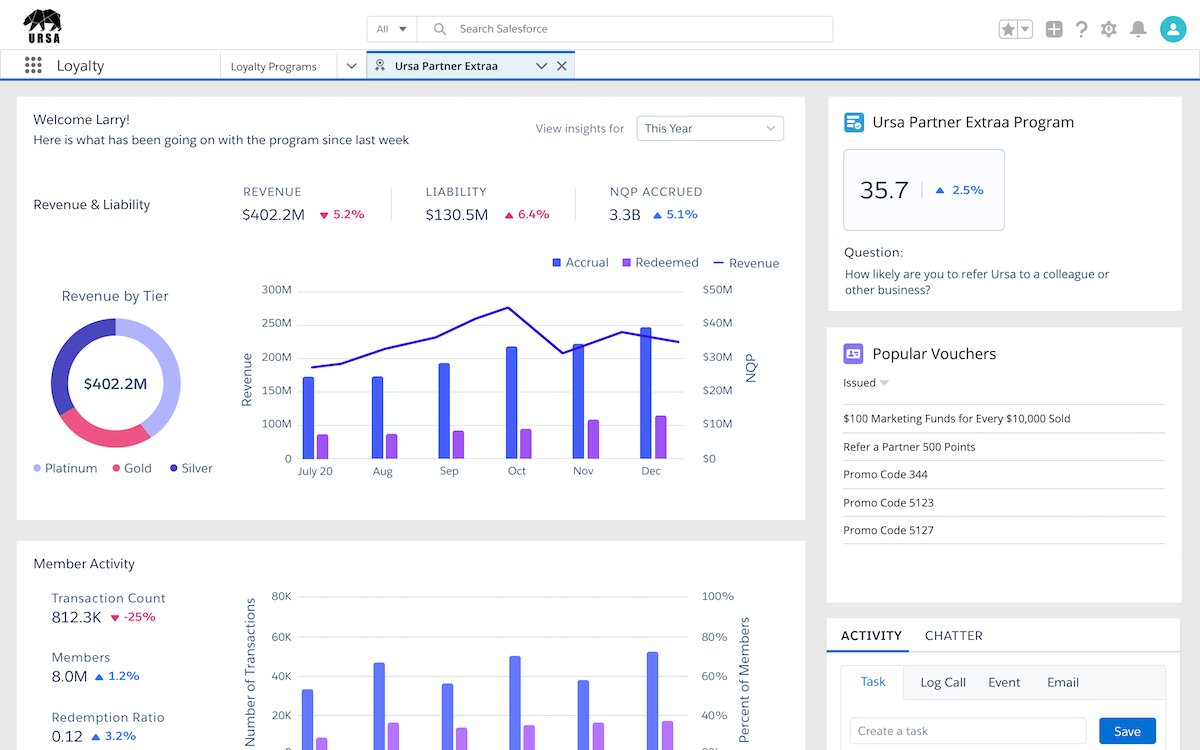 Loyalty Management Features
The main features of this tool are:
Single source of information: Leverages the power of Customer 360 by providing a single source of information for loyalty programs. This way, the visualization of unified customer profiles is facilitated, allowing each program to be hyper-personalized.
Design attractive loyalty programs: This tool allows the creation of personalized loyalty programs, both B2B and B2C in any industry or sector. You can choose between several types of program classification: by points, levels or membership, as well as, design the program rules, rewards and exchange options. Such programs are fully customizable to the specific business needs of your organization and the target audience.
It is worth noting that currently customers do not only expect loyalty programs with material or financial rewards. People also look for brands that connect emotionally with them. You must take this into account when creating your loyalty programs, creating strategies such as congratulating them on their birthdays or having the programs themselves allow your clients to contribute to the social causes of their interest.
Analysis of customer behavior and preferences: Salesforce Loyalty Management provides valuable insights into customer behavior, shopping habits, preferences, and engagement levels. Use this data to create hyper-personalized loyalty programs that are more effective by fully matching your customers' needs and interests.
Customer Engagement and Retention Improvements: Create personalized and engaging experiences that drive customer engagement and repeat purchases. By rewarding your customers for their loyalty by providing them with exclusive offers, discounts and experiences, you increase their satisfaction with your brand, as well as customer retention and lifetime value.
Program Performance Optimization: This solution provides real-time analytics and reports that help you monitor loyalty program performance, so that you can identify areas and margins for improvement. With this data, you can optimize program rules, rewards, and exchange options, which aids in making data-driven decisions to drive better program performance.
Unified Experiences: Being part of the Salesforce ecosystem, it easily integrates with other business solutions, providing unified customer experiences across touchpoints.
Advantages of Salesforce Loyalty Management
At this point in the article, it is almost impossible to doubt the advantages of this solution. However, we want to show you some more of its main benefits so that you may persuade yourself:
Allows loyalty programs to be customized to meet the specific needs and desires of customers.
Provides an intuitive and engaging user experience for customers.
Allows to collect and analyze data about the interaction of customers with your brand, providing a better understanding of their needs and desires.
Enhances the constant monitoring and optimization of loyalty programs, since it provides a better understanding of the customer.
Allows automated loyalty programs, saving time and resources in the administration of these programs.
Easily integrates with other Salesforce tools like Marketing Cloud and Sales Cloud. This allows you to take full advantage of the functionality of these tools without using lines of code.
Promotes the creation of a community of loyal customers through promotions, discounts and offers.
Increases customer retention through an effective loyalty strategy, which translates into increased sales and reduced costs of acquiring new customers.
In fact, the statistics show it. It is 6 to 7 times more expensive to acquire a new customer than to keep it. Additionally, existing customers are more valuable: they spend on average 67% more than new customers.
Undoubtedly, Salesforce Loyalty Management is a powerful solution, essential for all organizations that want to build profitable and lasting relationships with their customers. Are you already convinced that you need this for your company? Well, at SkyPlanner we have the availability and experience necessary to help you. Do not hesitate and write to us at hello@theskyplanner.com.