Undoubtedly the news about artificial intelligence has caused a stir worldwide in recent weeks. The release to the market and subsequent viralization of ChatGPT has shaken the professional environment of many, including those organizations that use Salesforce. We were recently discussing the potential benefits of an integration between ChatGPT and CRM. Well, we already have it here! This is a new update, fresh out of the oven, which means an enhancement of the Einstein Platform functionalities, making it an even more interesting and promising solution. So, let's talk about Einstein GPT!
What is Einstein GPT?
Einstein GPT is a perfectly functional suite of solutions integrated with generative Artificial Intelligence technology. By joining the Salesforce CRM, your users will be able to generate content created by AI in natural language and in a very easy and fast way. It is a system that, after field training and the corresponding human feedback on its responses, is capable of generating specialized content. Such content will be tailored to each task, highly accurate, and increasingly efficient. As the company itself promotes it, Einstein GPT is the world's first generative AI tool for CRM.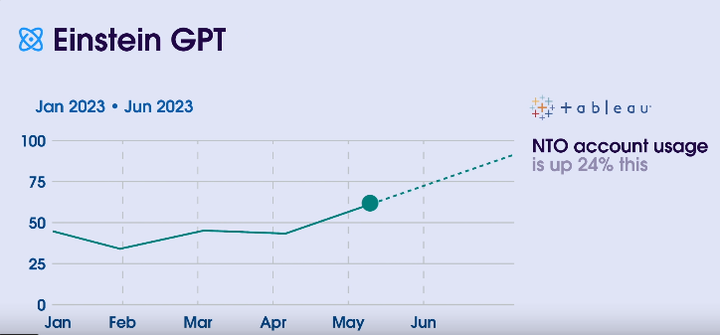 Users who work with Einstein GPT will have the experience of being able to avoid the cumbersome link of creating something from scratch, thus receiving content tailored to specific demand. This is applicable to several areas of interaction of a company such as sales, customer service, marketing, commerce and information technology (IT). With this tool, professional teams will be increasingly more productive and boost efficiency as well as the possibility of dedicating themselves to higher value tasks while Einstein GPT ensures the quality of their performance.
The creation of Einstein GPT is focused on aspects that go beyond the generation of automated content or the creation of texts. It is a tool that aims to enhance the functionalities of the CRM and take it to another level. By constituting a functionality integrated into CRM, users will be able to obtain a more global analysis of the company's data, from the combination of public data (on which systems such as ChatGPT are based, among others) and private (collected by their own company) in a secure and reliable environment. The increasing use of Salesforce by customers will allow a refinement of your model from the accumulation and analysis of data, as well as imply a gradual gain in precision.
Einstein GPT Structuring
The strategic union between AI models developed by Salesforce along with generative AI technology from partners like OpenAI welcomes Einstein GPT. This combination of Salesforce's AI models with the enterprise version of ChatGPT makes it possible for Einstein GPT to deliver meaningful and trusted AI-powered content to all of its customers.
Salesforce overlays ChatGPT for further refinement of the model and its results. The data with which Einstein GPT works is obtained in real time and comes from the Salesforce Data Cloud. Along with this, each client will be able to harmoniously integrate the data that their own company collects. Another element of the workflow of this solution includes the human factor, which has the responsibility of correcting, adjusting, and enriching any result generated by Einstein GPT before sending it to the end customer. The intention that Salesforce pursues with Einstein GPT is to transform the experience of each customer thanks to generative AI.
Einstein GPT Use Cases
Einstein GPT fits seamlessly with all business processes, excelling in industries where interaction is required. Some examples of its implementation in these sectors are the following:
Sales
Einstein GPT supports sellers throughout the sales process. It enables accurate forecasting and speeds up the overall process using conversational intelligence. Likewise, Einstein GPT is capable of creating personalized emails based on the information that the company has for each client. Sellers would just have to review it and send it to their respective recipients. Additionally, you can generate meeting schedules, track news for prospect research, generate additional collaboration channels, and more.
Customer service
With the information that a client requests and with possible previous conversations, or data from previous records about answers to similar questions, Einstein GPT is able to spring into action. It is capable of creating specific responses that are tailored to customer dissatisfactions. With this, the customer service professional can respond more quickly and become more productive. Additionally, the service can scale further across all channels by using Einstein Bots. Likewise, you can create, in natural language, a summary of the recently completed case, as well as knowledge articles based on notes from several previous analogous cases.
Marketing
Einstein GPT also integrates seamlessly with the marketing team. With the creation of specific content, professionals in this sector will be able to enhance the efficiency of a campaign, feed information in real time, and make timely recommendations. It is even capable of generating personalized content that can be sent through different channels to potential customers.
Commerce
As an assistant to professionals, Einstein GPT makes intelligent product recommendations, delivers personalized product rankings, and returns meaningful search results.
Development
Einstein GPT supports developers by automatically generating code tailored to their needs. It is capable of creating consistent, high-quality code, but will ultimately always require human review.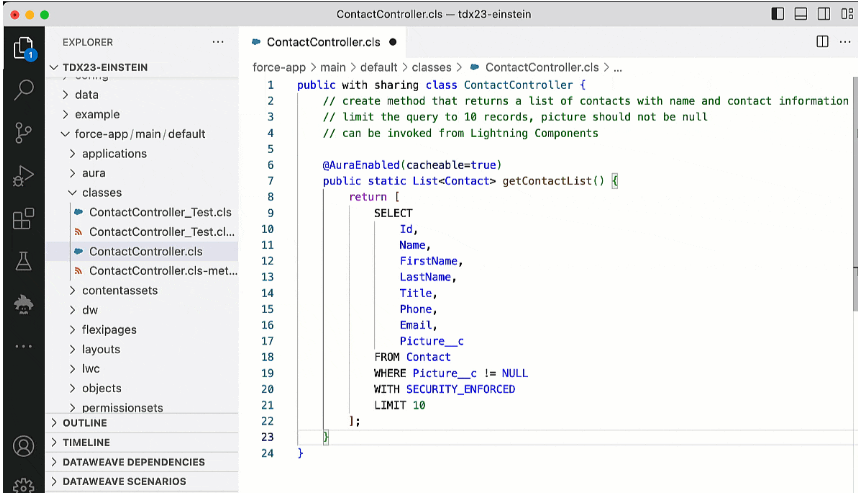 Slack
As a speed-enhancing instant messaging and collaboration platform, Slack is empowered by ChatGPT. This integration allows you to provide typing assistance directly on the platform, as well as intelligent and instant summaries of conversations, leads, and even account background research.
There is still a lot to explore about the uses and benefits of Einstein GPT; but without a doubt we are pioneers of a technology that will completely revolutionize human life. Do you want to experience this new possibility first-hand? Well, at SkyPlanner we have the necessary disposition to guide you throughout this journey. Write to us at hello@theskyplanner.com.