It cannot be said that chatbots or bots are the latest trend, or anything like that. Currently there are many organizations that use them in interactions with their customers. However, how can you guarantee that a chatbot is being fully utilized in your company? There have been instances where chatbots error out, or in other words, they're unable to provide an answer before an unknown question. That is why, although bots are nothing new, their optimization through AI is one of the newest trends in technology.
Speaking of chatbots, one of the most competitive alternatives on the market, without a doubt, are Salesforce Einstein Bots so let's see what they are about.
What are Salesforce Einstein Bots?
Firstly, a chatbot or bot is a computer program that simulates a human conversation, whether textual or spoken and can be an invaluable tool that helps automate interactions with users.
With that said, Salesforce Einstein Bots are chatbots whose main goal is to interact with customers quickly and accurately, without the need for a human agent. To do this, they send messages, ask questions and perform actions according to the rules defined by each organization. A bot can participate in any messaging channel (SMS, chat, Slack, Messenger, etc.), speak multiple languages, select tones, and automate the organization's most frequent requests, integrating with your data in Salesforce. This way, you can expand your operations without growing your staff, getting set up in just a few clicks, and with no code required.
The soul of Salesforce Einstein Bots is precisely Einstein, that wonderful Salesforce tool that puts AI at the service of organizations. In the case of bots, the technology used is Natural Language Processing (NLP) and Natural Language Understanding (NLU). It is through NLU that the platform trains chatbots by creating a learning model and this model makes it possible for the created bots to understand the interactions originated in a conversation.
Salesforce Einstein Bots Requirements
Einstein Bots have the ability to be customized to meet the needs and business rules of each organization. However, there are a series of requirements that you must take into account:
Service Cloud License and a Chat or Messaging License are needed. Study the chat and messaging licenses carefully, as they support different channels and may have different requirements on their own.
Service Analytics must be enabled to make full use of the Einstein Bot Performance page.
Lightning Experience enabled.
Run the Guided Chat Setup flow.
Salesforce Knowledge enabled if you plan to send knowledge articles to customers.
The bot must be published to a Salesforce site, preferably built with the Experience Cloud. Although Einstein bots are designed to complement the work of support and service agents, they can also be used by the sales team.
An integrated chat button must be published on the site where your bot will reside.
Einstein Bots are available in Salesforce Classic and Lightning Experience. Additionally, they can be found in Enterprise, Performance, Unlimited, and Developer editions. An organization receives 25 conversations per month for each active subscription.
Conceptualization of the bot in your organization
Although we can say that Einstein Bots are a wonderful tool, they are of no use if they present errors, leave gaps in the response, or the client cannot find the desired solution. The implementation of the bot requires a lot of planning in its content so to avoid such potential interruptions, we've listed some concepts that you should know beforehand.
Elements of Einstein Bots in Salesforce
Dialog
They are the conversation fragments that guide the bot's actions. Each dialog contains a Dialog Intent, which optionally remains available for NLU training. This helps the bot understand the different types of customer responses.
Dialog Intent
They are a type of data that you want to store from a client. Salesforce provides the following system entities: text, datetime, money, number, person, location, organization, percentage, boolean, and object (Salesforce standard or custom).
Entity
The call control tool integrates with the console footer and is separate from other digital conversations, limiting the omnichannel experience.
Variable
A variable is a container that stores specific data collected from a client. You must associate each variable with an entity.
A good conceptualization of the content ensures that the bot is used to the maximum, being the efficient solution that is sought. Other things to keep in mind are:
Bot name and style: should represent the personality of your organization.
Action scenarios: what are the most frequent contexts where the chatbot will take action. For example: frequently asked questions, order status, appointment scheduling, online ordering, pricing inquiries, or hours and locations.
Introduction and goodbye: it's a bot, not a human and users need to know. The presentation is vital to offer the necessary reliability to the user. The farewell is a plus to continue recommending the organization.
Opening and Closing: Tell your bot how to start a conversation and simultaneously determine which words end it.
Gratitude: the fact that it is a chatbot is no excuse for it to be rude. If the customer says thank you, it's good that you know how to reply.
Apologies: you can also customize it so that it apologizes if it doesn't find the necessary solution. You can also configure it to route the conversation to an agent, if the bot apologizes more than twice.
Route to an agent: Some people may prefer to speak directly with an agent. Don't forget to include it in your dialogue.
Response time: it is advisable to take logical pauses of two to four seconds in the conversation. The totally immediate responses seem contrived and contrary to a simulation of human conversation.
Emojis: emojis, emoticons and stickers are already part of our conversation in the digital world. Including them in your dialogue gives the bot more personality.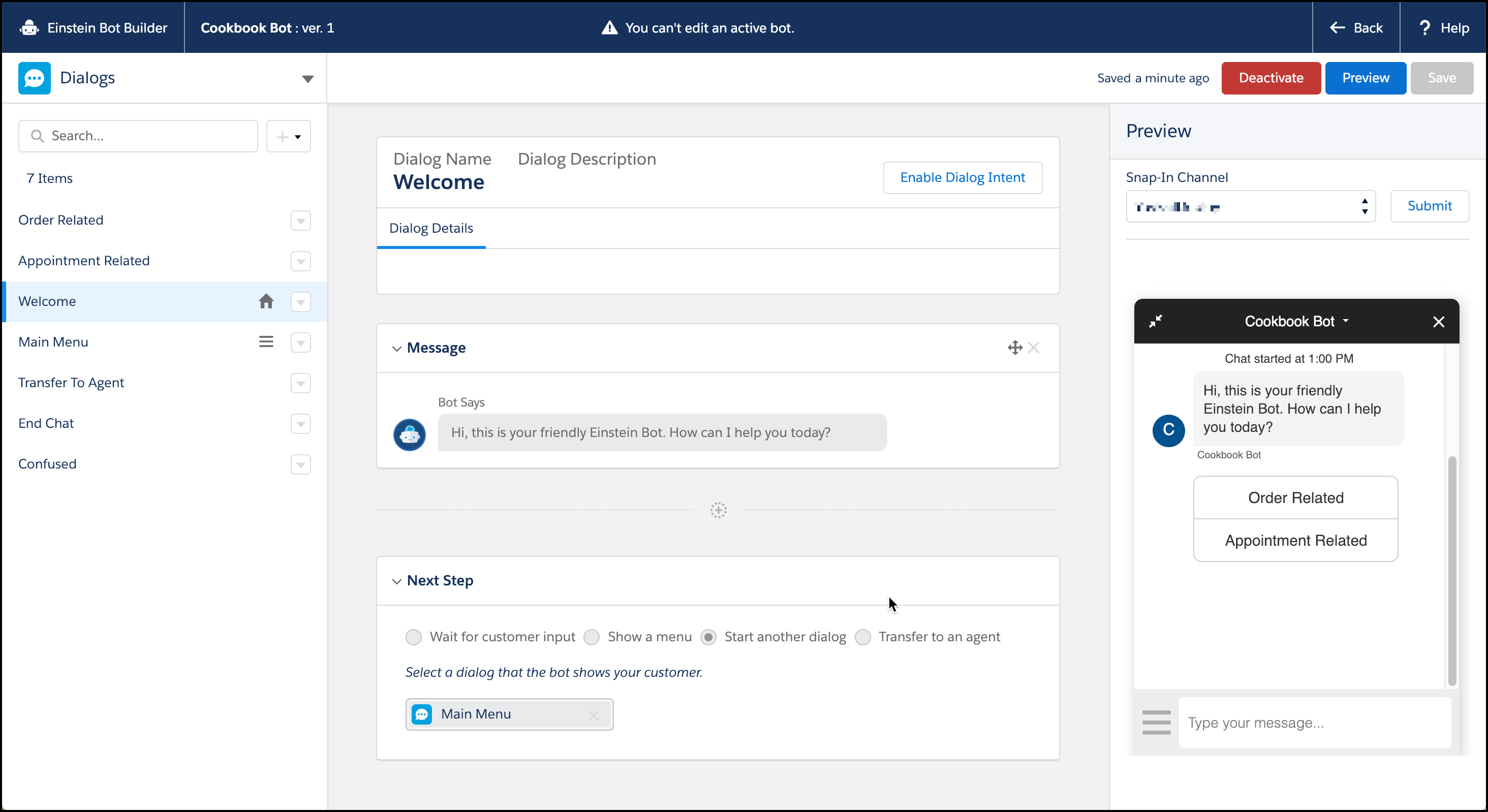 Benefits of Salesforce Einstein Bots
There are several advantages to bots:
Automate the most frequent interactions with customers, allowing cases to be quickly diverted from the work queue and resolved quickly.
They reduce customer waiting times by solving their problems without having to go through the work queue.
Save agents time by allowing them to focus on resolving complex issues.
They have a deep neural network, with a high capacity for self-improvement through NLP and NLU.
Successfully route a customer with what they need, whether it's an answer, a knowledge article, or a human agent.
They reduce costs of the support area, since it allows responding to more clients, without increasing the staff.
They facilitate their integration with the entire Salesforce ecosystem as they are native to the CRM itself.
Salesforce Einstein Bots represents a valuable tool for the support team and for all customer interactions. They are not human and obviously cannot replace them, but they work as an ideal complement to optimize the customer experience, offering a quick response and, sometimes, a solution to their concerns. Do you want to know more about Einstein Bots? Well, at SkyPlanner we can help you. Do not hesitate and write to us at hello@theskyplanner.com.