No one doubts that we live in an increasingly connected world. The birth and boom of ICTs redesigned the ways of communicating and interacting with each other. Countless new channels, platforms, and networks emerged to connect us socially. In this scenario, one wonders how companies are redesigning themselves to satisfy an increasingly connected potential customer base. The answer is not as promising as we thought. According to Salesforce, 50% of companies still use only phone and email for support and 59% still manage channels in silos.
Incredibly, most companies have not yet fully utilized the potential of this new world. Some fear that the more channels of communication with customers, the greater the expense to manage them, as well as the stress created on employees with an increased workload. Other businesses think that the customer experience can become fragmented and inconsistent. Others simply don't know where to start.
Well, Salesforce has a solution designed to facilitate communication in this reality. So let's find out what Salesforce Digital Engagement is and how it can help your business.
What is Salesforce Digital Engagement?
Salesforce Digital Engagement is a powerful tool that allows companies to interact with their customers in a personalized way (1 to 1) in all digital meeting points. Among them are mobile messaging, web chat, WhatsApp, Facebook messages and other social networks. In this way, a constant service is provided on all channels and the customer experience stays optimized by showing a solid and consistent image, which is made more efficient with the help of automation such as chatbots.
More than a tool in itself, Salesforce Digital Engagement represents a change in business mindset. Instead of deciding on which channels to enable communication with your customers, you plan to manage the best services in all the manners that your customers prefer.
How does it work?
Typically, when a customer sends a message to your company, it's forwarded to Salesforce Digital Engagement and it automatically routes them to an agent based on their skills or availability. Digital Engagement makes it easy to unify all your channels and connect your Service Cloud data seamlessly for a fully omnichannel experience. However, although this tool represents an important first step for companies, only in-depth knowledge of your customers will allow you to fully exploit it.
For example, knowing which devices and channels are preferred and used by customers to interact with your company will be of vital importance to define which channels need priority and what strategy to use in each one. Whether it's facilitating communication options via SMS for users who prefer mobile connections; or allowing users to interact in real time via web chat on your website, it's all dependent on the preferences and demands of your potential audience.
Once the channels and forms of interaction are defined, you can scale and personalize the communication with the help of Einstein Bots. Identify the most frequent questions or use cases in each channel and allow chatbots to streamline some interactions with your customers. They can handle an interaction completely or partially by collecting information for the service agent in advance.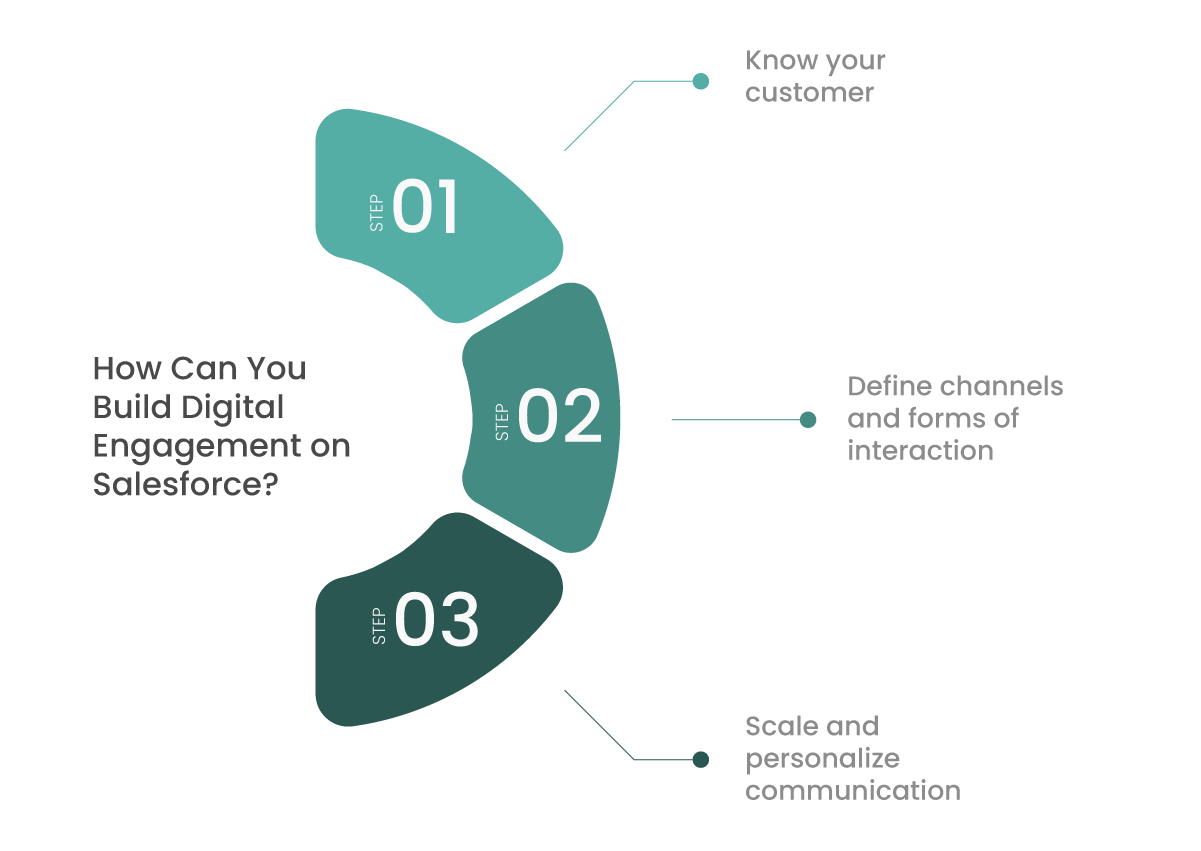 Salesforce Digital Engagement Features
Although Salesforce Digital Engagement generally focuses on the work of Customer Service; the Sales department can also take advantage of this tool. Here are some of the features that can be extended to Service Cloud and Sales Cloud:
Omnichannel: A true omnichannel experience where, based on intelligent routing, agents can hold conversations with multiple customers at the same time from any channel on the same screen.
Channel Object Linking: Set up rules and Salesforce can quickly link channel interactions to objects like contacts. You can adjust the rules so that this linking is done automatically or, instead, agents are suggested records to link.
Web chat: keep potential customers on your website with real-time, prompt information.
Einstein Bots: Optimize response time for interactions by letting chatbots handle routine requests without involving any agents. Additionally, they can collect useful information for the next conversation. If necessary, the bot itself can classify and route the conversation to the correct agent.
Messaging: Automatically keep track of prospects by sending SMS after completing the web form. Users using High-Velocity Sales can do this tracking directly from their work queue.
Opt in: Allow customers to choose on which channels they want to communicate with your business. This functionality establishes that, for the WhatsApp, Facebook, and SMS channels, the first message works as consent to interact with the company in this way. If the client does not wish to receive messages through any of them, simply write END and the agent will not be able to respond through that channel.
Channel menu: enables the simple creation of a menu that groups all the channels through which customers can interact with your company.
Benefits of Salesforce Digital Engagement
Undoubtedly, the main benefit of this tool is to provide your customers with a consistent omnichannel experience. Other benefits include:
Personalized communication since, as Digital Engagement is native to the platform, service representatives will have a comprehensive view of each customer available on every channel, without screen changes.
Optimize the efficiency of your employees once all conversations from any channel are routed to the correct agent based on their skills and availability. This allows a single agent to interact with multiple clients at the same time, thanks to the asynchronous nature of digital communication. Plus, Lightning Service Console makes it easy for employees to find answers and streamline communication.
Freeing up service agent time for more complex cases by using Einstein Bots to interact with complaints and FAQs before routing them to employees.
Making it easy to monitor the workload of each agent.
Providing 24/7 self-service options.
Increasing call center productivity by integrating Salesforce with third-party CTI (computer-telephony integration) systems. This allows you to view Salesforce data on incoming calls, make calls from the console itself, and report the outcome of a call.
Supporting field service agents with mobile solutions regardless of web connection.
Without a doubt, Salesforce Digital Engagement is a powerful tool to help build customer loyalty with your company. Being one of the most recent and innovative Salesforce products, you have to be aware of the new potentialities as they evolve. Are you interested in providing exceptional experiences to your customers? The SkyPlanner team can help you. You can write to us at hello@theskyplanner.com.