Chrome is a web browser developed by the technological giant Google. It is the most popular browser in the world and is available on almost all devices and operating systems. It offers users fast performance, safe browsing, and a host of features. Chrome also gives you access to a wide range of extensions or applications created to enhance your experience on the web. Among these, we can find the Chrome extensions for Salesforce. This time we will focus on those that have been designed to facilitate the work of developers.
What are Chrome Extensions for Salesforce?
Chrome Extensions for Salesforce are powerful, easy-to-use tools that help Salesforce CRM professionals work more efficiently. These have been designed so that Salesforce users can analyze their customer data, create reports, manage their accounts, and complete other tasks in as few steps as possible. There are a wide variety of these extensions, but we will introduce you to the 10 most popular development tools.
Salesforce Chrome Extensions for Developers
This selection has been made by assessing not only the number of users who have installed them in their browsers, but also their review. Additionally, we have evaluated the update dates and community activity based on support. Now, let us take a look at the information available as of February 2023 regarding the selected extensions.
| Extension | Downloads | Reviews | Rating | Last update | Community Activity | Price |
| --- | --- | --- | --- | --- | --- | --- |
| Salesforce Inspector | 400,000+ | 261 | 4.8 | 12/21/2022 | Very active | Free |
| ORGanizer for Salesforce | 70,000+ | 232 | 4.9 | 12/22/2022 | Active | Free version with ads |
| Salesforce Advanced Code Searcher | 50,000+ | 171 | 4.7 | 04/01/2022 | Little activity | Free |
| Salesforce DevTools | 40,000+ | 39 | 4.6 | 11/10/2022 | Little activity | Free |
| Salesforce Tool Suite (Debug Logs, Schema) | 7,000+ | 42 | 4.6 | 01/20/2023 | Very little activity | Free |
| Salesforce Community Page Optimizer | 7,000+ | 14 | 4.7 | 04/16/2022 | No registered activity | Free |
| Salesforce.com Enhanced Formula Editor | 6,000+ | 58 | 4.3 | 08/01/2022 | No activity accessing for free | With a paid license, but offers a 14-day free trial |
| Salesforce Interactions SDK Launcher | 5,000+ | 2 | 5 | 01/23/2023 | No registered activity | Free |
| Salesforce Assistant | 2,000+ | 13 | 4,9 | 08/04/2022 | No activity since 2020 | Free |
| Crazy Compare For Salesforce | 2,000+ | 12 | 4,9 | 01/06/2023 | Little activity | Free |
1- Salesforce Inspector
Without a doubt, this is the favorite extension of many Salesforce professionals. This multipurpose tool displays as a slider on the right sidebar of the browser after installation. Its power lies in the possibility it provides to quickly access functionalities contained in the configuration menu. Some of these functionalities are: login as, perform massive record updates using exports and imports from Excel, see the current consumption limits of your organization, etc.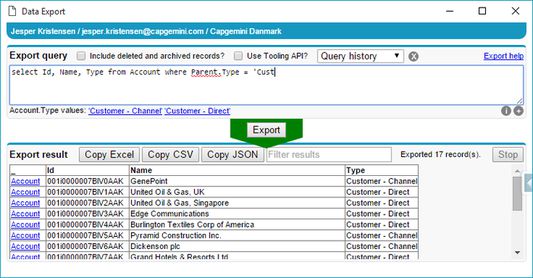 2- ORGanizer for Salesforce
It allows you to easily manage the most frequently used login accounts in Salesforce. With this tool, you will no longer have to remember Salesforce.com usernames and passwords for each organization; ORGanizer will do it for you securely. In addition, you can customize the tabs with colored labels and names of your organizations to quickly identify them. Combined with the Quick Link tool, you will also have quick access to the most used standard links in Salesforce.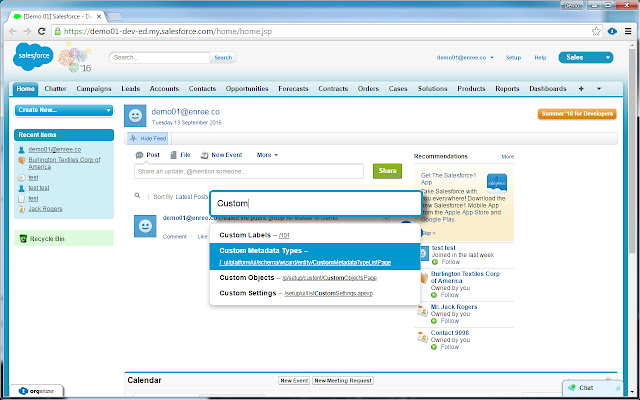 3- Salesforce Advanced Code Searcher
This is a very handy extension for administrators and developers. It is inserted on the right of the configuration home page. It grants quick access to Apex classes, Visualforce pages and controllers, workflow rules, triggers, custom objects, validation rules, etc. It represents an easy way to find code segments within all of Salesforce.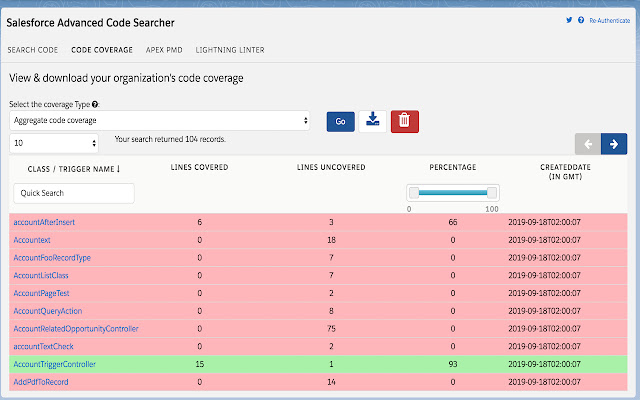 4- Salesforce DevTools
It is an extension integrated by powerful development tools. It is useful for generating Apex/SOQL code, creating record pages, and accessing both the list pages and configuration pages of any object. It can also be used for exporting to Excel objects, objects fields, objects list views, objects page layouts definitions, etc.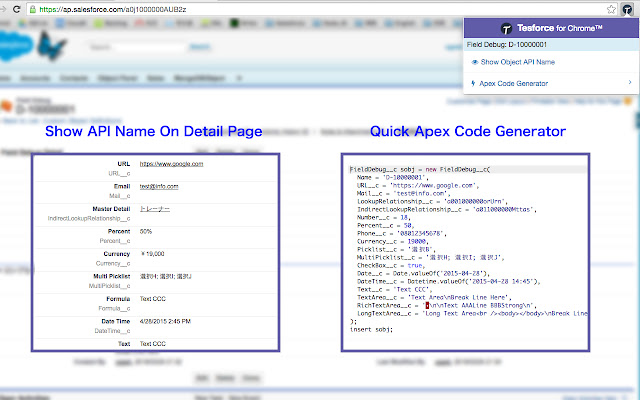 5- Salesforce Tool Suite (Debug Logs, Schema)
This is a highly useful extension for any Salesforce user, regardless of whether they are an administrator, developer, consultant, architect or any other type of user. No authentication is required from any Salesforce user. This tab enables you to view debug and queue logs, explore Salesforce schematics using inline/batch editing and export to Excel, and monitor Salesforce API events, among other tools.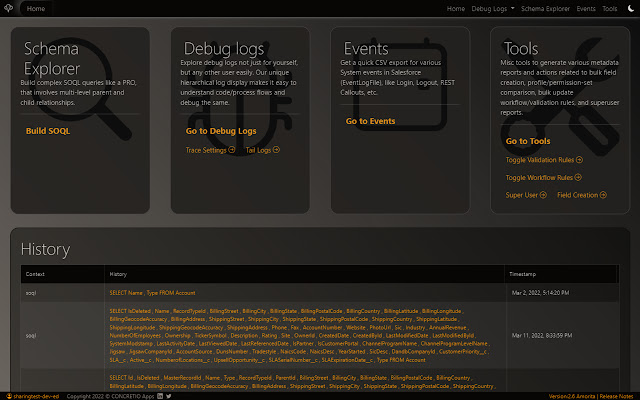 6- Salesforce Community Page Optimizer
To create a Community Page, you do not need to be an expert in coding, as there are many predefined elements. With Salesforce Community Page Optimizer, you will be able to obtain an analysis of the performance of your page. The resulting information will be very useful in improving your design and the user experience.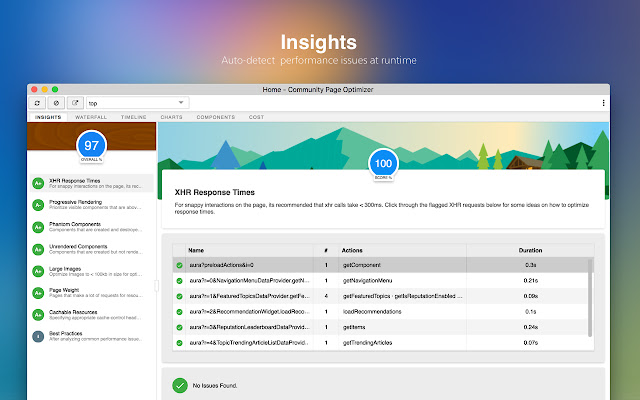 7- Salesforce.com Enhanced Formula Editor
This is a very useful tool that makes it easy to understand and edit Salesforce formulas. Its main features include syntax highlighting, tabbing (tab and shift-tab), parenthesis matching, autocompletion, and automated syntax checking. Once downloaded, you can automatically begin using the Salesforce page formula editor. The Open button will allow you to use the extension's code editor in a pop-up window.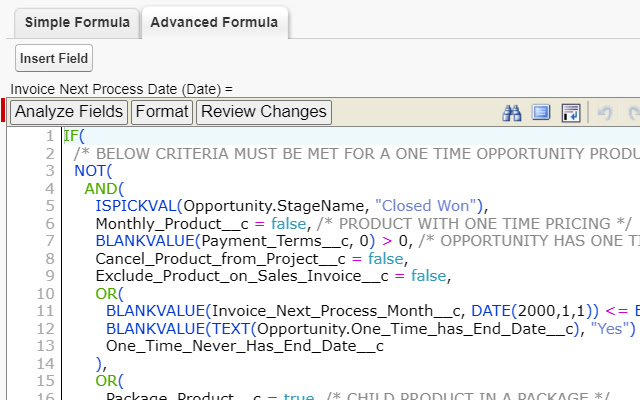 8- Salesforce Interactions SDK Launcher
It is very common for users to create websites through which they exchange information with people outside of the organization, as part of the customizations they do in Salesforce. Thanks to Salesforce Sites, you can create public websites and applications directly integrated with the Salesforce organization, without the need to provide a username and password.
This extension allows you to access a Visual Editor from your Salesforce website, with which you can add more customization features. The Salesforce Interactions SDK Launcher includes web campaign templates, which you can use to create personalization campaigns that target specific groups, individual users, or events. It is important to note that this extension only supports the UTF-8 character set and that you can only log in to the Visual Editor from the websites that you include in the Allowed Domains list.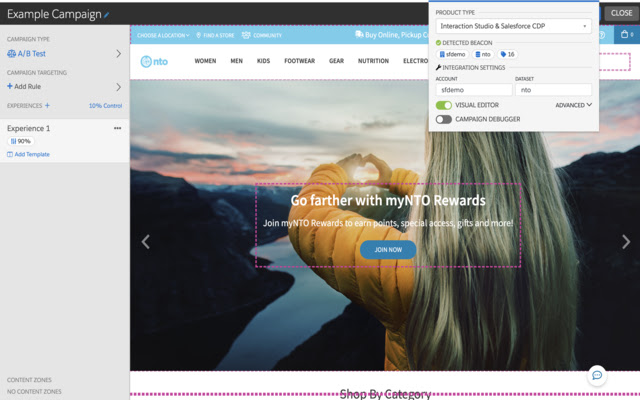 9- Salesforce Assistant
This is a very useful assistant, both for developers and administrators. The main options include quick login, quick view and backup of source code with Lightning components, quick view and edit of all fields of any record anywhere, etc. You can find more information about the functionalities that this extension offers here.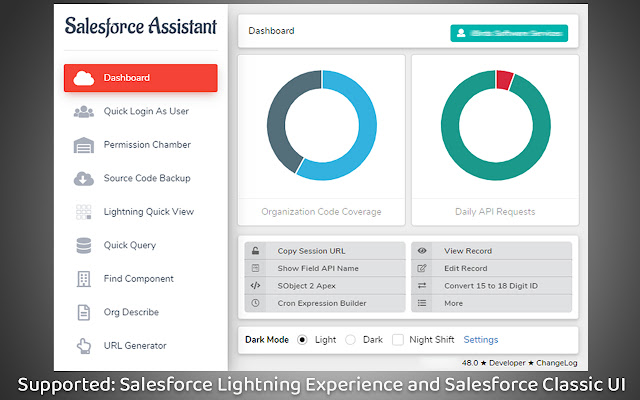 10- Crazy Compare for Salesforce
This tool has been designed to facilitate the comparison between two Salesforce user profiles. Comparisons are made at the field level, object level, Apex class access, and Visualforce page access. The result can be downloaded in a report. This is an easy-to-use extension that is very useful during migration processes or when you need to quickly solve user access problems.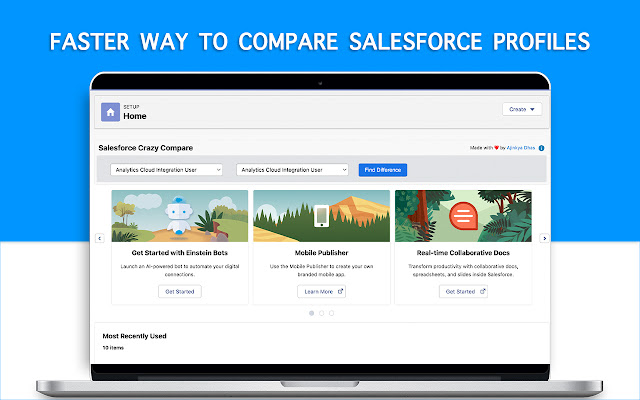 Overall, these Chrome extensions can enhance your Salesforce experience and make it more efficient. Specifically, the extensions that we have analyzed can facilitate the daily tasks of developers, such as the management of fields, objects, and records; the comparison of objects and profiles, customizations, and much more. However, please keep in mind that installing too many extensions simultaneously can affect your browser's performance. Hence, you should be careful and choose the ones you want to install wisely.
We hope you found this information about Chrome extensions for Salesforce helpful and were as fascinated with the features as we were. If you would like to know more about these extensions or have questions about their configuration or operation, please feel free to contact us at hello@theskyplanner.com.