We've already talked a lot in this blog about how Salesforce helps optimize the sales and marketing teams. However, in modern trends, customer service plays a decisive role. Many experts have even come to think that customer service is the new marketing. The truth is that current business trends focus on people and not on products. For these reasons, the customer service side of your company must be optimal to succeed in the market.
Of course, Salesforce CRM, the perennial vanguard of enterprise technology, can help improve your service team, too. Let's take a look at how that can be achieved.
What is Salesforce Service Cloud?
First thing's first. If we're to talk about customer service in Salesforce, it's necessary to talk about Service Cloud.
Service Cloud is an integrated customer service platform that provides a high-level experience for both customers and service agents. It provides a visual and detailed description of all the interactions with the clients in all the channels. This makes it easier to view consumer activity, reduce response times, and improve productivity. Thanks to this, it can have a positive influence on improving customer satisfaction.
In other words, Service Cloud helps your team provide the best service to your customers, which increases their loyalty to your company. Just look at these stats. According to Salesforce's "State of Service" report, high-performing service teams using the CRM have: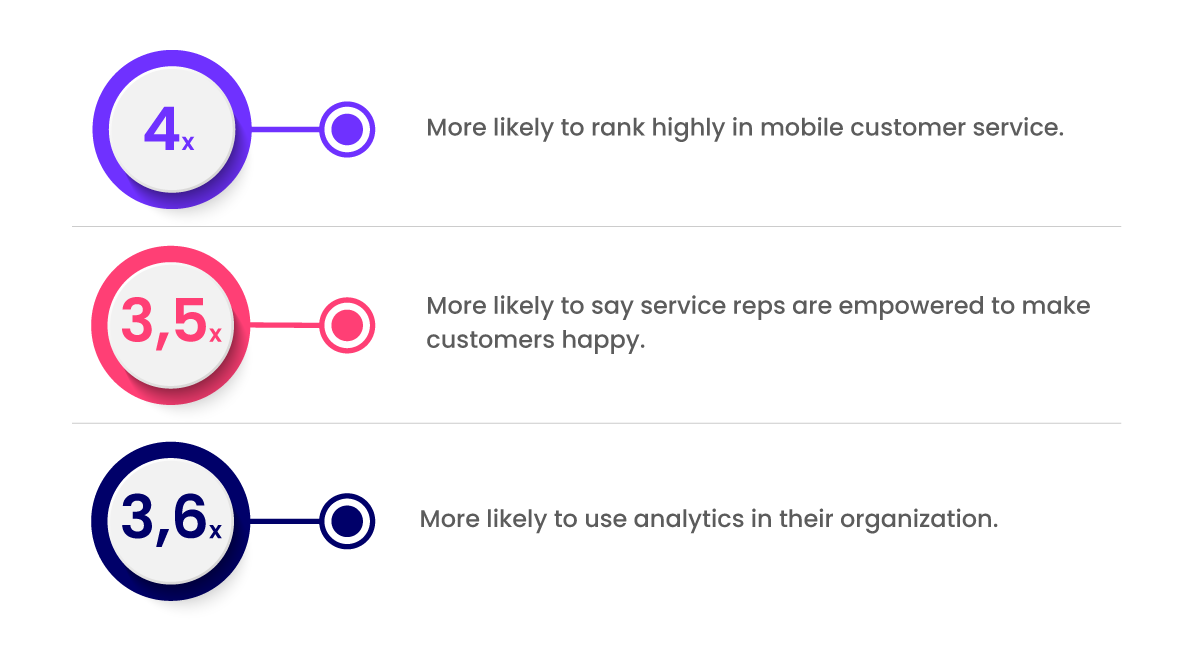 So how can Salesforce improve the service team in practice?
Benefits of Salesforce in the area of customer service
It is worth noting that the benefits of Salesforce to the service area not only come from the specific functionalities of Service Cloud, but also its integration with the Marketing Cloud functionalities to offer a super complete experience.
Essentially, the main benefit is to optimize the customer experience in order to increase their engagement. Below are some of its main advantages:
1- Improve service efficiency by automating your workflows. It makes workflows smarter and easier with a fully customizable platform for your business. It also allows you to either build your service platform from scratch or start with pre-built templates available on the AppExchange.
2- Offers an ideal workspace with the Service Console. This console integrates an omnichannel space, productivity tools, automation, and artificial intelligence along with a detailed view of each customer and the history of their interactions. Increase agent productivity by allowing them to manage cases seamlessly from a single screen and with an easy-to-use console.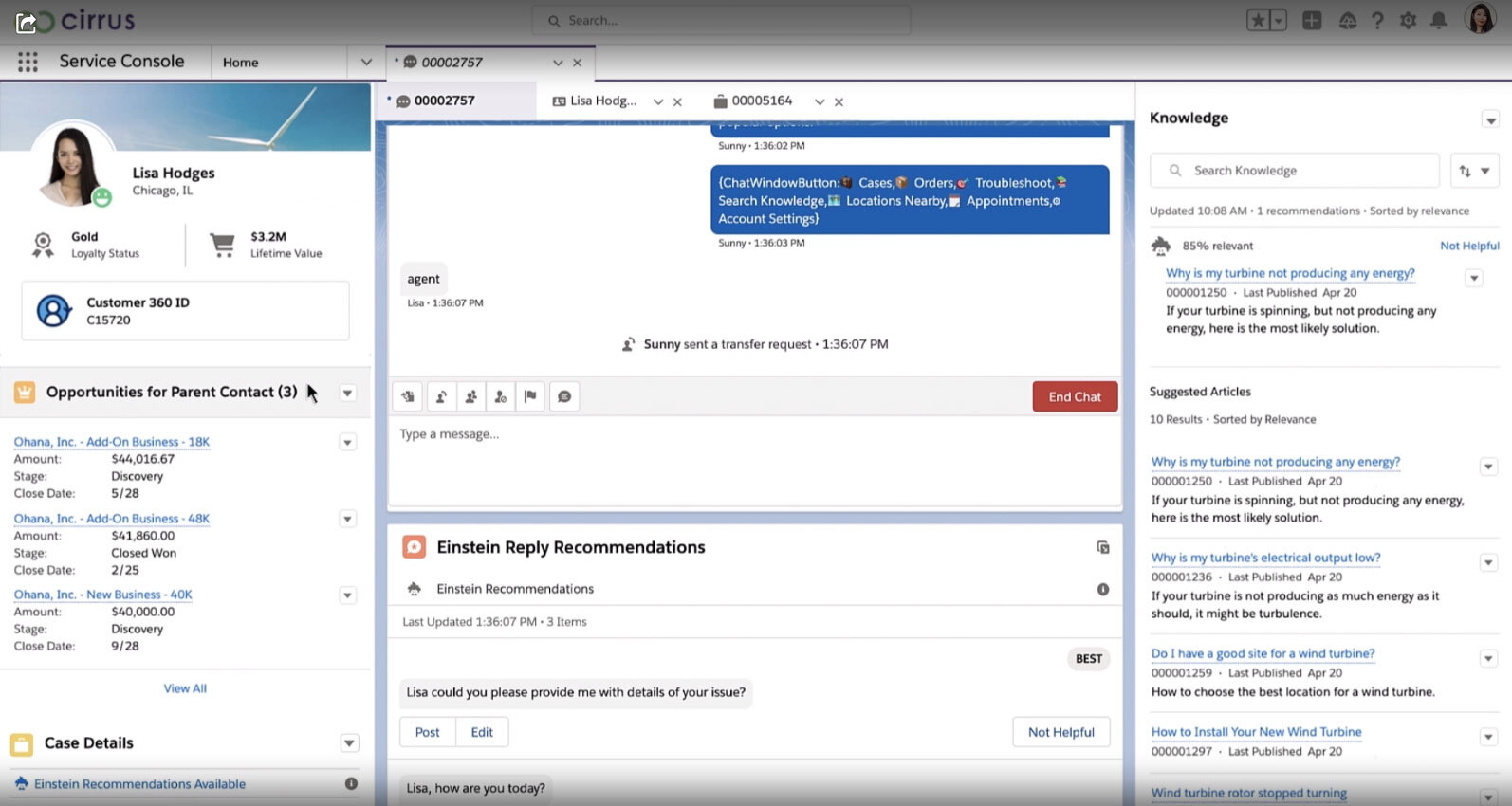 3- Decreases response time to customers and lowers service costs through effective case management supported by customer data integration with automation. According to the Salesforce 2022 Customer Success Survey, companies that integrated the CRM with their service team reduced support costs by 27%.
4- Omnichannel routing directs cases to the right agent or team based on their skills, experience, and availability.
5- Provide updates and alerts on the activity of each client. This signals the exact moment to act and therefore increases the level of satisfaction.
6- Integrate customer apps and data quickly using clicks not code. This allows agents to access the necessary data instantly.
7- Allows service agents to better support themselves through corporate knowledge management. It automatically suggests the best articles for each conversation which makes it easy to preview and share on any channel. This guarantees that your company applies the best practices of the industry or sector. Also, through the history of customer interactions, the agent will always have the context of each relationship, regardless of the channel.

Why Salesforce for your business?
When we talk about the world's #1 CRM, only one name comes to mind: Salesforce. You can find a wide variety of CRM software that offer basic functionalities for efficient customer relationship management, but what is it about Salesforce that makes it so distinctive from the rest?
8- Allows you to take advantage of the many possibilities offered by Einstein Service Cloud, putting AI on the service area. Plus, it optimizes team efficiency through powerful analytics and pre-built dashboards ready to monitor agent performance and key performance indicators.
9- It makes it possible to correctly plan the labor force. Enables accurate case volume predictions by balancing staff and schedules. It also offers the opportunity to train agents in their own workspace, in real time, and on their own demands.
10- Finally, it allows the creation of help centers and customer service without the need to contact the service team. Through a knowledge base, FAQs and other articles, users can find the answers on their own, in a self-service style.
Without a doubt, Salesforce has become a competitive advantage in all areas of customer service in a company. Its benefits to the service area allow you to increase productivity with less cost, increasing the satisfaction and engagement of each client. Would you like to have a professional team implement Salesforce in your service department? SkyPlanner has proven expertise to guide you through the entire implementation cycle. You can write to us at hello@theskyplanner.com.