In today's business environments, where customer experience plays a key role, it is increasingly important for B2B companies to focus on generating a shopping experience similar to that of the B2C customer. Although B2B and B2C customers have different needs and characteristics, both value aspects such as ease of use, personalization, speed of purchase process, and customer service.
Salesforce and its multiple clouds are making steady strides to meet the growing needs of its customers. Salesforce Commerce Cloud is one such solution available to respond to the eCommerce industry, spanning B2C, B2B, and B2B2C business models.
To do this, Salesforce Commerce Cloud exhibits platforms that fully respond to the needs of each business model, allowing the client to have the necessary functionalities for its management. On this occasion, we'll focus on Salesforce B2B Commerce Cloud, a platform that, since its inception in 2018, has been gaining followers for its fantastic features.
What is Salesforce B2B Commerce Cloud?
Salesforce B2B Commerce Cloud is a native Salesforce solution for digital commerce specialized in the B2B business model. It allows companies to create their e-commerce portals and carry out the complete sales cycle. This platform provides its users with a comprehensive online trading experiences thanks to a simple and convenient workflow. Likewise, it promotes a personalized digital experience, which can be carried out anywhere and at any time, as well as from any device with or without the participation of the seller.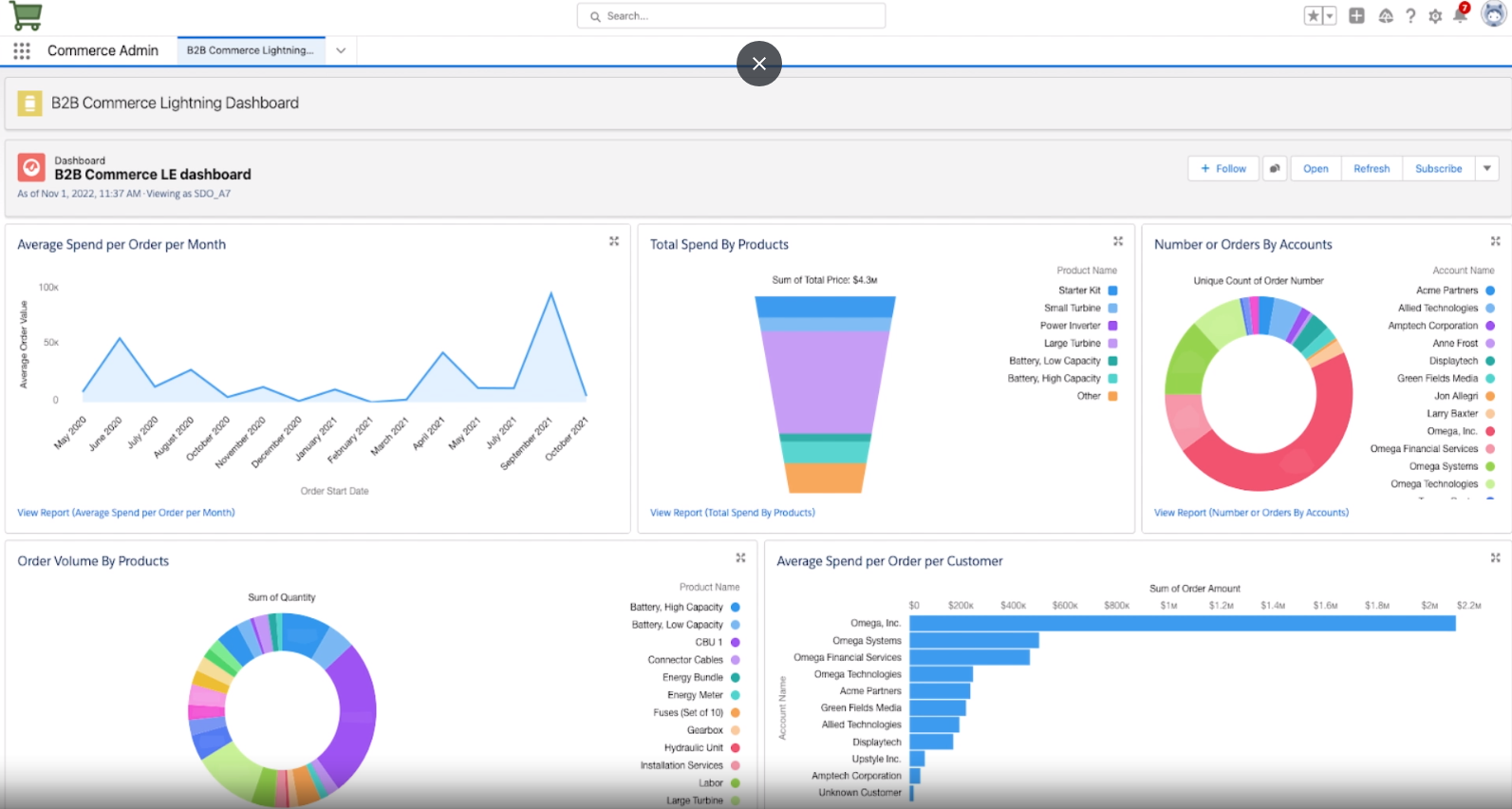 Features
Among its main features are the following:
Quick and easy configuration of your portal. The layout and component settings of the configuration process are easy and intuitive. In turn, it provides its customers with a friendly self-service experience where they can buy whatever they want. This is important to achieve a shopping experience similar to that of the B2C customer. In pursuit of this, B2B companies must focus on aspects such as the usability of their purchasing platforms, the personalization of the offer, price transparency and agile and efficient customer service.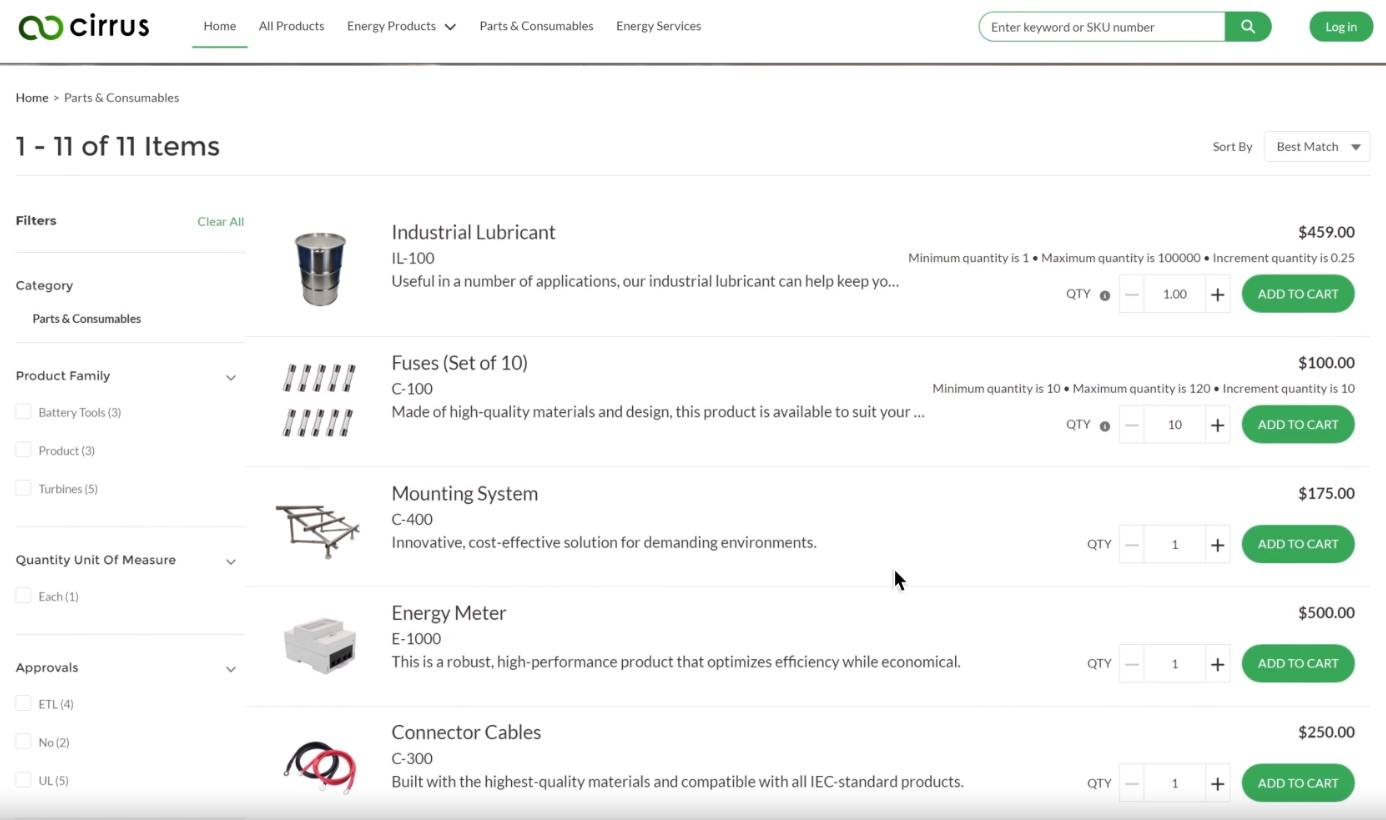 Optimum management of the site and the entire commercial process, facilitating the administration of distribution, inventory and received orders. Supply the stock of your online store, enable the online order of spare parts and meet the distribution needs of your customers.
Specific customization for each buyer. This can find and showcase recommendations adjusted to its particularities and possibilities of unique configurations.
It offers an optimized online wholesale experience to both occasional and regular customers.
As a specialized platform for B2B commerce, it allows, in just a few steps, the optimized processing of large recurring orders. For this, it has a trolley of appropriate dimensions that admits those large orders.
It offers the possibility of establishing different delivery dates, as well as multiple shipments for each order.
Use different forms of payment, accepting credit/debit cards, purchase orders, prepaid orders, orders processed based on concluded contracts, etc. In addition, it applies differentiated contractual prices.
It streamlines the price formation process, since prices can be adjusted based on specific customers. For example, product packages can be created whose price depends on the number of products purchased. It is also possible to apply discount coupons to selected customers. Also, the price list can be set in multiple currencies and languages.
Facilitates the creation of personalized catalogs. It allows the configuration of products, in order to sell them as independent items or integrated into packages.
Order history is in one place. In addition, it can be scaled in levels. For example, from the central warehouse to the branches.
It has various configurations of permission systems and access levels that guarantee the security of each user's data.
Salesforce B2B Commerce Cloud has a configurable chatbot to meet the needs of customer service.
Allows account administrators to have access to the data stored in the CRM. This provides a comprehensive view of each client. Likewise, it enables access to commercial, service and marketing information in the same space at different levels; either at the contact or company level.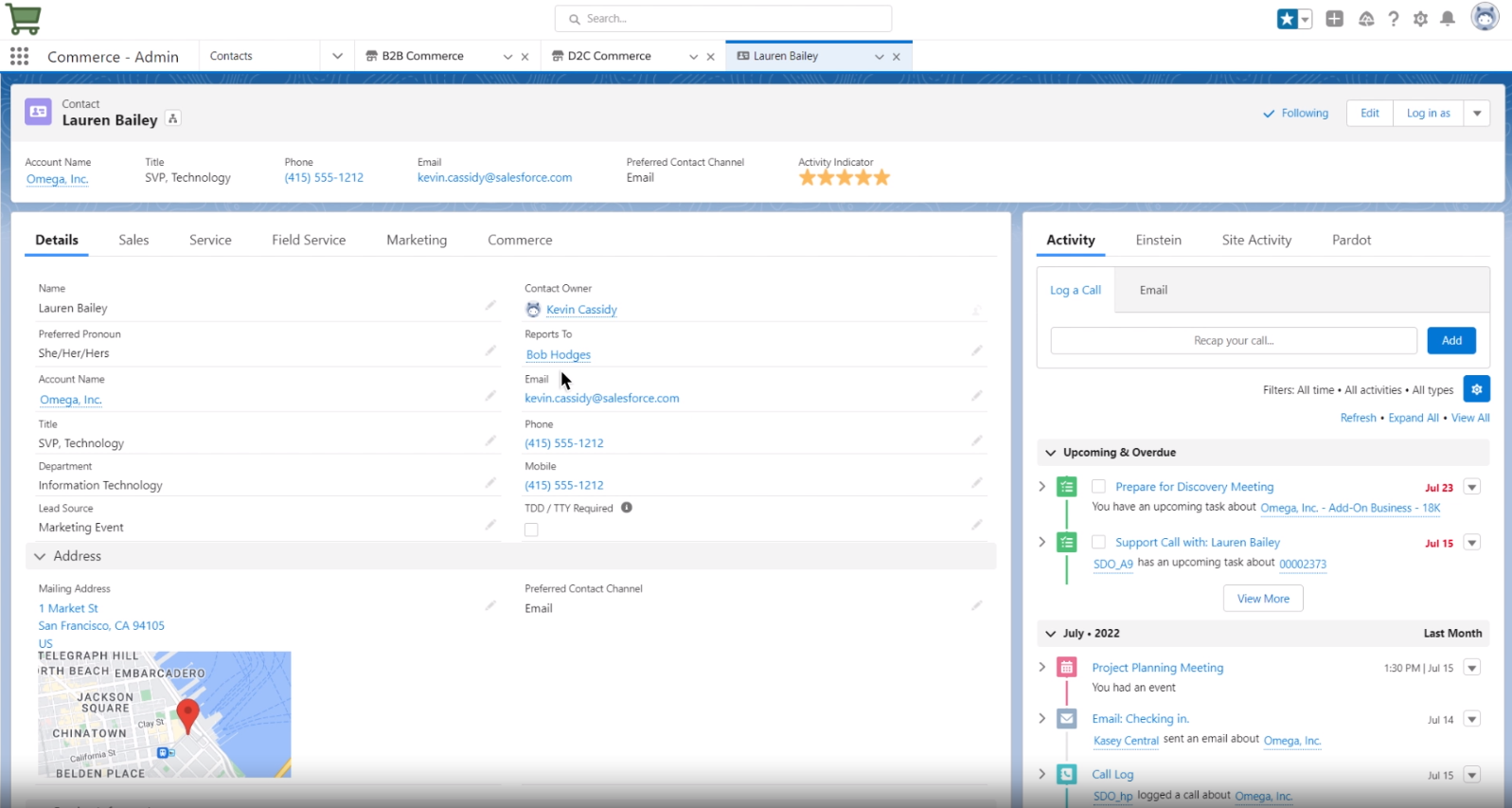 Ensures high-quality 24/7 omnichannel customer service.
The platform includes standard functionalities that are necessary and sufficient to navigate the sales process. In this sense, you can operate with it without the need for extra payments. In case you need additional features, these may imply additional costs.
Benefits of Salesforce B2B Commerce Cloud
The existence of the Salesforce B2B Commerce Cloud has given the e-commerce industry a significant advantage. Both buyers and sellers find on a platform the necessary elements to optimize the buying and selling process. In this sense, some of the benefits that can be identified in Salesforce B2B Commerce Cloud are:
Scalability and flexibility: The B2B Commerce Cloud solution is designed to adapt to the growing needs of your business. It can support a high volume of traffic and transactions, which is capable of scaling as needed. Also, you can customize and configure the platform according to your specific requirements.
Updating and adjusting to current trends: many companies are making their wholesale purchases through online platforms. So, using the Salesforce B2B Commerce Cloud is fully tuned and optimized to drive this process forward.
Upselling: Using Salesforce's automated cross-selling techniques, customer suggestions can drive new sales.
Strengthen the brand: The possibility of controlling our brand online will allow us to promote it beyond the local. Even when a potential customer decides not to buy, the fact of browsing your portal is already better positioning your company and contributing to gain visibility.
Enhances business analytical capacity: Access to comprehensive customer data enables the development of high-quality, personalized sales strategies. Salesforce B2B Commerce Cloud has powerful analytics tools that cover all the processes involved, such as sales, marketing, customer preferences, etc.
Omnichannel and consistency: allows omnichannel communication, through which customers can interact with the business in the way they prefer, creating a consistent experience for all of them.
Optimization of productivity and functions: Keeps all e-commerce processes and functions automated. This allows staff to save valuable time and focus on enhancing the customer service experience.
Are you one of those who have a B2B business and are considering options to jump into the world of digital commerce? Are you evaluating Salesforce B2B Commerce Cloud as your option, but haven't decided? The SkyPlanner team can provide you with the guidance you need to make sure you select the right option if you decide to take the plunge. You can write to us at hello@theskyplanner.com and we will be happy to help you.