After making an investment for your company, it is expected that you'd want to know how effective it is being and how well it meets your expectations. Without a doubt, for companies that use Salesforce, the level of use or adoption of the platform by users is an important indicator, especially when they cost 25-300 USD/month/user. To evaluate adoption, there are several metrics that serve to measure quantity, quality and efficiency of the process. In practice, they range from the number of times someone logs in to how seriously you take filling in the fields.
You must bear in mind that it is a progressive process, with periodic evaluation depending on the characteristics of your business. In addition, it is advisable to customize and adjust these metrics according to realistic expectations for your organization. For example, a small company cannot expect to reach the same number of registered users as a multinational. Only a customization fully adjusted to the organization itself, allows you to truly evaluate the adoption of Salesforce.
So, let's see what, from our point of view, are the main metrics to evaluate the adoption of Salesforce in your organization.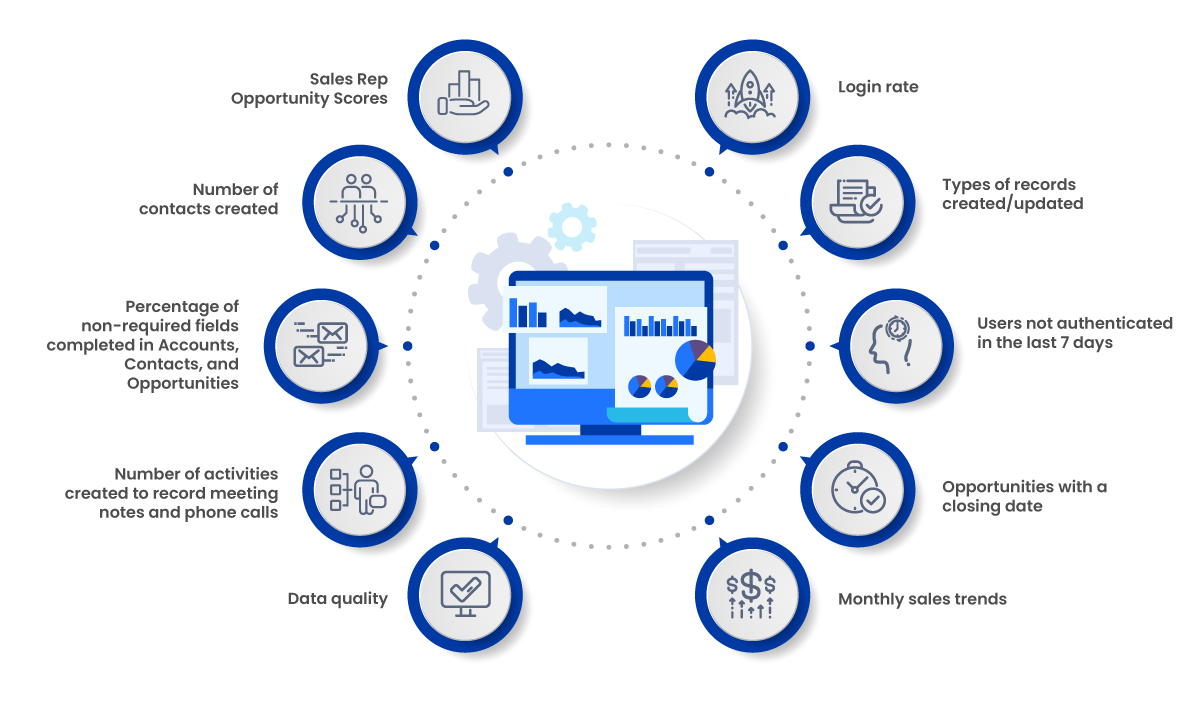 Main metrics to evaluate the adoption of Salesforce in your organization.
1- Login rate
The login rate is how often users access Salesforce in a given time. It is important to measure the intensity in the adoption of the platform. A high rate indicates commitment and regular use, while a low rate could mean lack of use. Users may need more training or incentives to use the platform effectively.
2- Types of records created/updated
The number of records created or updated shows the user's activity and engagement with the platform, while the quality of the data entered into the records is essential for effective customer and sales management. If users are creating and updating many records frequently, it is a sign that they are using the platform in a positive way and are engaged in using it.
3- Users not authenticated in the last 7 days
It allows detecting individual cases with less use of the platform's functionalities. From this, an analysis of the causes that determine this behavior must be carried out. Of course, a part of them may be due to vacations, illnesses and other unforeseen events. The most important thing is the result of creating personalized improvement measures and monitoring their practical effects. It is an important supplement to the login rate metric.
4- Opportunities with a closing date
A large number of pinned close-date opportunities demonstrate that users are using the platform to actively manage the sales process. This indicates commitment to using the platform to drive growth and revenue for your organization. This also helps sales managers to identify bottlenecks in the sales process and take timely action to improve team efficiency and effectiveness.
5- Monthly sales trends
Comparing current monthly sales with sales for the same month in previous years helps identify patterns and trends. If sales trends are increasing, it means your organization is using Salesforce effectively to drive growth. If these trends are waning, adjustments to your sales strategy or Salesforce utilization are needed.
6- Sales Rep Opportunity Scores
Evaluate the effectiveness of sales reps by scoring opportunities through a scoring system based on factors such as size, probability to close, and conversion funnel. High opportunity score indicates the effective use of Salesforce to identify and prioritize sales opportunities, while low scores may suggest data issues or a need for more training to improve sales rep adoption of the platform.
7- Number of contacts created
This metric is important to evaluate the effectiveness of the lead generation strategy and sales opportunities. A high number of new contacts indicates good platform adoption and an effective strategy, while a low number indicates a need to improve your lead generation strategy or Salesforce data quality.
8- Percentage of non-required fields completed in Accounts, Contacts, and Opportunities
It indicates the level of detail and motivation with which users are registering additional information on the platform. A high fill rate suggests that users are taking full advantage of Salesforce's capabilities for customer and sales management. Conversely, a low rate may indicate a lack of training or understanding of the importance of the information recorded in Salesforce, which could limit the effectiveness of the platform in managing business opportunities. Likewise, users could be confusing the priorities in filling out the fields.
9- Number of activities created to record meeting notes and phone calls
A high number of activities created indicates that users are effectively using the platform to record and track customer interactions, which can improve the effectiveness and efficiency of customer relationship management. A low number of activities created could indicate that users are not taking advantage of the platform for customer relationship management, which could limit your ability to provide effective and efficient customer service.
10- Data quality
Data quality is essential in Salesforce, as it is needed to get a complete picture of customer interactions. It is measured by the rate of input errors, incomplete or duplicate records, required fields completed, and updated records. High data quality improves sales and customer satisfaction, while low data quality results in poor business decisions and missed opportunities.

The Complete Guide to User Adoption
Getting user adoption right from the beginning, can make or break your successful return on investment.
Increased adoption of Salesforce by your organization brings significant benefits. Not only will you be making effective use of your business process optimization investments, but you will be making a significant contribution to increasing productivity. Your employees, and your organization itself, will be able to benefit from all the information reflected in the system, as well as from the process configurations. Would you like to be able to measure the level of adoption of Salesforce in your organization? The SkyPlanner team can provide you with the guidance you need to do this and advise you on Salesforce adoption metrics. You can write to us at hello@theskyplanner.com.