Technological developments have led to the automation of more and more activities in our daily lives. This is why for most companies, it is common for various IT solutions that meet different needs to coexist. Achieving the integration of all these applications, based on reaching a certain objective, is a complex task. IT teams usually complete this type of work, but in many cases, there are not enough developers to meet all of the demands of the business. This situation can translate into inefficiencies and the delay of projects. This is where MuleSoft Composer comes in, a cloud-based platform that can help you streamline data integration and automation processes.
With just a few clicks and without the need to execute any lines of code, any team with MuleSoft Composer can automate processes and improve an entire company. If you would like to unify the forces of IT with that of business teams to drive innovation projects, MuleSoft Composer is the perfect solution for you.
What is MuleSoft Composer?
MuleSoft Composer is a MuleSoft product designed to empower any team in your business to create integrations and automate processes without the need of being IT experts. MuleSoft Composer provides ready-to-use connectors that, in just a few clicks, allow you to integrate applications and data in real time. From its intuitive and simple interface, you can quickly take your project from idea to action.
Through MuleSoft Composer, the IT department makes ready-to-use connectors, APIs, and templates available to the rest of the company. This makes it possible for any professional to develop their own project, without the need for long exchanges with the IT department. However, the IT team would have the responsibility of verifying that each process developed meets the necessary requirements before being released.
There are many benefits that MuleSoft Composer can bring to a company. Regardless of this, most workers are reluctant to abandon the applications they are accustomed to in order to welcome a new one. This is why MuleSoft has set out to provide a custom approach to Composer, an example of which is "MuleSoft Composer for Salesforce". This solution allows Salesforce administrators to easily integrate applications and automate processes with just clicks, right from the Salesforce user interface.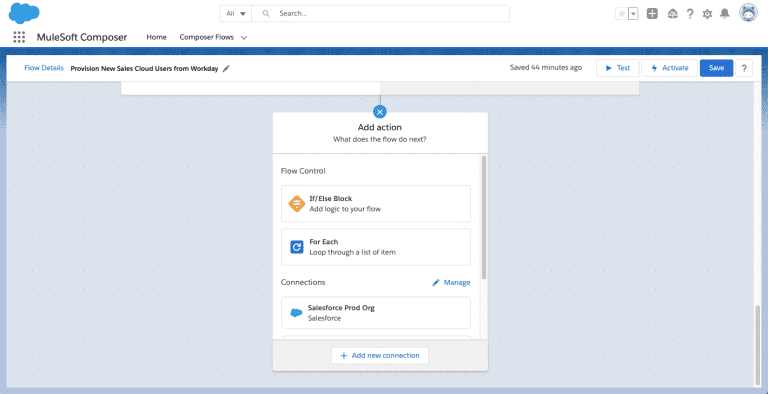 What can you do with MuleSoft Composer?
Business teams will be able to:
Integrate applications and data through the creation of flows. From a simple and intuitive interface, you will be able to create your own flows from scratch, based on templates or by cloning an existing one.
Bring your projects to life quickly, regardless of how complex they may be. In MuleSoft Composer, you will find IT-trusted and out-of-the-box connectors. You will also be able to create formulas and mathematical expressions to manipulate the data within the flows. In addition, you will have the possibility of accessing data previews in real time. Likewise, you will be able to verify that, at each step, your flow works as expected and will be able to activate it (pass it to production) when it is ready.
Monitor the status of your integrations. Composer gives you the ability to check the result of each integration every time your flows have been executed.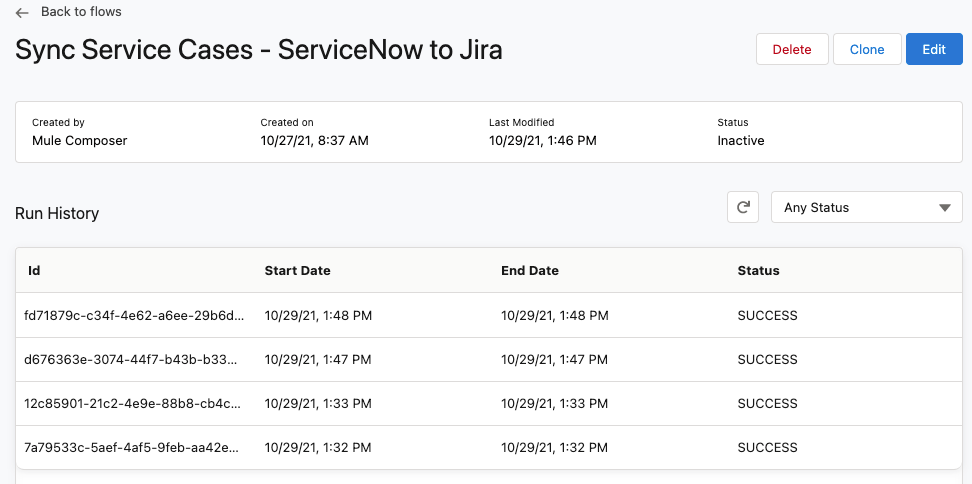 IT teams will be able to:
Allow business teams to create their own solution to business needs. The IT teams can grant other team members the ability to create solutions for their own automation and integration needs, without the need for these teams to be system experts, by using the reliable tools provided by MuleSoft Composer.
Collaborate quickly and easily with business teams. Thanks to MuleSoft Composer, the IT teams will be able to share templates and other tools with the business teams so that they can easily work on their projects.
Guarantee that each integration has the required quality. The IT teams will be able to visualize and review all the integrations before they are released into production.
How does MuleSoft Composer work?
With MuleSoft Composer, process automation is done through flows. In a flow, you will represent each step of a process. To create a flow, after having clearly defined what you want to achieve, you must:
Identify the systems that will serve as data sources. Such as a Salesforce org, Slack, Tableau, Netsuite, or an Excel Spreadsheet.
Choose the event(s) that can trigger the flow.
Determine what actions you will take with the data.
MuleSoft Composer greatly facilitates the task of managing flows. This does not require any specialization or experience in coding. Applications can be integrated, using a defined sequence of steps, to meet business demands.
Steps to create streams in MuleSoft Composer
1- Choose or create a connection: A connection is made up of the username, password, and URL, through which you can access the data you need to work with. After the connection is created, it can be used as many times as needed, even in different flows.
2- Choose a trigger: Flows can be triggered by events or scheduled to run at a specific time. For the first case, the trigger events that you can use will depend on the connection you have created.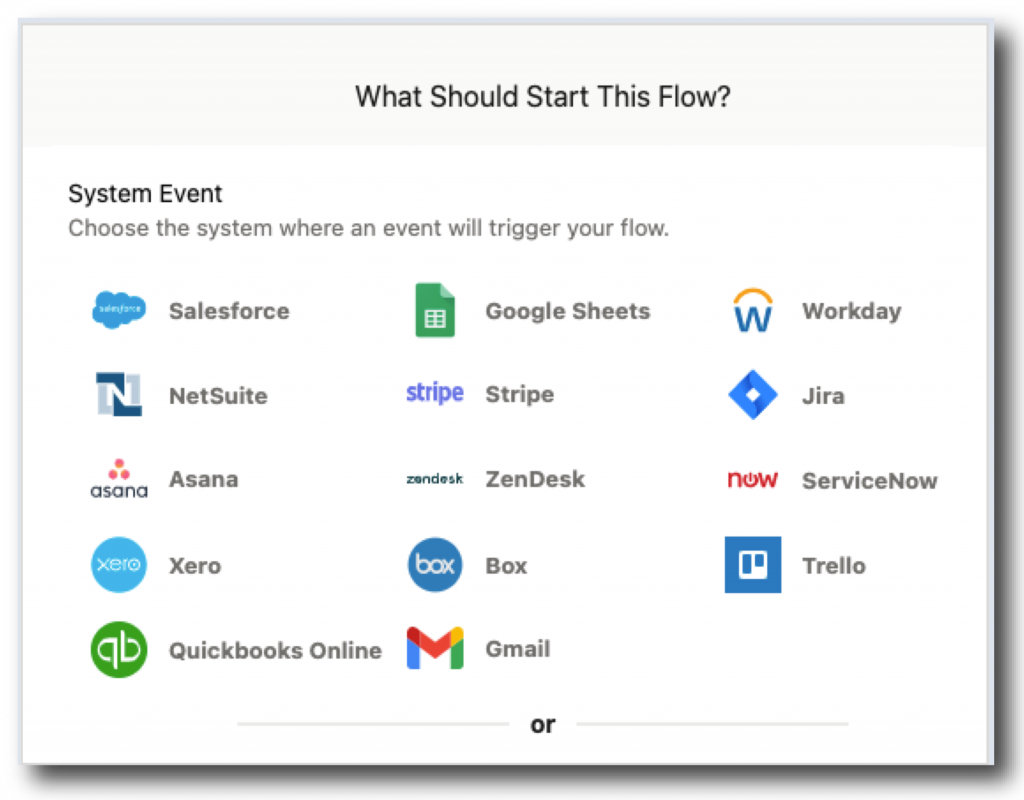 3- Define the actions you want to perform: You must decide what will happen to the data provided by the trigger and determine when these actions will occur. Through triggers and actions, you can make the flow as complex as necessary.
4- Test the flow: As you add triggers and actions, you will need to verify that the results you get are correct.
5- Activate the flow: With the successful tests carried out, it will then be time to activate the flow in production.
6- Monitor the behavior of the flow: The flow must be checked to make sure that it runs correctly in all scenarios.
What benefits does MuleSoft Composer offer?
It offers the possibility of incorporating more areas of the company in innovation projects, since coding experience would not be necessary to connect applications and automate flows.
It enhances collaboration between IT and the rest of the business areas, which speeds up the completion of projects and increases productivity.
Enriches the Customer's 360 degree View thanks to constant feedback between IT and the rest of the business areas.
It facilitates the agile creation of flows by allowing access by everyone who needs it, with a wide library of connectors, templates, etc.
It ensures that only workflows that work properly and meet established standards are pushed to production environments.
It allows the creation of flows using a friendly interface that is accessible from Salesforce or MuleSoft.
Allows you to monitor and receive error notifications when any of your integrations are not working correctly.
It can be combined with the new product, MuleSoft RPA (Robotic Process Automation). This combination allows for the automation of complete workflows in multiple systems and end-to-end applications, even in disconnected legacy systems.
MuleSoft Composer is, without a doubt, a very useful product to easily connect all your data sources and applications in a declarative way, without the need for code. If you want to get started with this Salesforce solution and need advice, contact us at hello@theskyplanner.com.