In the first part of this article, we explain what marketing automation is and why its adoption is important. We also referred to the elements that you should consider before implementing it and when may be the right time to do it.
So how then is this implementation to be carried out if you already have the conditions created? What Salesforce tools will allow you to do it? That is precisely what we will explain below.
How to implement marketing automation once the conditions are created?
If you have already identified that it is time to change and automate your marketing strategy in search of the benefits it generates for your business, we suggest that you take into account the stages that are part of the PDCA continuous improvement cycle (Plan, Do, Check , Act), which will allow you to implement marketing automation in your company.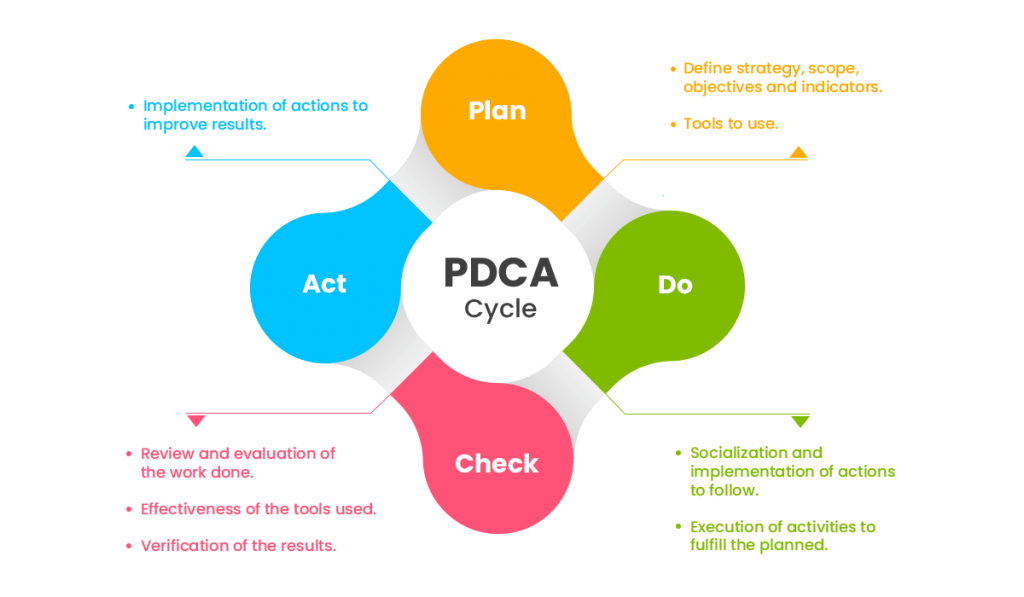 I. Plan: Planning is the stage where the strategies and objectives that are to be achieved with marketing automation are defined to receive the expected results according to the requirements of the clients. The following aspects will help you carry out the automation process within this stage:
The marketing automation strategy to follow, taking into account the desired results.
The scope of the marketing automation process.
The objectives that meet the needs of your customers.
The right tool(s) for the job you want to do.
The content that you want to generate to increase potential customers.
The indicators or metrics associated with the marketing automation process.
II. Do: This corresponds to the implementation of what was planned. This is the moment where work begins in compliance to what was defined in the first stage in order to achieve the proposed results. A representative element is the preparation of your workforce, which will be in charge of efficiently developing all activities related to automation to comply with the defined objectives.
III. Check: To monitor and continuously measure the marketing automation process taking into account the fulfillment of the marketing strategy, the scope, the objectives, the information obtained from this automation, etc. You can monitor, for example, the different indicators that allow you to see the behavior of your process in real time in order to evaluate its performance and subsequently take actions that impact its development.
IV. Act: The results are analyzed and the necessary actions are implemented to improve the performance of your automation process. To carry out this action, it is proposed to:
Collect and analyze data on customers, sales, campaign success, indicators, internal audits, etc.
Use customer experience mapping to establish feedback on the main points of contact. The success of automation depends on how your customers react to it.
The implementation and success of marketing automation depends on good planning, precise goals, specialized training, good content and continuous improvement. This will allow any company, without a doubt, to increase its profitability indicators.
Now, if you are already inquiring about tools to implement a marketing automation solution in your company, consult the selection that we propose below.
Salesforce tools for the implementation of marketing automation
Salesforce contains different products aimed at the different areas of the business: sales, marketing, customer service, etc. In this case, we are going to refer to Marketing Cloud, with the different tools that compose it, and Pardot as Salesforce platforms that can be used to implement marketing automation in your business.
1- Marketing Cloud
It is one of the best digital marketing platforms on the market. It allows a more efficient and effective marketing management for all types of companies. It is made up of a series of tools aimed at improving an organization's marketing strategy and provides a single environment to manage all its communication channels. This includes email, mobile devices, advertising, social networks, among others.
Its applications are numerous, from storing customer data to building predictive models of their behavior. The ability to plan , monitor, analyze and make decisions in real time makes Marketing Cloud an excellent choice for any marketing team.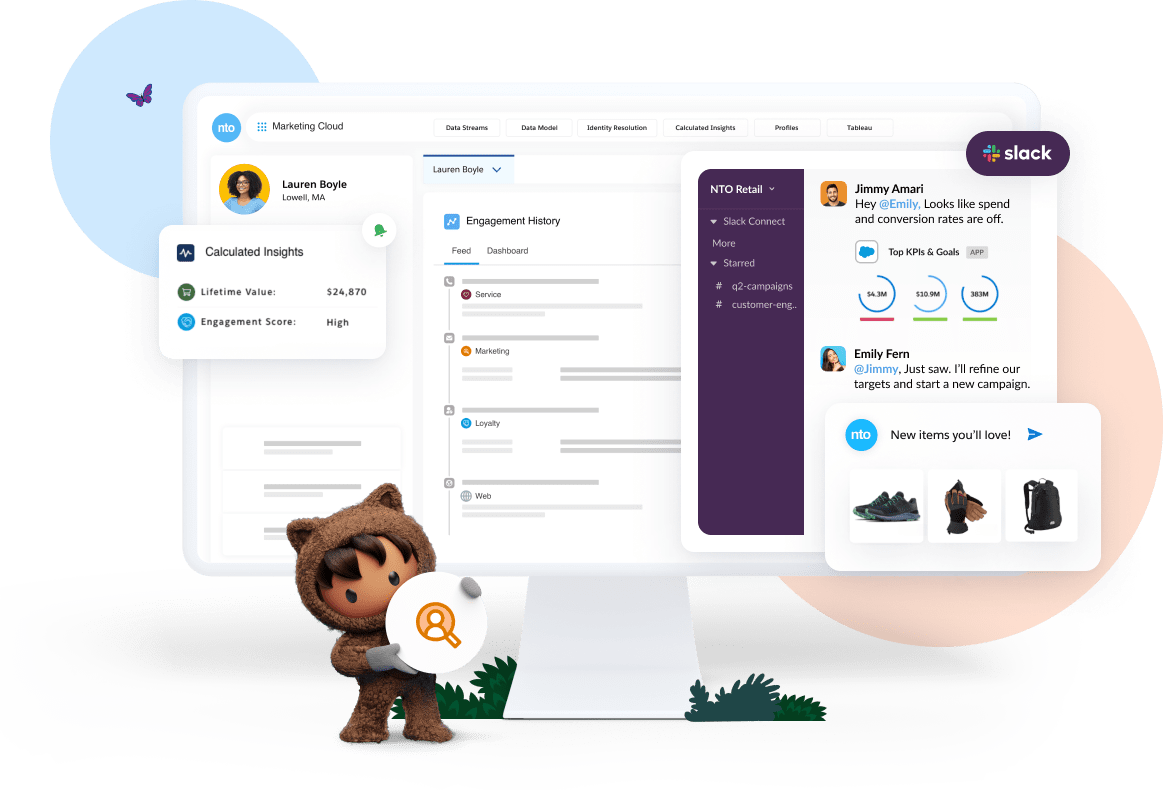 Among the most used Marketing Cloud tools are: Email Studio, Mobile Studio, Social Studio, Advertising Studio and Journey Builder, although they have other functionalities. Some characteristics of each of them are summarized below:
Email Studio
This tool facilitates the creation of segmented email lists, automates campaigns and gives them follow-up and optimization. It offers personalized, more specific and detailed information. For example, if an email is sent to customers who have not made purchases for three months, it can be determined who opened the message and returned to the sales page . For those who opened the message and did not enter the sales page , you can think of a strategy, for example, to deliver coupons or discounts.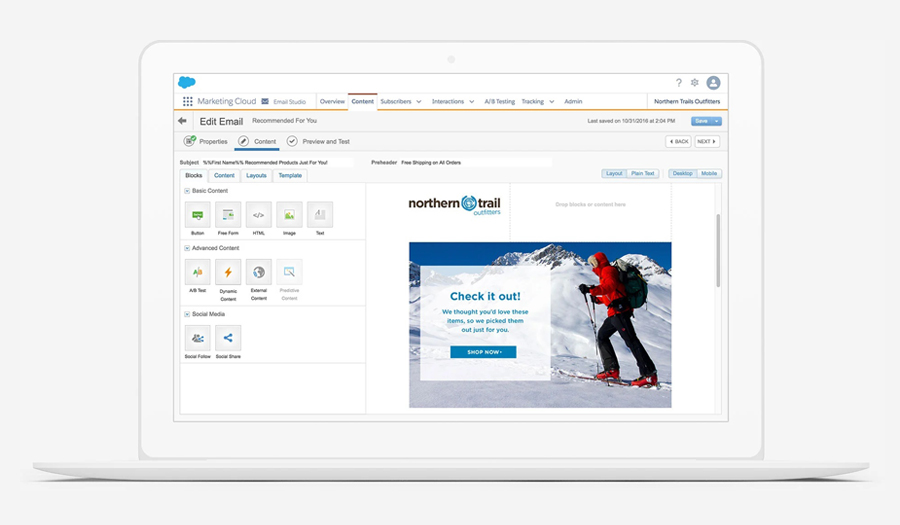 Mobile Studio
This tool allows the use of data stored in the Marketing Cloud platform to get to customers by sending personalized SMS messages, push notifications and group messages to their smartphones. It also includes other channels such as email, social networks and the web. Additionally, it provides the ability to deliver urgent messages directly to the devices most utilized by users. Improve customers' experience and offer real-time communications using this tool.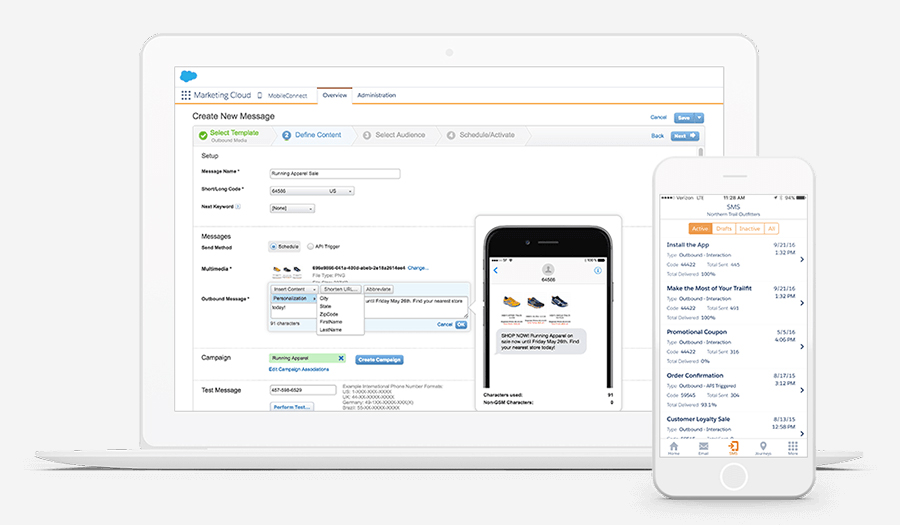 Social Studio
This tool allows the management of social media accounts from within the same environment. With this solution you will be able to create, schedule, and publish content. You can also interact with your audience and know what they are saying about your brand or your competitors while you monitor everything within a single system. Additionally, you can generate performance reports in a simple way.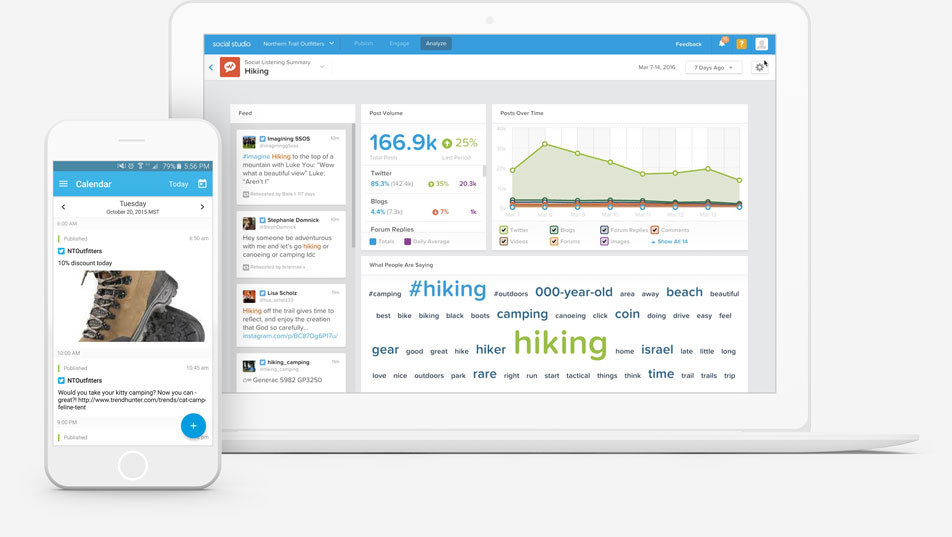 Advertising Studio
Boost the possibilities of any sales team by improving the experience that consumers have with your brand, from the first contact with the company to the purchase and after-sales, in the different most powerful digital channels: Facebook, Instagram, Twitter, Google, LinkedIn and YouTube. Using this tool to improve acquisition strategies will help companies find new audiences and customers.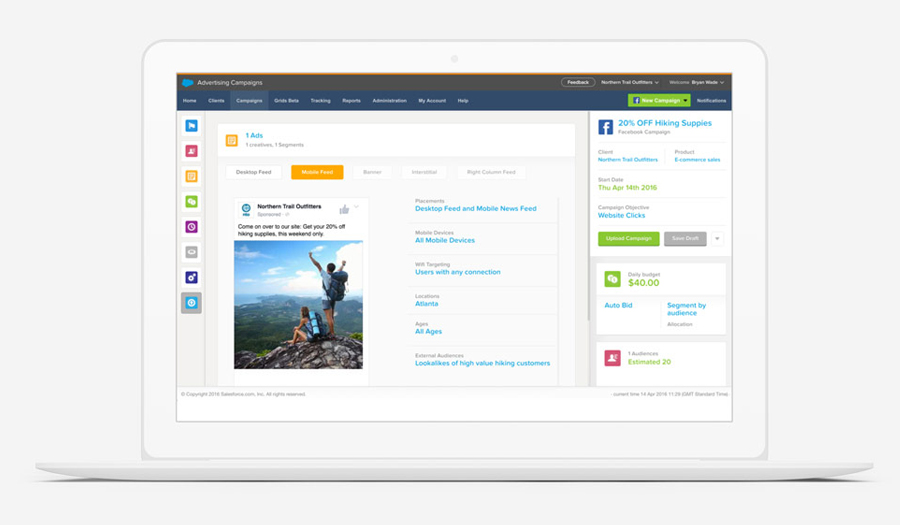 Journey Builder
Journey Builder is a tool that enables the design and automation of marketing campaigns, creating personalized experiences across channels and devices. To do this, it allows the conception of different journeys through which the tool will guide customers based on their interactions with your brand. Thus, it will evaluate and determine at each moment when the customer will move to the next activity and what that next activity will be.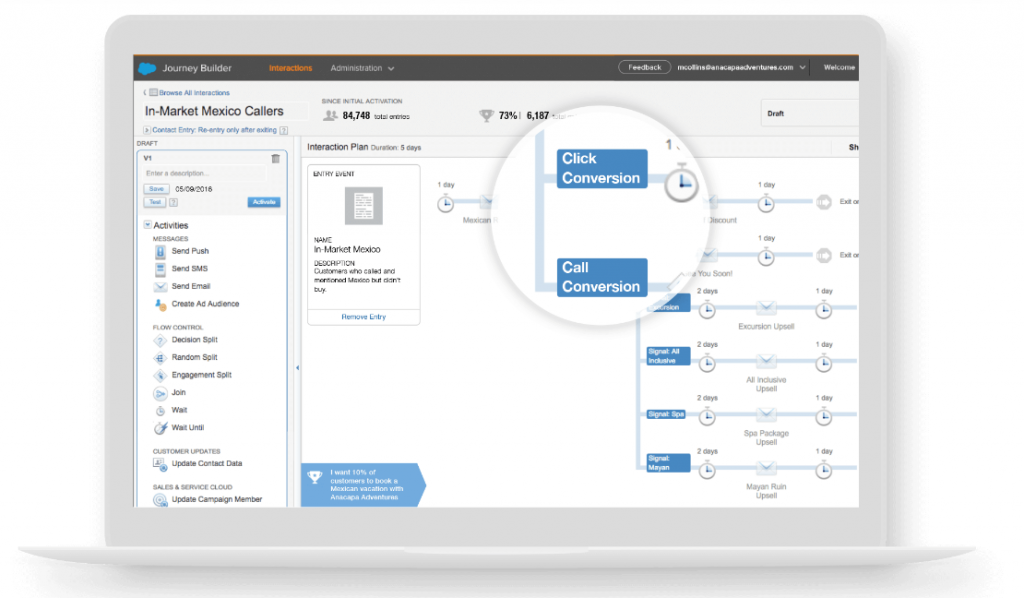 2- Pardot
Intuitive and easy to use, Pardot is the leading B2B marketing platform. Align Marketing and Sales teams to nurture leads, close more deals, develop relationships, and maximize return on investment (ROI).
Pardot Lead Management offers CRM (Customer Relationship Management) integration, email marketing, as well as monitoring and evaluation of these leads. Additionally, it enables ROI reporting to help Sales and Marketing teams work together to generate and qualify leads, shorten sales cycles, and track ROI.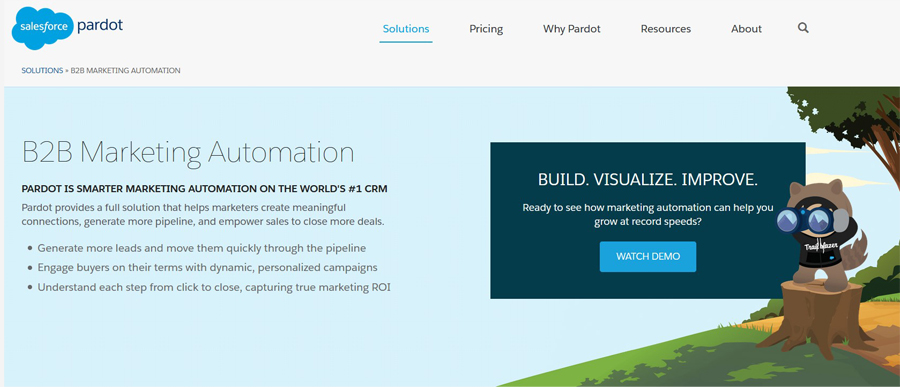 These are some of the best Salesforce tools you can use. If you are already working with Salesforce and your company is B2B, Pardot is an excellent option that also integrates very well with Sales Cloud. Both Pardot and Marketing Cloud are great alternatives for adopting marketing automation. You would need to take into account the particularities of your business and contrast them with the characteristics and differences of both platforms.
Implementing marketing automation will help you optimize your time and resources, as well as improve the growth and productivity of your organization. Adopting this solution will facilitate the work on your strategies and the fulfillment of your objectives.
The SkyPlanner team can put at your disposal a strong collective experience in different industries and a standardized process, proven for quick implementation. If you are interested in starting to use Pardot or Marketing Cloud, let us be your partner in that project. Contact us via email at hello@theskyplanner.com.