Sales management is a complicated process, although it is often simplified to the act of acquiring a product or service and paying for it. However, every entrepreneur knows that it goes much further than this. To be truly competitive in sales, the representatives of the team must worry about many things such as: understanding the customer, offering them what they demand, providing a consistent and positive experience, etc. Sales reps need the right information to provide the right solution to each customer. Customer relationship management is becoming an essential tool.
Salesforce, the world's #1 CRM, understands this and is constantly working to deliver the best solutions throughout a customer's lifecycle. For this reason, in the middle of last year, it launched a new tool called Einstein Relationship Insights into the public arena. Let's take a look at what that is.
What is Einstein Relationship Insights?
Einstein Relationship Insights or ERI is an automated research assistant powered by AI. It works as a desktop plugin, with a browser extension, that explores disparate data from multiple sources to reveal relevant insights that can help close deals faster.
In essence, ERI autonomously examines both web and internal data sources (news articles, social media, collaboration apps, emails, and more). Additionally, it offers the possibility to update the CRM with a single click to import the information collected. In this way, the sales team can talk with customers by having more relevant conversations that accelerate sales and generate new business opportunities.
While many believe that the evolution of automated assistants will mean the extinction of salespeople in the future; ERI is an example of how AI can work with these agents and not instead of them. In fact, AI tools are becoming increasingly more in demand by reps overwhelmed by information overload since, without them, it's up to sales reps themselves to do the research manually. ERI does this work in a time-saving way so representatives can handle high-impact interactions directly with customers.
According to one study, AI increases leads and appointments by more than 50% while reducing costs by up to 60%. AI can create more value for sales reps by freeing up their time so they can spend more on closing deals. Additionally, in the Salesforce State of Sales Report nearly 50% of surveyed sales reps cited a significant improvement in time utilization as a result of using AI.
7 features and benefits of ERI
The advantages of AI tools for the sales process are multiple and the data proves it.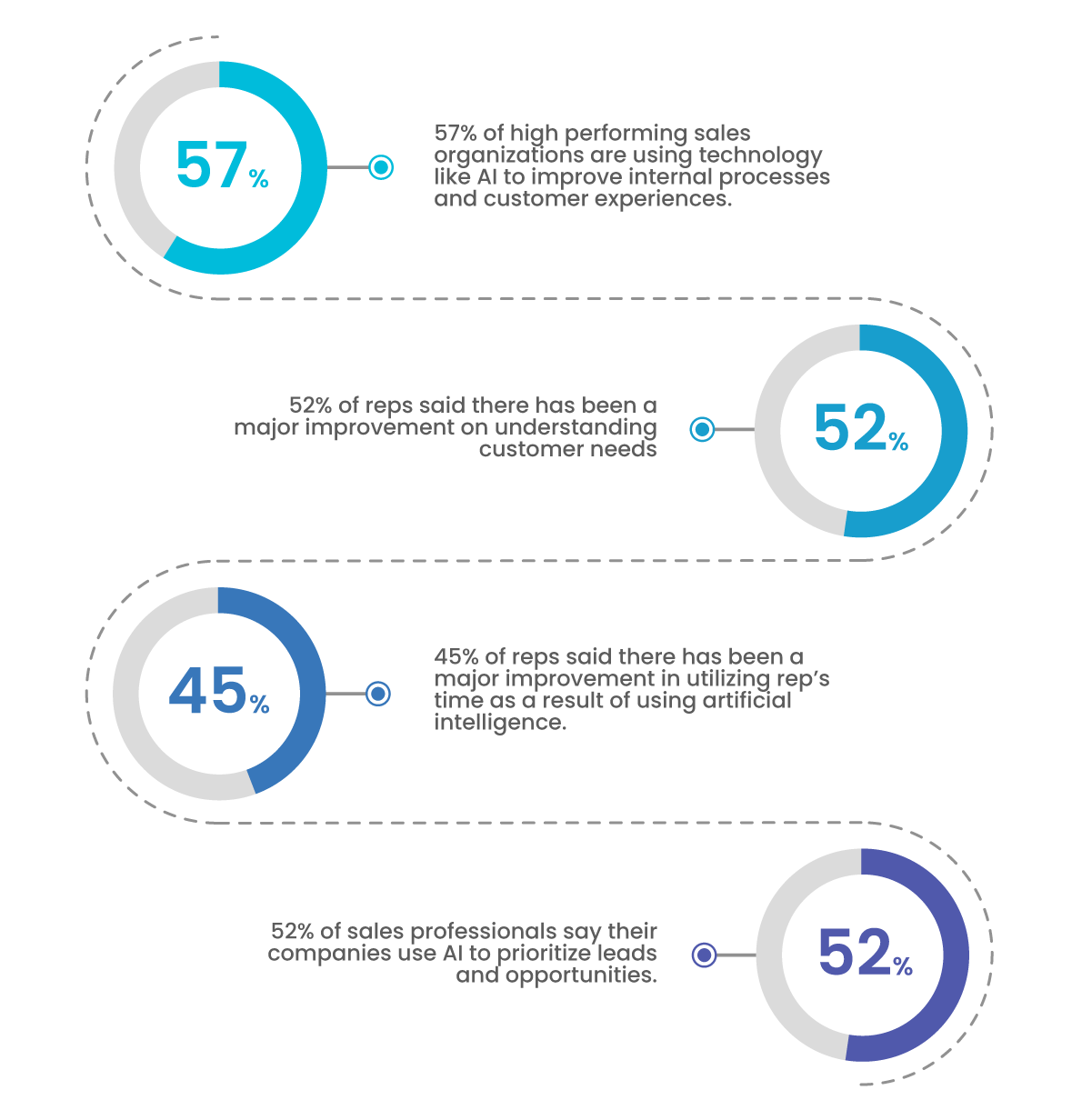 So it's not surprising that the main benefit of Einstein Relationship Insights is how sales teams have leveraged it in terms of incorporating relationship intelligence into key decision making.
More broadly we have:
Provide deep customer insight: Get to know your customer through data obtained from multiple sources. This allows you to have more relevant and informed conversations and build strong relationships faster. Additionally, ERI identifies potential customers, unlocking new opportunities in your networks to grow customers.
Optimize every interaction with the client: ERI saves you time preparing for meetings with clients. Provides a complete description of the prospects and identifies which of the recommended relationships have Salesforce records, allowing yo u to leverage your own network while also preventing duplicates.
Accelerates the sales process by granting greater agility in closing deals: More informed and relevant conversations contribute to achieving very positive customer experiences. In this way, the customer is more pleased, based on a positive experience, and is more likely to make the purchase.
Keeps results in context: As you browse, ERI saves the web pages visited and Salesforce records created for later reference.
Facilitates relationship graphics: Provides graphics that make it easy to visualize the network around your business customers. In this way, key relationships can be identified and understood, and opportunities can be unlocked.
Seamless integration: ERI connects to all your everyday office tools (browsers, Salesforce, Microsoft Office) without interrupting your sales reps' workflow.
Native tool: Being a native tool of the Salesforce ecosystem, it can be combined with other CRM solutions, making your company even more powerful.
Undoubtedly, artificial intelligence is making its way into the strategic management of customer relationships and the sales process of each company. Do you want to get a little closer to ERI, the virtual assistant powered by AI? At SkyPlanner we have answers to all your questions. Feel free to write to us at hello@theskyplanner.com.