Salesforce's flagship mega-event is just months away from kicking off in beautiful San Francisco. Get ready to immerse yourself in the world of business transformation, under the AI + Data + CRM approach. This time, you'll be provided an opportunity to experience AI-powered innovation and discover a smarter CRM. In other words, it is a window to peek into the future of business while feeling the magic of the event.
During this edition, more than 180,000 curious and passionate minds will come together to explore the future of the cloud, enterprise technology, artificial intelligence, and much more. Imagine a vibrant stage at the Moscone Center, filled with inspiring talks, interactive workshops, and exciting demonstrations of the latest solutions! Save the date: from September 12 to 14.
What is Dreamforce?
Dreamforce is not just a Salesforce conference. It is an unparalleled experience where you will discover how companies are reinventing the way they connect with customers, partners, and employees. Here you will find thought leaders, visionaries, and creative minds who are changing the business game.
As always, Salesforce proposes its already proven methodology of:
Learn: multiple learning opportunities.
Connect: real-time conversations with thought leaders and experts.
Have fun: renowned artists, partner parties, surprises everywhere, and the incredible Dreamfest.
Give Back: show the best Trailblazer spirit by helping to build diversity, inclusion, equality, and sustainability through action and volunteerism.
Why participate?
Because it is a fantastic professional experience! But if you need more convincing, here it is:
Over 1,500 learning sessions available, including:

Keynotes: Latest product and solution innovations, as well as the biggest Salesforce announcements, visionary speakers, and customer success stories.
Breakouts: Immersive presentations on a specific product, feature or topic. A 40-minute Q&A session with the presenters.
Theaters: Quick (20 minute) introductory and informational sessions on a particular topic. It can be tips and tricks or a how-to presentation.
Roundtables: Small discussion groups on a specific topic. Ideal for networking and rethinking common challenges faced by the Salesforce community.
Hands-On Workshops: Expert-led training to learn a product or skill

About 8 certification opportunities. All certification exams will take place at the Marriott Marquis.
Opportunity to ask all the questions on your mind to Salesforce senior executives, during True to the Core.
DreamPitch competition where entrepreneurs present their startups to a panel of "all-star" judges to choose which one deserves an investment from Salesforce Ventures.
High-profile interviews with several of the world's visionary speakers. Previous editions have featured Barack and Michelle Obama, Will Smith, Jane Fonda, Stephen Curry, and David Beckham among others.
An incredible night with some of the best rock bands of all time. Bands like Metallica, The Foo Fighters and The Killers have been featured in previous editions.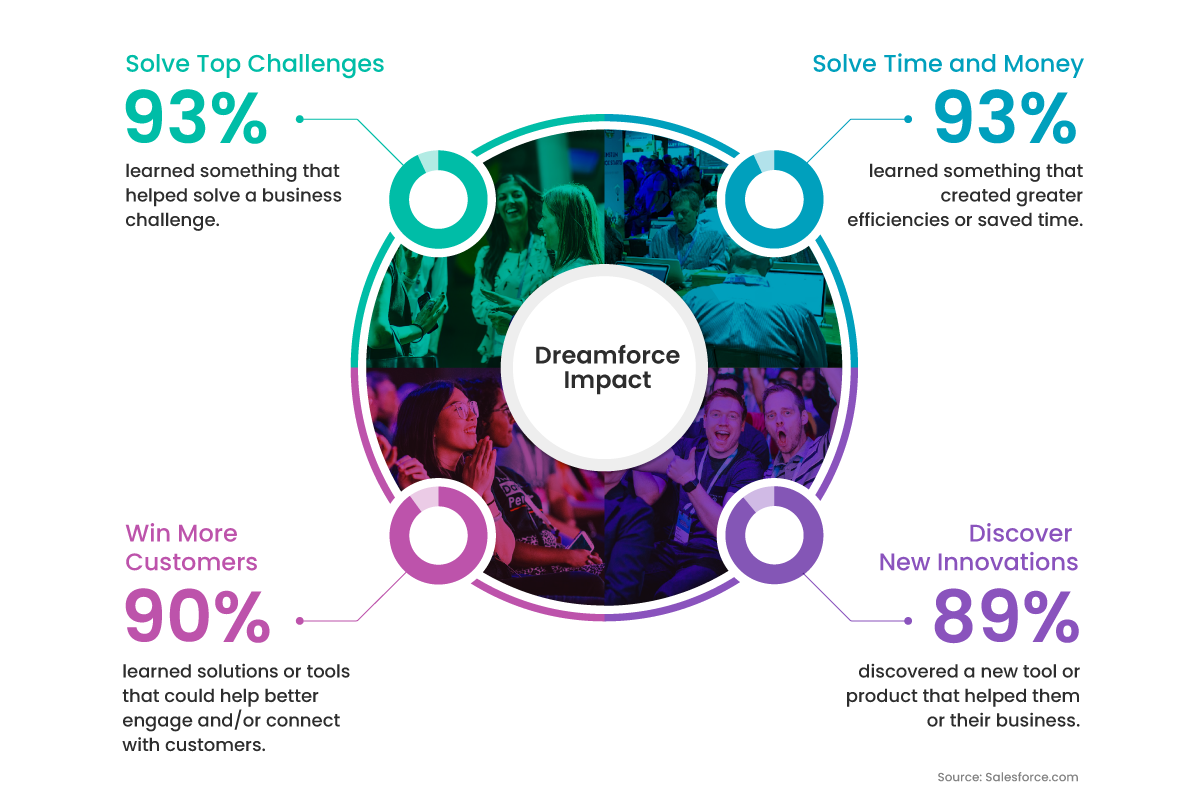 Dreamforce 2023 Agenda
Tuesday, Sept 12
Wednesday, Sept 13
Thursday, Sept 14

Dreamforce main keynote.
Ground-breaking product announcements.
Sessions about innovating with AI and data.
Industry and role-specific sessions.
Stories of customer success across the Campground.
Networking and welcome reception.

Product roadmap innovations.
Hands-on workshops.
Ethics of AI sessions.
Deep-dive customer success demos
Lodges and Trailblazer Forest.
An A-list Dreamfest.

Inspiring keynotes from experts and visionaries.
Product roadmap innovation.
Live Q&A with Salesforce experts at True to the Core.
Doing good with AI sessions.
Shark Tank-style Dreampitch competition.
Winter Release Readiness live at Dreamforce.
How to take part?
Like other post-pandemic events, DreamForce presents a hybrid mode of participation. You can live the experience personally in San Francisco, registering here. Or, instead, enjoy the best of the event on Salesforce+ which, in addition to broadcasting the most exclusive moments live, will have the most important sessions held on demand between 24 and 72 business hours after the event. Sign up here for the free online experience exclusively on Salesforce+.
Bootcamp
Also, if three days isn't enough for you, you can add three more days of training at BootCamp from September 9-11. Jumpstart your path to certification with an immersive learning program alongside certified experts. The Salesforce roles that you can find in the BootCamp are:
Administrator
Advanced Administrator
Flow Builder Admin
Marketing Cloud Email Specialist
Platform Developer I
Service Cloud Administrator
Data Architect
Integration Architect
BootCamp Agenda
Saturday, Sept 9
Sunday, Sept 10
Monday, Sept 11

8:30 a.m.–5:00 p.m.


Event Check In & Certification Information Desk.

9:00 a.m.–12:00 p.m.


Tracks in Session.

12:00 p.m.–1:30 p.m.


Lunch.

1:30 p.m.–5:00 p.m.


Tracks in Session.

5:30 p.m.–7:30 p.m.


Trailblazer Welcome Reception.

8:30 a.m.–6:30 p.m.


Certification Information Desk.

9:00 a.m.–12:00 p.m.


Tracks in Session.

12:00 p.m.–1:30 p.m.


Lunch.

1:30 p.m.–5:00 p.m.


Tracks in Session.

5:00 p.m.-6:00 p.m.


Study Hall.

8:30 a.m.–1:30 p.m.


Certification Information Desk.

9:00 a.m.–12:00 p.m.


Tracks in Session.

12:00 p.m.–1:30 p.m.


Lunch.

1:30 p.m.–4:00 p.m.


Tracks in Session.

6:00 p.m.


Certification Exam.
Well then, get ready to learn, grow and have fun like never before! Join Dreamforce 2023 and be a part of this exciting technology revolution that is shaping the future of business. The adventure is about to begin!