Available on almost all devices and operating systems, Chrome is a web browser created by Google and designed to offer users a fast and safe browsing experience. Like other browsers, Chrome provides support for displaying web content, videos, etc. and it also offers additional features such as extensions, bookmarks, private browsing mode, and synchronization with other devices.
Google Chrome extensions are applications that have been developed so that users have access to a wide variety of functionalities without having to leave the browser. These are available in the Chrome Web Store, where they are classified according to the purposes for which they were created. You can find them, free or paid, under any of the following classifications: accessibility, development tools, entertainment, photos, productivity, search tools, and many more.
What are Chrome Extensions for Salesforce ?
Chrome Extensions for Salesforce are tools that have been created to increase productivity while using Salesforce. They provide a variety of easily accessible options and useful tools to customize your experience while you work. It is important to note the number of extensions that you install, since their indiscriminate use can affect the performance of your browser.
In the Chrome Web Store , we can find around 150 extensions developed to facilitate your interaction with Salesforce . These are mostly development, search and productivity tools. Here are the 10 best productivity-oriented Chrome extensions for Salesforce.
This selection has been made by assessing the number of users who have installed them and their reviews. In addition, we have reviewed the update dates and how active the community is in collaborating with support while using the extensions.
| Extension | Downloads | Reviews | Rating | Last update | Community Activity | Price |
| --- | --- | --- | --- | --- | --- | --- |
| Salesforce | 300,000+ | 1.278 | 4.4 | 12/22/2022 | No activity registered | Free |
| Enhance Salesforce Dashboard | 20,000+ | 50 | 4.3 | 02/04/2023 | Activate | Free |
| Salesforce Colored Favicons | 30,000+ | 79 | 4.5 | 10/17/2022 | Activate | Free |
| Clearbit for Salesforce – Lite | 10,000+ | 35 | 4.5 | 08/19/2019 | No activity | Free |
| Salesforce Mass Editor | 10,000+ | 24 | 4.4 | 11/13/2022 | Activate | Free |
| Salesforce Change Set Helper | 20,000+ | 52 | 4.3 | 06/22/2020 | Activate | Free |
| Tuvis for WhatsApp and Salesforce | 6,000+ | 28 | 4.9 | 02/07/2023 | Support can be accessed depending on the contracted package. | Annual, Premium or Enterprise packages e. Special packages for non-profit or educational companies. |
| Record and Metadata Comparator for Salesforce | 6,000+ | 40 | 4.8 | 02/03/2020 | Little activity | Free |
| Salesforce Navigator for Lightning | 7,000+ | 18 | 4.1 | 11/20/2022 | Activate | Free |
| DESelect Search in Salesforce Marketing Cloud | 4,000+ | 40 | 4.8 | 09/27/2022 | Little activity | Free |
Productivity tools
1- Salesforce
Take advantage of Gmail integration to work with Salesforce records directly from email. With this extension, Gmail and Google Calendar users can easily interact with Salesforce and view contacts, leads, accounts, opportunities, cases connected to emails, and appointments. It also makes it easy to create, search, and explore records, including custom object records. It allows you to create emails using templates and additionally, the Lightning App Builder can be used to modify the extension's design, select features based on business needs, and assign those features to particular user profiles.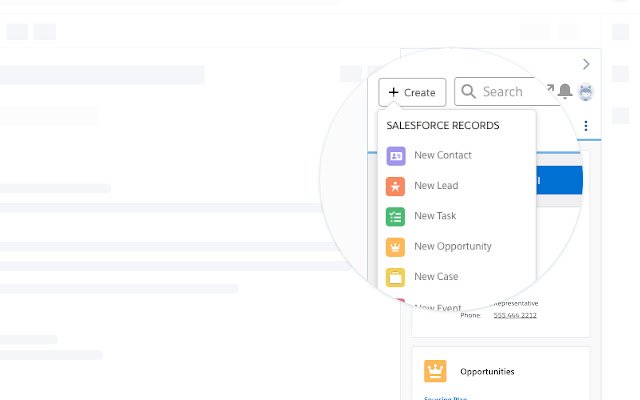 2- Enhance Salesforce Dashboard
Thanks to this fantastic Chrome extension you will be able to get real-time data from your Salesforce dashboards and up to 7 columns for dashboard components. Salesforce Dashboards can only be updated once a day, once a week, or once a month and with this extension you will be able to access information in real time (up to the last second) with the help of Boost salesforce Dashboard. In addition, you can set the duration and frequency of the automatic update as well.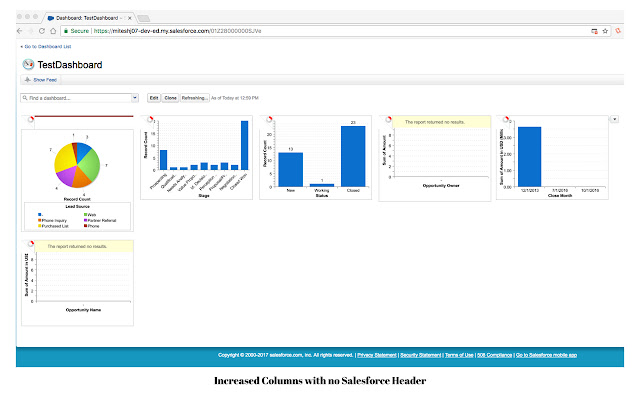 3- Salesforce colored favicons
This extension helps you quickly distinguish between the tabs of various Salesforce organizations. It allows you to assign different colors to the default favicons and distinctive icons for production, sandbox, and scratch organizations. To utilize this functionality, once the extension is installed, you simply navigate to a Salesforce org and the favicon will be changed to a random color chosen by the extension. Once that's done, you can navigate to the setup page of Salesforce Colored Favicons and modify this color. So instead of the standard Salesforce favicon, the custom version will appear every time you visit that organization.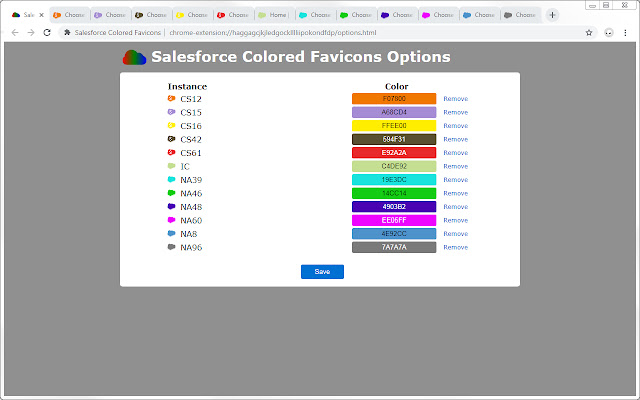 4- Clearbit for Salesforce –Lite
Sales managers often spend a lot of time finding lead information and then inserting it into Salesforce. Clearbit is responsible for automating this task and saving you around 2 hours a day, according to the developers in the description on the Chrome WebStore. Transform any email address or domain name into complete prospect and business profiles in just a few steps. All the information you may need about your contacts, potential customers, and prospects will always be up to date.

5- Salesforce Mass Editor
This is a very simple but effective plugin for Salesforce. It allows any list view in Salesforce to function as a powerful bulk editor. Performs bulk update, delete, clone and insert, mass copy, and paste of data from multiple rows and cells in Excel. It even makes it possible to export data from list views to a CSV file. These are just some of the tasks you can do with Salesforce Mass Editor.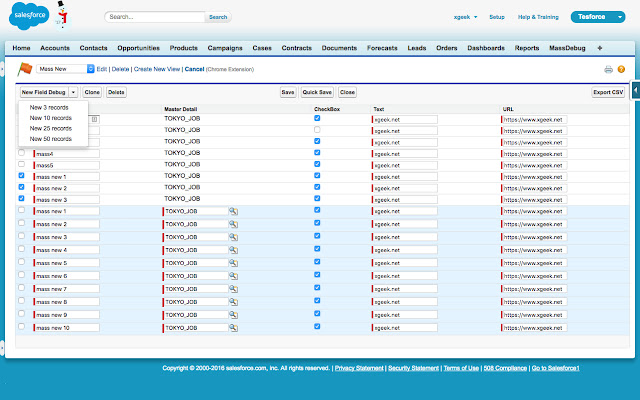 6- Salesforce Change Set Helper
Change sets are packages that allow you to transfer customizations, features, and components from one Salesforce environment to another. This tool allows you to better manage these sets, since it adds the last modification date to each element, the user who modified it, and more, which means you can sort by any field, search, validate, and compare with other organizations.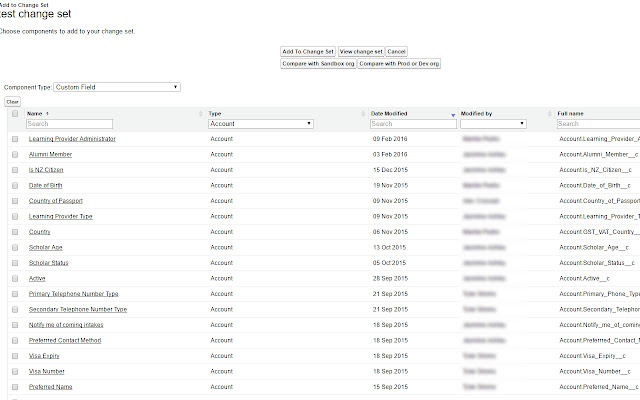 7- Tuvis for WhatsApp and Salesforce
Tuvis saves a lot of time by integrating the browser version of WhatsApp with Salesforce. Thanks to this tool, customer service teams can see details of known customers in real time and record their chats as activities, tasks, and cases in Salesforce, all without leaving the WhatsApp web screen. It also allows Sales, Customer Service, and Support teams to communicate with customers while automatically syncing chats in Salesforce.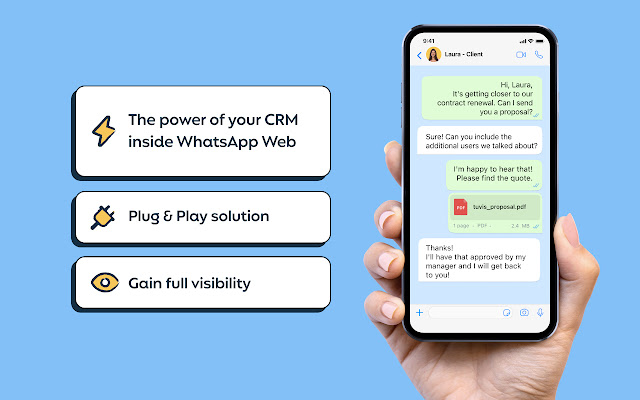 8- Record and Metadata Comparator for Salesforce
If you need to compare the metadata of objects and their registry values, even of objects from different organizations, this extension is useful for you. With just a few clicks you will be able to obtain all the differences between them, the fields that are in one and not in the other, the differences in the metadata (change in formula, data type, required, etc.), and even the fields that have different values in the data!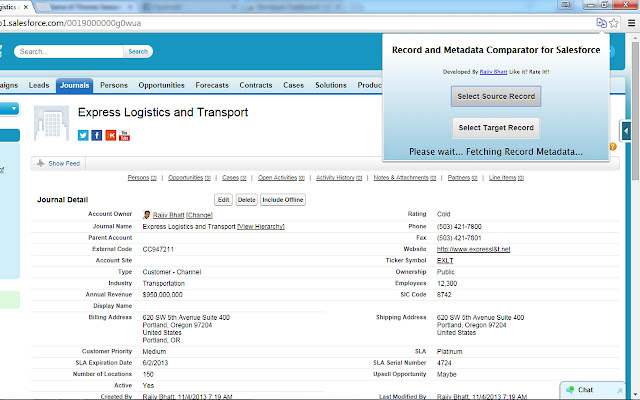 9- Salesforce Navigator for Lightning
Once you install this extension in your browser and log in to your organization, you'll be able to quickly navigate to any Salesforce page. You can find objects, applications, and settings from a single command box. With this you won't have to access the Application Launcher to find an object that is not in your current application.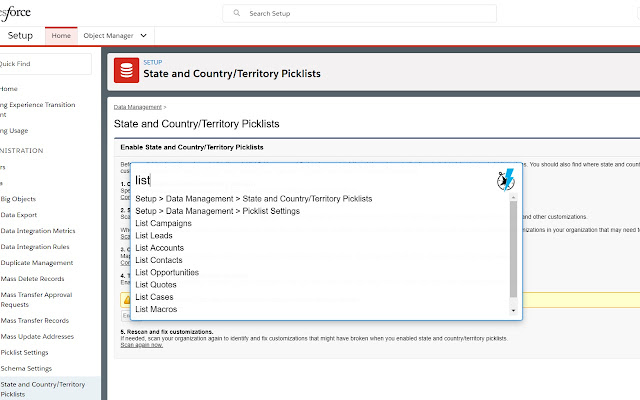 10- DESelect Search in Salesforce Marketing Cloud
Builder objects, data extensions, query activities, data filters, automations etc. Searching, for example, for a data extension whose name you partially remember is no longer a tiring task even if you don't remember the folder you saved it in. The DESelect Quick Search Search in the Salesforce Marketing Cloud gives you the ability to search all folders at once. Keep in mind however, that the Salesforce Marketing Cloud search feature is limited to one folder at a time.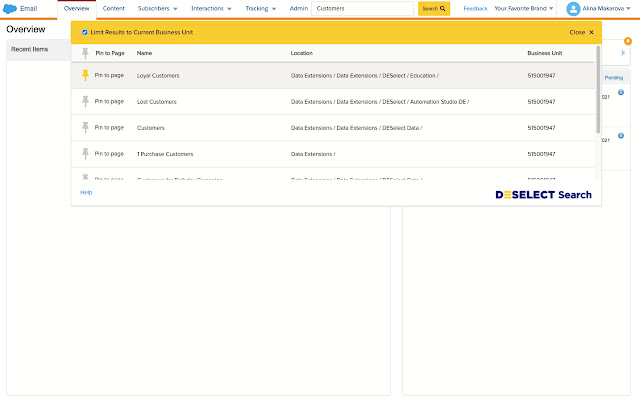 There are many different features and functionality that these extensions bring to Salesforce users. The automation and optimization of routine activities, a closer relationship with your customers, and a personalized experience are some of many of these useful benefits the extensions provide. We hope you have found in this selection of Chrome extensions for Salesforce one or more features that you can benefit from.
Do not miss the opportunity to rely on our certified expertise if you want to boost your brand using this CRM. Contact us through our email at hello@theskyplanner.com.