The Winter '24 release marks a significant landmark in the evolution of Service Cloud, Salesforce's leading customer service management platform. The updates included in this Salesforce product are designed to boost operational efficiency and elevate customer satisfaction to unprecedented levels. With a series of revolutionary innovations, Winter '24 represents a new milestone for Service Cloud in how businesses approach customer service and optimize their operations.
We recommend not to miss these five strategic enhancements with which Salesforce's Winter '24 release has empowered Service Cloud. Each update or new feature represents a step forward in a company's ability to provide top-tier customer service while optimizing their internal processes. From advanced automation to deeper personalization, Winter '24 offers powerful tools that allow organizations to redefine their customer service focus and exceed expectations.
1- Increased Operational Efficiency.
If you want to make the most of your customer data, Service Intelligence makes it a reality. This revolutionary feature provides access to valuable information about service trends, agent performance, and customer satisfaction across all service channels. With ready-to-use dashboards, making informed decisions has never been easier.
Service Intelligence leverages the latest in data science to give you detailed control over key performance metrics in your contact centers. Easily visualizing data that accurately describes your business's behavior is crucial to determining whether service goals are being met.
Service Intelligence includes Data Cloud, CRM Analytics, and Einstein Conversation Mining. The combination of information these products offer, such as customer data or key performance indicators (KPIs), will help your service team improve operations and reduce costs.
Additionally, would you like a comprehensive view of your service team's workload? Case Dashboards provide this capability. You can easily track key metrics, including escalated cases, average closure time, first-contact resolution, and customer satisfaction by channel. Furthermore, you can identify areas for improvement with detailed filters and graphs.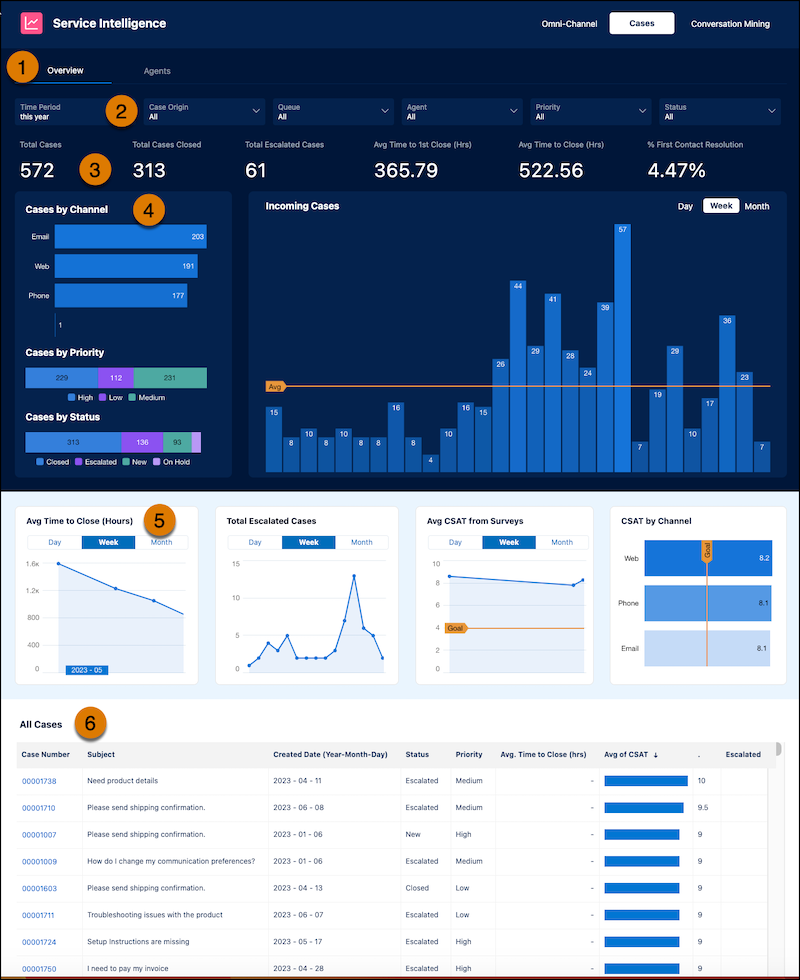 2- Improved Agent Performance.
Omni-Channel Dashboards are an essential tool for any company looking to enhance customer service efficiency and manage multiple communication channels. These panels are a valuable ally for quickly and comprehensively evaluating routing efficiency and agent performance across various service queues and channels. With the ability to measure workload volumes, handling times, response speed, and service levels, Omni-Channel Dashboards become an essential guide for optimizing agent workflows. This translates into greater operational efficiency and the ability to provide customers with fast and effective service.
3- AI-Powered Customer Interactions.
Einstein's artificial intelligence is a truly innovative addition. By analyzing conversation topics, high-volume contact reasons, and interaction durations, Einstein provides deep insight into interactions between customers and service agents. This information is essential for making informed decisions and continually improving customer support strategies. By better understanding customer needs and expectations, you can tailor your approaches and service policies, providing more personalized and effective experiences.
In short, the combination of Omni-Channel Panels and Einstein's artificial intelligence gives a comprehensive approach to customer service, which drives efficiency and service quality.
4- Enhanced Customer Communication Agility.
Customer communication and satisfaction will be accelerated with Einstein for Service. This pilot feature automatically generates email responses based on your knowledge articles. These articles are a fundamental part of an organization's knowledge base and can address a wide range of topics, from frequently asked questions and procedures to detailed technical information. Agents can review, edit, and send these responses, streamlining communication with your customers.
Furthermore, Einstein Service Replies, now generally available, provide real-time recommendations using generative AI. These suggestions are polite, relevant, and seamless, providing valuable assistance to agents during conversations.
Customer requests, and overall conversation with them, are an excellent source of feedback for evaluating your business strategies. In addition to using AI to generate responses, now the Service Cloud comment management tool will extend its functionalities to maximize its potential.
You can collect feedback from surveys and organize it into easily manageable records for further analysis. Personalization possibilities for customer interactions are also strengthened through the use of notifications that keep you informed about selected customers. Additionally, the incorporation of new rating icons will allow a more precise measurement of each customer's participation.
5- Knowledge Management Optimization.
The inclusion of the new Lightning Article Editor and Article Customization in Salesforce Service Cloud represents a significant leap in knowledge management for businesses. This update provides organizations with the ability to create a more enriching and tailored experience to meet their specific needs.
The Lightning Article Editor simplifies content creation and editing, enabling support and customer service teams to produce informative material more efficiently. This not only saves time, but also ensures that the information provided is accurate and up-to-date.
Furthermore, Article Customization allows businesses to tailor the content of their knowledge base to meet their unique business demands. This versatility is crucial as each company has its own processes and requirements. By adapting information to these specific needs, organizations can optimize agent productivity, providing quick and accurate access to relevant information.
One of the most notable advantages of these improvements is how they increase customers' ability to access knowledge about a company and its services independently. With the Knowledge Article List component on company websites or self-service platforms, customers can easily access valuable information and solutions to their questions or problems. This not only reduces the workload of service agents, but also increases customer satisfaction by providing quick and effective answers to their queries.
In summary, these new knowledge management tools are designed to enhance operational efficiency and improve the customer experience, contributing to the overall success of the organization.
With the Winter '24 release, we have access to a set of Service Cloud enhancements that streamline operations, empower agent performance, and elevate customer satisfaction to higher levels. Stay tuned for these exciting updates and consider how they can transform your organization's strategy. The future of service excellence is here with the Winter '24 release for Service Cloud.
If you want to explore the vast possibilities of Service Cloud and our services for adopting this solution, do not hesitate to contact us. Reach out to us at hello@theskyplanner.com. Our team of certified professionals will be happy to assist you.